Bet 10 Get 40 Betting Offers – 2022
There are a few different types of welcome offer out there, but 'Bet and Get' – also known as 'Bet X, Get Y' – is the most popular in the UK. Of these deals, 'Bet 10, Get 40' is the very best deal you can get right now. We've tested over 100 bookies to find which ones have the best promotions, and – of those – which provide Bet £10, Get £40 deals. Read on to learn all about those, plus plenty more besides.
Bet 10 Get 40 Offers From Top Bookies
Which Bookies Offer Bet 10, Get 40?
Bet X, Get Y welcome offers are pretty common in the UK, but few bookies go as far as offering Bet 10, Get 40 in free bets. Below, you can check out the very best sportsbooks which do meet this lofty standard.
888sport Bet 10 Get 40 Offer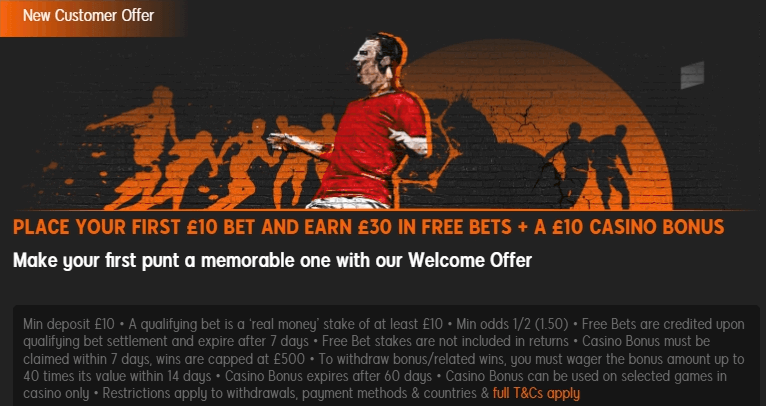 ➡️Read full 888Sport review here >>
888sport are younger than many people think, only launching in 2008. They've easily established themselves as one of the biggest bookies around though, and are renowned for the quality of both their desktop site and mobile app.
Alongside a few different ongoing deals, 888sport currently provide a Bet £10, Get £40 sign up offer. Technically only £30 of this comes as free bets for the sportsbook, with the other £10 being a casino bonus, but this remains a fantastic deal. The minimum odds for your qualifying wager on this 888sport Bet 10 Get 40 welcome offer are a fair 1/2, and you're given seven days to use your bonus.
Betfred Bet 10 Get 40 Offer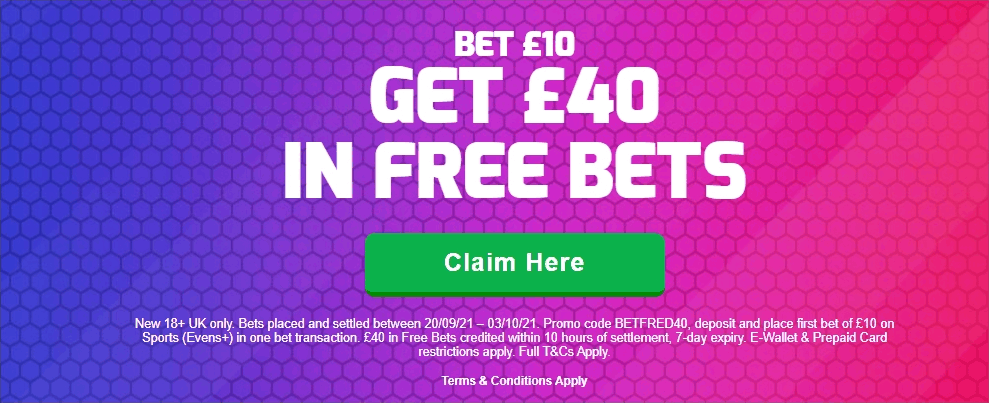 ➡️Read full Betfred review here >>
Betfred have one of the most impressive track records around, stretching all the way back to 1967. One of the keys to them staying relevant over the long haul has been their constant stream of excellent promotions.
There have been several ways to claim Betfred Bet 10 Get 40 sign up offers in the past couple of years. Sometimes you can simply enter a promo code – BETFRED40 being a recent example – and trigger a regular Bet 10 Get 40 offer. Other times they provide a Bet £10, Get £30 welcome offer instead, which is topped up when combined with a £10 risk-free wager
Unibet Bet 10 Get 40 Offer


➡️Read full Unibet review here >>
Unibet have established themselves as one of the biggest and best international sportsbooks in recent years. You can use them all around the world, and take advantage of many markets, special features like live streaming, and big-time bonus offers too.
The current Unibet welcome offer is technically a risk-free bet. You're still covered up to £40 though, and are free to stake anything from £1 upwards. You'll even get a £10 casino bonus thrown in here too, for good measure. Additionally, there have been Unibet Bet 10, Get 40 offers in the past for specific sports, including football and horse racing.
How do Bet 10, Get 40 Offers Work?
All Bet and Get offers are sign up deals, meaning they can only be used once, the first time you register with a brand. They also all follow the same basic structure. You place a qualifying wager, then – if you do so correctly – you are rewarded with free bets. These tokens can subsequently be used to place further bets, while sparing your regular account balance.
In both of those initial phases a few different terms and conditions will apply, such as minimum amounts for deposits and stakes, and minimum odds for your qualifying wager or free bet usage. We'll look at those in a little more detail shortly.
In the case of a Bet 10, Get 40 deal specifically – as the name suggests – you must wager at least £10, and will be given £40 in return. This is the biggest form of Bet and Get offer you can realistically expect to find right now. The actual structure of the £40 bonus you get can vary from bookie to bookie. Some might give you one monster £40 token, for example, while others will split the total into smaller, more manageable amounts (e.g. 4 x £10 free bets).
How to Choose the Best Bet 10, Get 40 Offers
Not all Bet 10, Get 40 offers are created equal. These are the most important distinguishing factors when choosing between your options.
💰Minimum Deposit – The minimum deposit amount should usually be £10 for these deals. Being asked to deposit more than this, only to actually wager £10, is a little annoying, but will still be worth it for a £40 bonus.
💷Payment Methods – Many Bet 10, Get 40 offers will only be compatible with debit cards. If this isn't a feasible option for you, try to find one which can be triggered via your chosen payment method instead.
✅Qualifying Bet Requirements – Your minimum stake for the qualifying wager should usually only be £10, which – when you're getting a £40 bonus back – is fantastic value. You must be careful to check the minimum odds too though, ideally looking for evens or lower, and any market restrictions which are in place.
💸Bonus Structure – Some bookies will award your £40 as one big bonus. That's obviously better than nothing, but it means you need to risk everything on one wager. If possible, it's preferable to get your wager in smaller chunks which can be used separately, thus allowing you to spread your exposure.
📜Bonus Usage Rules – Most bookies give you plenty of flexibility for using your bonus, particularly when it comes to sports and bet types. If you definitely want to use it on specific sports though, be sure to check these rules in advance, and look for any minimum odds restrictions too.
How to Claim a Bet 10, Get 40 Sign Up Offer
Now that you know the basics, let's take a step-by-step look at exactly how Bet 10, Get 40 deals operate. We'll use Ladbrokes as our specific example here, but all bookies will follow the same pattern.
Step 1 – Signing Up: Head to the Ladbrokes home page, and click the 'Join' button. Complete the registration process, which is split into four main phases. While it's not necessary on Ladbrokes, In some cases you will need to use a specific bonus code here, or otherwise opt-in to the Bet 10, Get 40 welcome offer.
Step 2 – Funding Your Account : Deposit at least £10 into your new Ladbrokes account, to cover your £10 qualifying wager. Be aware that payment restrictions will apply here. Debit cards are normally a safe bet, but eWallets, prepaid cards, and so on are often ineligible.
Step 3 – Placing a Qualifying Wager: Your qualifying wager should meet a few T&Cs, but the most important are minimum stake and minimum odds. For Bet 10, Get 40 deals, your minimum stake is obviously £10. The minimum odds will vary from bookie to bookie, and you must check these for yourself. On Ladbrokes, for example, they're 1/2.
Step 4 – Using Your Rewards: If you've triggered the deal correctly, you should receive your £40 in free bets as a reward. These will hopefully be split into separate tokens. To use them, pick a selection as normal, but choose to use your free bet in your betslip rather than your account balance.
Final Thoughts
Bet and Get deals are the most popular welcome offers in the UK, because they're easy to use, deliver clear value, and give you valuable free bet tokens. Bet 10, Get 40 offers are as good as it gets in this category, meaning that – for inexperienced and veteran punters like – these are great deals to target.
After reading this article, you know what Bet 10, Get 40 offers are, and how they work. Now all that remains for you to do is pick one of our five recommended bookies, trigger their welcome offer, and enjoy.
FAQ
Is Bet 10 Get 40 Free Bet worth it?
Definitely. Bet X, Get Y deals are arguably the best welcome offers already, and getting a 4:1 return on your initial wager for one of these promotions is fantastic value.
Which bookmakers have Bet 10 Get 40 Sign Up Offer?
Very few bookies go this high with their welcome offers. That said, we have listed five top bookies who do indeed provide Bet 10, Get 40 sign up deals above.
Should I use a promo code to claim the Bet 10 Get 40 offer?
Only a few bookies use promo codes for their welcome offers nowadays. For Bet 10 Get 40 deals, as for other promotions, it's unlikely you'll need to use any kind of code.
What is a bet 10 get 40 offer?
It's the best version of the classic 'Bet and Get' welcome offer type. You deposit at least £10, place a qualifying wager of £10 or more, and receive £40 in free bets as your reward.