Bet 5 Get 20 Betting Offers 2022
Bet 5 Get 20 Offers are among the more common, and the more generous Welcome Bonuses you can find in online sportsbooks today. These rewarding promos can bank players £20 after they deposit and bet just £5! Although it might seem that way, not every Bet 5 Get 20 Welcome Offer is equal. We've checked over 100 bookies to bring you the best Bet 5 Get 20 Offers available and make your online betting journey a bit easier. On this page, we elaborate on our top picks and what you need to know about them.
Best Bet £5 Get £20 Offers From UK Bookies
Which Bookies Offer Bet 5 Get 20?
As we mentioned at the start of this page, Bet 5 Get 20 Offers are pretty popular. You'll undoubtedly run into many of these bonuses when browsing the web, but only some are worth considering. We've selected some of the best Bet 5 Get 20 Welcome Bonuses out there and explained them below to make things a bit easier:
Ladbrokes Bet 10 Get 20 Offer

➡️Read full Ladbrokes review here >>
The Ladbrokes Bet £5 Get £20 Offer is one of the best on this list. It comes with very few restrictions that pertain to the types of bets you can use the bonus on and has no wagering requirements! What's better, the Ladbrokes Bet 5 Get 10 Welcome Bonus consists of four £5 Free Bets. Instead of spending all of their Bonus Funds in one go, players can select multiple games and have fun exploring their options! Something you should keep in mind is that these Free Bets expire after seven days, so remember to use them fast!
Coral Bet 10 Get 20 Offer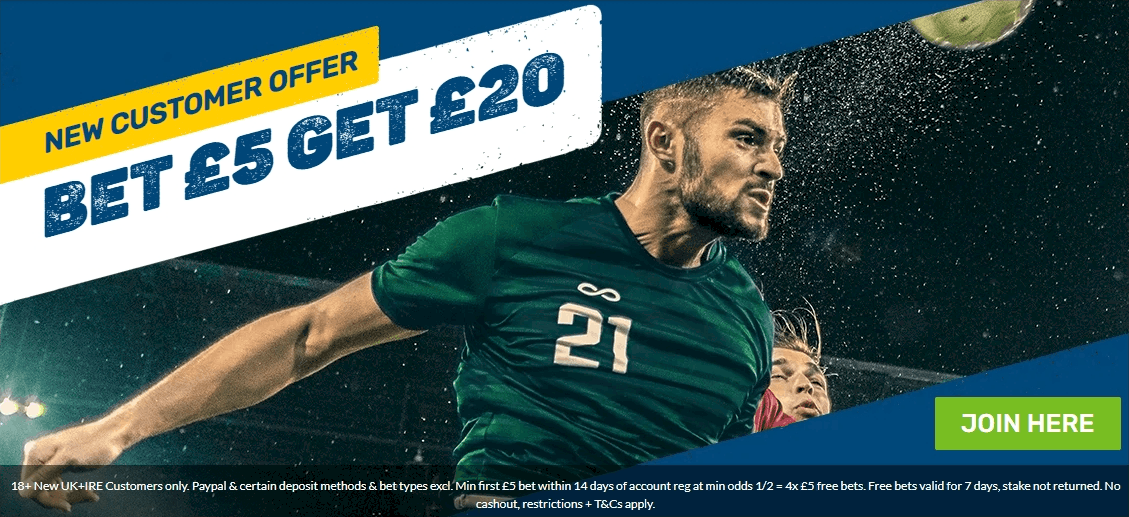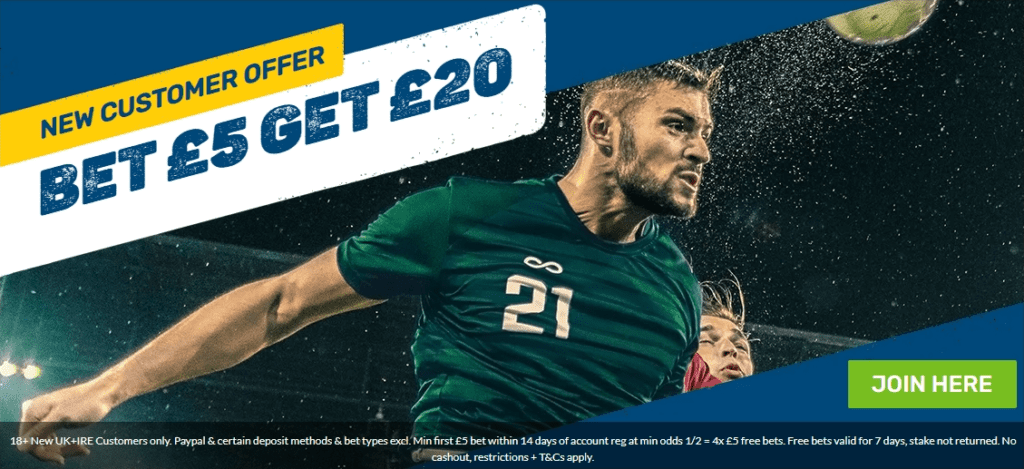 ➡️Read full Coral review here >>
The Coral Bet 5 Get 20 Offer isn't much different than Ladbrokes one. Similarly, it comes in the form of four £5 Free Bets after players make a qualifying bet of at least £5 at odds of 1/2. The Coral Bet 5 Get 20 Bonus has no wagering terms but does have some restrictions. Players must use their Free Bets on markets with odds of 1.5 or greater. They must use them within seven days, and they can't place certain types of bets. All of these requirements are pretty reasonable, and players shouldn't have a problem meeting them.
Betfair Bet 10 Get 20 Offer

➡️Read full Betfair review here >>
Unlike the previous two offers, the Betfair Bet 5 Get 10 Offer is a bit different. With this offer, players get two £10 Free Bets. One can be used on the Betfair Sportsbook, while the other is reserved for the Betfair betting exchange. The requirements for the Betfair Bet 5 Get 10 Bonus aren't too strict. First, players need to place the Free Bets at minimum odds of 1.5 or greater. Second, it's worth noting that some markets are excluded completely. Lastly, the Free Bets expire after seven days of being credited, so make sure to use them quickly!
How does a Bet 5 Get 20 Offer work?
It's not hard to grasp the concept behind a Bet 5 Get 20 Sign Up Offer. As we already mentioned, these bonuses consist of two main parts. First, the player deposits and bets £5. Once this part is taken care of, they're rewarded with Bonus Funds that equal £20. Naturally, while these Bet 5 Get 20 Offers follow some basic guidelines, they can be pretty different. Here are some of the most common ways they can vary:
Bet 5 Get 20 Single Free Bet Bonuses: As you can tell by the name, the £20 Bonus Funds from this offer come in the form of a single Free Bet that players can use on the sportsbook.
Bet 5 Get 20 Multiple Free Bet Bonuses: Unlike the first type we mentioned, the Bonus Funds here are separated into multiple smaller Free Bets. They can be two £10 Free Bets, four £5 Free Bets, or some other variation of the total sum.
Bet 5 Get 20 Mixed Bonuses: These are a bit rarer than, but you might run into them. With these offers, the Bonus Funds are split between a Free Bet and a Casino Bonus. They're usually split 50/50, with £10 going towards the sportsbook and £10 going towards the casino product of the operator.
How to Claim a Bet 5 Get 20 Free Bet?
To claim a Bet 5 Get 20 Welcome Bonus, you'll need to follow a few simple steps. To better explain how you can get your hands on these offers, we'll use the Ladbrokes Bet 5 Get 20 Sign Up Offer as an example. Here's the step by step guide:
Select your preferred Bet 5 Get 20 betting site: Head over to the Ladbrokes website and click on the Bet 5 Get 20 bonus page in the promotions tab. Ladbrokes is a fully licensed operator, so you don't have to worry about scams or security issues.
After you've found the promo page, click on the appropriate sign-up link listed there and register an account. You'll need to fill out a form that requires some personal information and verify your account through email or phone number.
Make your first deposit: To receive your Bet 5 Get 20 Welcome Bonus, you need to first deposit some money to your account. Head to the cashier section of Ladbrokes and enter the appropriate amount. In this case, that amount is at least £5. Before depositing, ensure you're using some of the qualifying deposit methods. With Ladbrokes, Prepaid Cards, Moneybookers, InstantBank, Paypal, Paysafe, Neteller, or Skrill aren't eligible for the bonus.
Place a qualifying bet: Placing a qualifying bet is easy. Find a sport of your choosing and bet at least £5 in one go or a cumulative amount of £5 in a few bets. Mind the requirements here as well. At Ladbrokes qualifying bets must be placed at fractional odds totaling 1/2 or greater.
Use your Bet 5 Get 20 Welcome Bonus: Once your qualifying bets are settled, you'll likely be awarded the bonus. Wager your Bonus Free Bets and meet the required withdrawal terms. Ladbrokes doesn't have any wagering requirements, but players still need to wager the entire Free Bet amount before withdrawing. They have to do this within the seven days expiry period.
How to Choose the Best Bet 5 Get 20 Offers
Not every Bet 5 Get 20 Sign Up Offer is built the same. There are plenty of crucial differences in these offers between operators that could mean a lot to the player. If you're new to these bonuses and need some help with the basics, here's what you should keep an eye on:
✔️Minimum Deposit: The minimum deposit with most Bet 5 Get 20 Offers is £5. While it shouldn't stray from this number with this particular type of bonus, players should watch out for similar offers. Some come with high minimum deposit limits that can break the bank!
✔️Expiration: Many of the Free Bets you get from these offers come with expiration dates. Make sure you use your Bonus Funds before this date has passed, or else they might become void!
✔️Payment Restrictions: Operators often place restrictions on certain payment options. Read the requirements carefully, and deposit through payment methods that qualify for the bonus. In most cases, bank cards are your safest bet.
✔️Valid Promo Code: To receive some Bet 5 Get 20 Offers, players need to enter a Promo Code associated with the bonus. Ensure your promo code is valid and that it comes from a trusted source. In most cases, operators will mention the required Promo Code somewhere on their website.
✔️Bonus Value: The value of Bet 5 Get 20 Bonuses is pretty standard. While you might not need to worry about it too much with these offers, pay attention to this when scouting other offers. Sometimes, the Bonus Funds you're getting might seem like a lot, but the harsh requirements don't make the overall offer worth your time.
✔️Time Limits: You'll find some type of time limit with pretty much every Bet 5 Get 20 Welcome Bonus. With many, these limits apply to the qualifying deposit, the Free Bets, the markets you can bet on, and more! Usually, these time limits are there to ensure you spend your bonus within a reasonable time instead of dragging on for months.
✔️Bonus Types: While most Bet 5 Get 20 Offers are Free Bets, not all of them are the same. With many, the Free Bet amount is split differently, while others offer Bonus Cash instead of a Free Bet. Not all of these options work for all players. See what's best for your betting style and find offers built to suit your needs.
Our Pick:
Final Verdict
It's easy to see that taking on a Bet 10 Get 20 Welcome Bonus can be a rewarding venture for most players. These bonuses offer plenty of benefits and come with reasonable requirements in most cases. Of course, this is especially true when you take a look at some of our recommended Bet 5 Get 20 Offers! Explore the options we've included on this page and see which ones work best in your favor. It's up to you to make your online betting experience more exciting, so don't hesitate to use every opportunity for some added fun!
All Bet "X" Get "Y" Offers
FAQs
Why do bookies offer Bet 5 Get 20?
The Bet 5 Get 20 Welcome Bonus is an excellent way for bookies to attract new players and build a good rapport. Players get a nice boost at the start of their betting journey, while operators get potentially loyal customers. It's a win on both sides.
Is Bet £5 Get £20 Free Bet worth it?
In most cases, yes it is. As long as the wagering requirements and bonus restrictions are reasonable, these offers are worth your while. It's always good to thoroughly check these before opting in for a bonus, as they can be a massive factor in the decision-making process.
Which betting sites have Bet 5 Get 20 Welcome Offer?
The short answer is, too many to count! Bet 5 Get 20 Offers are very popular, so plenty of operators include them in their Sign Up Packages. We recommend going for the Ladbrokes, Coral, or Betfair Bet 5 Get 20 Bonuses as they're among the most worthwhile.
Should I use a Promo Code to claim a Bet 5 Get 20 Offer?
That depends on the operator you've chosen. Some operators require a Promo Code to claim the bonus, while others don't. Check the bonus page on the website for more information. In most cases, this is where you'll find info on everything related to that offer.
Will I receive my £20 as a single bet?
This depends on the operator you've chosen. While some operators offer a single £20 Free Bet, others choose to split the Bonus Funds into multiple smaller ones.