BIGGEST BETTING COMPANIES AND BOOKMAKERS IN THE UK
Sports betting is an enormously profitable business in the UK. That's true not only for the betting companies themselves, but for the government too. As of 2019 for example, Bet365 were the second-biggest taxpayers in the entire UK, handing over approximately £156m.Technically there are dozens of major betting brands operating in the UK. The truth is, however, that a handful of these attract the majority of punters, and generate the vast majority of the revenues. In this article you'll learn not only about the biggest betting companies in Britain, but about the biggest overall betting companies too.
Top 10 Biggest Bookmakers In The UK – 2021
How We Chose The Biggest Betting Companies
Our list of the biggest bookmakers in the UK hasn't been thrown together at random. Instead it is the result of extensive research, based on a series of clearly-defined parameters. These are the key criteria on which we based our rankings.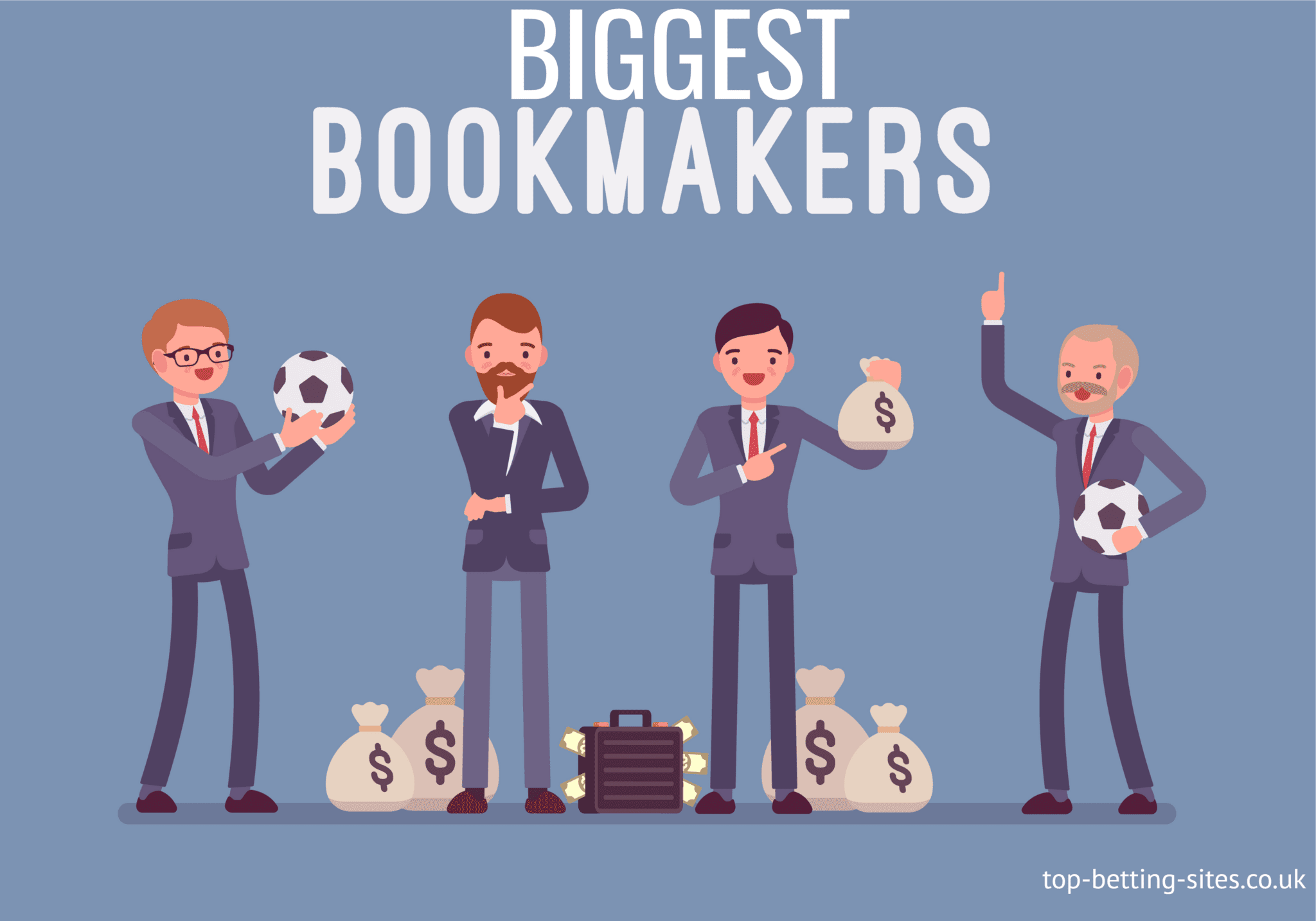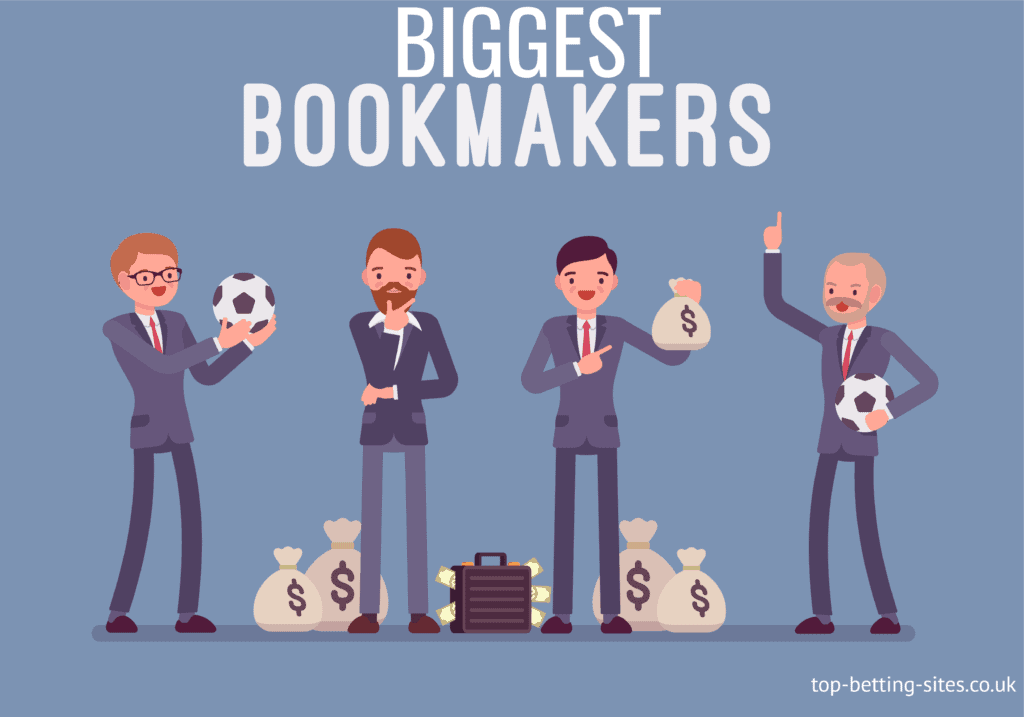 ✔️Revenue
This is the quickest and easiest way to determine the largest betting companies. A business's revenue is a straightforward measure of its overall income. Quite simply, the bigger the revenues, the more money the company is making.
When a betting company is publicly-traded, like most of the ones on our list, they must reveal their revenues in public statements for their shareholders. The contents of the financial statements for Betfred – the only private company in our rankings – are also publicly available, however.
✔️Profit
This is the net gain a betting company is making, when its costs have been deducted from its income. The difference between revenues and actual profits can be sizable. While William Hill's revenue in 2019 was £1.58 billion, for example, its actual profits were only £147 million. For publicly-traded betting companies which are driven by outside investment, the ability to advertise impressive profits can be crucial.
✔️Number Of Users
Unlike with their revenues, the biggest online gambling companies do not need to state their exact user numbers. Some brands reveal rough estimates anyway, which give us some idea of their popularity, but others simply don't bother. William Hill, for example, stated that they welcomed over three million online punters in 2019, and Betfair claim to have over four million total customers, with 1.1 million active users. Brands like Paddy Power and Bet365, however, give almost no clues regarding their user data.
✔️Number Of Employees
This information is much easier to come by than user numbers, meaning we can get a solid idea of how many people each brand on our list actually employs. While more employees obviously equals a bigger operation, a note of caution must be sounded here. Brands which still have hundreds of high street bookies – like Betfred – will usually have more employees. Given the decline of profits from brick-and-mortar stores, however, this certainly doesn't mean they're making more money than companies with fewer employees.
✔️Individual Brands
The likes of Bet365, William Hill, and Betfred are obviously enormously popular in their own rights. They simply can't compete with the betting companies which have managed to unite multiple giant brands though. Paddy Power and Betfair alone would be two of the biggest sports betting operations. The fact that they're joined together – as Flutter Stars Group – is why Flutter blows everyone else out of the water when it comes to revenues.
Top 7 Biggest Online Betting Companies In The UK
Major sportsbooks don't work in isolation. Instead, they are always part of a wider operation. At the very least this will involve an operating company. At the higher levels though, it can involve one single betting company controlling a whole range of different brands. When each of those brands is very successful in its own right, that's when the overall revenues become stratospheric. There are six betting companies which stand above and beyond the competition. Let's take a closer look at each in turn.
1. Flutter Stars Group
You might not have heard of 'Flutter' itself, but we guarantee you've heard of its sportsbooks. The two biggest are Paddy Power and Betfair, which merged in 2016 to form Paddy Power Betfair PLC. That company rebranded to 'Flutter Stars Group' in 2019, to reflect the diverse nature of a company which – after a whole series of other acquisitions – now went far beyond its two biggest names.
In addition to Paddy Power and Betfair, Flutter also houses Sky Betting in the UK, FanDuel in the US, and Sportsbet.com.au in Australia. Alongside a sprinkling of other sportsbooks, it also operates the famous Full Tilt Poker and PokerStars sites.
By our metrics, Flutter Stars Group is now the single biggest betting company in the UK. As of 2019, Flutter's combined revenues with Stars Group (who it was about to acquire) were a mighty £3.86bn. It has some 4,500 employees on the books nowadays, continues to operate 600 physical high street bookies, and is headquartered in both Dublin and London.
2. Entain PLC
As with Flutter Stars, while you almost certainly won't know the name 'Entain', you'll definitely know the betting brands it operates.
This company was originally formed as Gaming VC Holdings in Luxembourg (not usually known as a betting industry hotspot) back in 2004. Over the next nine years they relocated to the tax-friendly Isle of Man in the UK, created their own sportsbook, and began to acquire other brands. Things started taking off when they acquired Sportingbet in 2013, then Bwin in 2016, and culminated in the massive acquisition of Ladbrokes Coral Group PLC in 2018. Their rebranding to Entain took place in December 2020.
Ladbrokes and Coral remain Entain's biggest bookmakers in the UK, with decades of combined industry experience behind them. Amongst other sports betting brands they operate Betdaq (the second-biggest betting exchange), BetMGM, and Australian brands like Neds. They also own a range of poker and bingo businesses, most notably Party Poker and Gala Bingo. Entertain's 2019 revenues were approximately £3.22bn, they have some 2,800 employees on the books, and their headquarters remain based on the Isle of Man.
3. Bet365 PLC
Compared to the two brands above it, Bet365 PLC has taken a significantly different approach. While they have focused on acquiring a whole series of businesses, and building up a diversified portfolio, Bet365 – by contrast – has focused exclusively on its own brand. Clearly this has paid off handsomely, with 2019 revenues standing at an impressive £2.98bn. It now employees over 4,600 staff, and – in addition to its original headquarters in Stoke – has other offices in Australia, Bulgaria, Gibraltar and Malta.
Bet365 is still a relatively young brand, having only been launched in 2000 by Denise Coates. It committed to online operations from the start, selling off all the betting shops previously owned by Peter Coates – Denise's father – in 2005. Thanks to strong leadership Bet365 has gone from strength to strength, growing this single brand into easily one of the largest betting companies in the UK within less than two decades. As noted in our introduction, Bet365's decision to remain based on the UK mainland – rather than moving to a more tax-friendly location – makes it a significant contributor to the British economy.
4. William Hill PLC
William Hill is arguably the most prestigious names in British sports betting. It certainly has one of the longest track records, which stretches all the way back to 1934. The company has experienced plenty of ups and downs since then, and has been sold numerous times. Most recently this happened in September 2020, when US casino giant Caesars agreed to acquire the brand for £2.9billion.
Like Bet365, William Hill is primarily a one-brand betting company. Technically it has acquired other sportsbooks over the years, including Mr Green in 2019, but this is not a focus of its business. William Hill's most notable overseas operations have been in the USA, where it struck quickly after gambling laws were relaxed in 2018 to seize a chunk of the new market. The success of this move was part of the motivation for Caesars to acquire the company.
Having previously been based in the UK for decades, William Hill is headquartered nowadays in Gibraltar. It has a hefty 11,000 employees on its books, and still owns some 1,500 betting shops in the UK. Its 2019 revenue was £1.58bn, which was down 2% on 2018.
5. Kindred Group
Unibet was originally founded in 1997, and launched its first online betting platform in 1999, putting it on roughly the same timeline as Bet365. The two companies have taken very different approaches since then, however. While Bet365 has focused on its own development, Unibet has pursued a policy of aggressive expansion.
In the 2010's alone it acquired a whole series of different businesses, including StanJames.com, Bet24, and the successful 32Red. It has also diversified into poker and bingo, with Bingo.com being perhaps its most notable addition here. In 2016, Unibet's shareholders met and decided a rebrand was needed, to reflect the growing portfolio of brands – 'Kindred Group' was the result.
While Unibet was originally founded by the Swedish Anders Ström, and was listed on the Stockholm stock exchange, it is headquartered nowadays in tax-friendly Malta. Some 1,425 people are employed by Kindred Group, across offices in various countries including the UK, USA, Australia, and France. Its revenue in 2019 was approximately £912 million, which was a slight rise on the £907 million it made in 2018.
6. Betfred
Like William Hill, Betfred is a betting brand with a long history in the UK. The first shop was launched by Fred Done in Salford, near Manchester, back in 1967. Originally called Done Bookmakers, the business grew rapidly over the next few decades, until it had some two hundred betting shops by 2000. In 2004 the business was rebranded as Betfred, and the online sportsbook was first launched. By 2017, Betfred had over 1,650 betting shops and its online operations were thriving.
Somewhat unusually, Betfred remains a private company. Most of the other largest betting companies in the UK – including the five listed above – are publicly traded, but Fred Done (along with his brother, Peter) retains ownership of the Betfred brand. Betfred has also largely steered clear of acquisitions. Its purchase of the Tote in 2011 was a rare exception, but this was sold on again in 2019.
As of 2019, Betfred's revenues stood at approximately £728million. While the business's overall headquarters remain in the North-West of England, in Warrington, the online side of the business is based in Gibraltar.
7. 888 Holdings
888 was originally founded as Virtual Holdings back in 1997, by two sets of Israeli sibling entrepreneurs. Originally the company was focused exclusively on poker and casino games, and it wasn't until March 2008 that its sportsbook – 888sport – was launched. Nowadays of course, 888sport is one of the biggest bookmakers in the UK. 888 remained a privately-owned company until 2005, when it was first listed on the London Stock Exchange, and it's currently a member of the FTSE 250.
888 Holdings hasn't been as aggressive as some other companies in its sportsbook acquisitions, largely preferring to develop its existing products. Talks have been held to acquire both Ladbrokes and William Hill, but neither deal went through. It has been more aggressive in other areas though, acquiring a range of different bingo and casino brands over the years.
Today 888 Holdings has approximately 1,350 employees on the books. It is currently headquartered in Gibraltar, but talks have been held – post-Brexit – over a move to Malta. Revenues in 2019 totalled around $560 million (£409 million), with the vast majority of those actually generated by the casino section of its business, rather than the sport, bingo, or poker areas.
Widget not found
Pros & Cons of Betting with the Biggest Bookmakers
Using the biggest bookmakers in the UK to place your bets comes with both advantages and disadvantages. It is important that you know what those pros and cons are. Here are some of the main upsides and drawbacks with wagering on the largest betting companies around: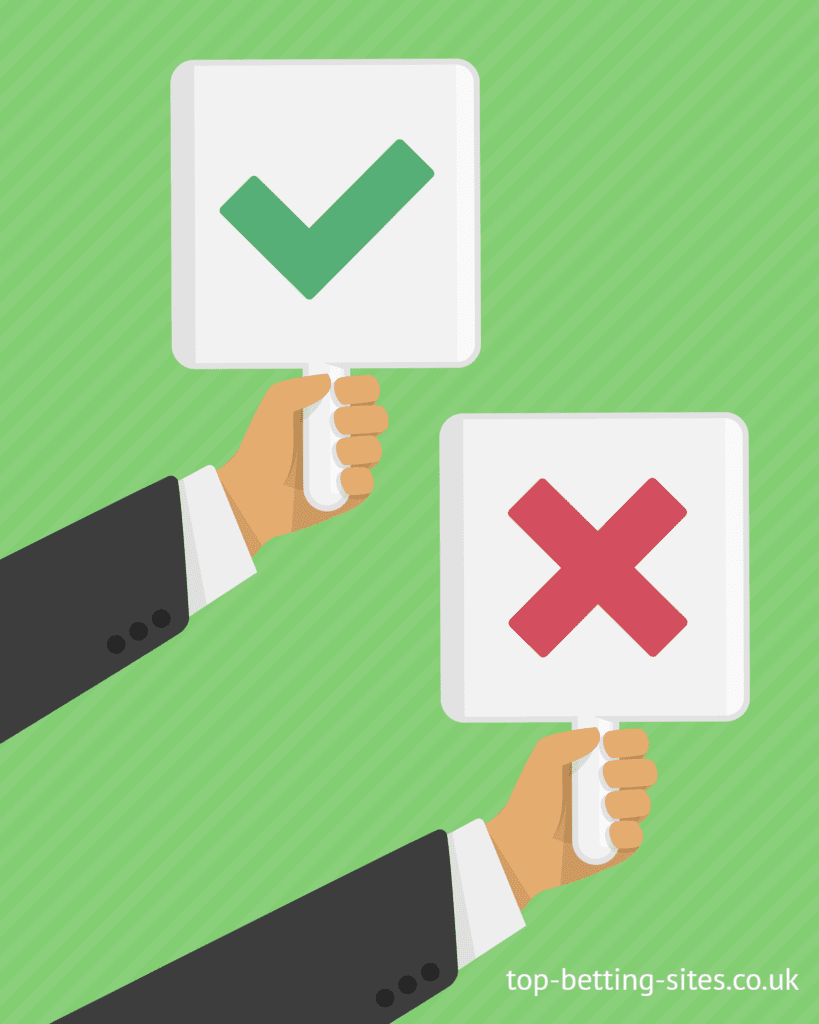 ✔️Reputation / Trustworthiness – Firstly, there is the issue of trust. Taking a punt with one of the UK's biggest betting companies that have an established reputation as gambling platforms serving many bettors makes sense. You know that leading players in the industry are licensed and regulated by the proper authorities which ensure that wagering is both fair and secure.
✔️Betting Limits – The biggest bookmakers in the UK are also much more likely to have larger betting limits than smaller firms. Nobody wants to be limited by what they can win or bet unless you set these yourself in the interests of responsible gambling. Some of the largest betting companies in the region cap maximum payouts at £2,000,000 if you pull off a big win and beat the bookies.
✔️More Deposit Methods -There should also be more payment methods available to you through the UK's biggest betting companies than smaller rivals. This is because large firms have more infrastructure supporting them over deposits, withdrawals, and other aspects of customer service. The greater the choice you have in terms of how you fund your gambling, using a mixture of traditional banking methods and modern digital options like eWallet services, the better.
✔️Coverage – Sports coverage, both in depth and variety, is also likely to be better through the biggest bookmakers in the UK as there are greater trading resources attached to these firms. You want the online sportsbook you bet with to offer odds for the events you like wagering on most. Smaller operations are less likely to have more niche sports.
✔️Offers & Promotions – The largest betting companies will also run more offers and promotions than their competition. Their turnover is such that they can afford to risk providing deals that act as extra incentive for you to place your bets with them rather than a rival.
❌Using the UK's biggest betting companies come with downsides too, however. When offering prices on popular sports events, the traders may just follow what the exchanges or other large firms do, making it tough to find extra value wagers. Major sportsbooks may also work together and share information on successful bettors, so your punts may be monitored after pulling off a big win.
Sports Betting Industry In The UK
The British sports betting industry is simply enormous. As of 2018, it had an estimated value of some £14.4 billion per year, meaning that – even for brands with operations in a whole range of different countries – the UK is often still their most profitable market. Approximately 100,000 people are employed within the gambling sector, the majority of whom work in sports betting, and around 31% of the British public are believed to gamble weekly.
Gambling has been a popular pastime in Britain for centuries, with the first true sportsbooks opening in the 1850's. It was the development of online technology, however, which made sports betting simply explode in the country. Over 38% of all gambling nowadays takes place online, accounting for approximately £5.6 billion in annual revenues. This is believed to be one of the highest amounts in the world, which is remarkable considering the UK is only the 21st-most populated country.
That said, revenues in the USA will likely dwarf these figures soon, following the relaxation of anti-gambling laws in 2018. $2.1 billion was wagered in August 2020 alone by Americans, and – if that upward trend continues – betting companies who have previously focused on the UK might turn their attention across the Atlantic.
Of more concern to the biggest online gambling companies right now is the prospect of tighter government regulations. There is a growing movement to restrict marketing, both via sports sponsorship deals and TV adverts. Calls have also been made for bookies to do more to help problem gamblers. The introduction of stricter legal measures wouldn't affect bettors themselves, but would certainly have a significant impact on the revenues of betting companies.
The UK's biggest bookmakers all embraced the digital and mobile revolutions to help make this lucrative market what it is right now. That was a smart move on their part Check out some fascinating facts about the biggest bookmakers in the UK at the moment:
Including casino revenues, the total combined annual income of the British gambling industry is estimated at around £14,400,000,000.
The online bookmakers' part of the industry contributes over a third of that revenue, being worth an estimated £5,391,000,000.
Sports betting itself covers almost a quarter (23%) of the UK gambling industry with football and horse racing the most popular things that British bettors wager on.
Including the biggest betting companies UK punters can wager through, there are 2,820 licensed gambling operators for the region, and a fifth of those are strictly sports betting firms.
Annual growth of the online bookmakers' sector in Britain is estimated at 13.8%, around a seventh year on year.
The biggest betting companies UK players can bet with are GVC Holdings (Ladbrokes, Coral and Betdaq), William Hill and the Paddy Power/Betfair Group.
Common Features of the UK Bookies
There is plenty that the largest UK bookmakers have in common. This is what sets them apart from the same firms operating in other regions, or smaller competition with Britain. Make sure that you look out for these regular features with the UK's biggest betting companies today:
Fractional odds – In Europe, they use decimals and across the Atlantic in the USA, there are American odds. The different ways that prices are expressed for sports betting matter, as each involves different calculations. All the biggest UK bookmakers keep it traditional with fractions. These are simple to understand. The number on the left-hand side or top of the fraction is what you win, i.e. your profit, if staking the number on the right-hand side or bottom. Remember, you must add your stake on when calculating total returns.
British betting terms – Each major region of the gambling world uses different words to mean the same thing. A forecast on horse racing in the UK, for instance, is called an exacta elsewhere. Another example would be with accumulators or accas being called multis or parlays across the Atlantic in North America.
UK Gambling Commission license – Whether it's one of the UK's biggest betting companies or a smaller operator, all firms must be licensed by the UKGC in order to take your bets legally. That is a requirement by British law.
Region specific payment methods and customer service – The largest UK bookmakers also provide payment and customer support that is tailored to British bettors. From a UK helpline to certain types of debit card and eWallet services, they have you covered.
Interesting Gambling Statistics in the UK
A far-reaching study conducted by Finder in 2019 and updated again in 2020 shows how common gambling is through the biggest bookmakers in the UK and other operators. The numbers and data were quite revealing about what people in Britain bet on, how much and when:
Brits spend £2.60 on average per week on gambling, and that adds up to £135.20 per year.
Gambling addiction could cost the UK up to £1,200,000,000 per year.
However, The National Lottery – played by about 30% of Brits in 2019 – contributed around £1,600,000,000 to good causes during 2018/19.
Almost half of UK adults (47%) will have placed a bet in the last four weeks.
Using a binary gender demographic, more men and about half of the British adult population (51%) gambled compared to just over four in 10 women (41%).
A fifth of British adults surveyed said they gambled a minimum of twice per week.
Spikes in gambling participation in the UK seem to occur in years when there is a major international football tournament involving England. This explains why 2016 and 2018, when England reached the World Cup semi-finals, were higher than the odd-numbered years around them.
While lotteries (42.3%) and scratchcards (9.9%) were the most popular form of gambling in 2019, sports betting still accounted for a significant minority (6.7%).
It almost goes without saying that the biggest betting companies UK punters use are you safest option if you are engaging with gambling.
Conclusion
That should tell you just about everything you need to know about the biggest bookmakers in the UK today. They are industry leaders with good reason. It's no accident that the most profitable British gambling companies have reached the pinnacle of the sector by being trustworthy, reliable and regulated but also fair to those people betting on them. Top online sportsbooks never get too high on a good day for them, or too low on a bad day when bettors clean up and many favourites win. Reputation is everything, and the major players built theirs up over many years in most cases.
FAQs
What is the largest bookmaker in the UK?
GVC Holdings, comprised of Ladbrokes, Coral and Betdaq among other gambling brands, is widely considered to be the largest UK bookmaker today. This has been formed by a series of takeovers and mergers in recent years.
What is the revenue of the UK's biggest betting company?
The revenue the UK's biggest betting company, GVC Holdings, is estimated at around £2,500,000,000.
How much do Brits spend on gambling every year?
On average, a British adult will gamble £135.20 per year according to a 2019 survey commissioned by Finder. You can view other conclusions and data from this above.