CORAL CASH OUT GUIDE (2022)
What is Coral Cash Out?
Like most such tools, Coral Cash Out allows a punter to settle a bet before the conclusion of the sporting event that it has been placed on. You accept whatever odds are being offered at that time, rather than your original ones. The odds quoted for Cash Out in the Coral betting slip will depend on the current state of play in the match.
A simple example is a pre-match wager placed on an away win for Manchester United, who hold a slender one-goal lead after 75 minutes. You may feel a little nervous about the outcome with 15 minutes still to play, and opt to settle the bet using the price at that moment. Technically, you'll be getting lower odds than those at which the bet was originally placed. That's because some of the risk is being eliminated at the bookmaker's expense. In this case, you're shaving off 15 minutes of action, which is more than enough time for Man Utd to lose their lead.
The Coral Cash Out tool is only available on selected markets. A lot of the main football betting options are covered, and it's also in place for most of the other major sports like tennis, cricket, golf, and basketball.
Do You Want to Join Coral?
What is Coral Partial Cash Out?
The Coral partial Cash Out tool adds an extra level of customisation and control. In short, it allows punters to decide how much of the active stake is settled, as opposed to settling the entire bet at once. The rest of the stake that isn't cashed out stays active, with that part of the bet running its course to the full outcome of the game.
Even after the first time, it is actually possible to do another partial Cash Out with Coral on the remaining active stake from your original wager. The tool offers a lot of versatility, as you can see, with the important thing being that the punter controls each increment of the active stake that is settled.
As an example, let's say you've got a £10 stake on Man Utd to win away. United are leading 1-0 with 15 minutes left, so you decide to execute a partial Cash Out with Coral to lock in some profit. £5 of the initial stake at the offered odds is settled, leaving the other £5 riding on the outcome at the final whistle.
How to Cash Out on Coral
Like most other features on this user-friendly platform, a Coral Cash Out is very straightforward to execute. Let's take a quick look at exactly how to get it done, whether you're using a desktop or mobile device.
Cash Out from the Website
All of the Coral Cash Out options are controlled within the betslip when using the main website. To execute a Cash Out in the Coral betting slip, you'll find a dedicated "Cash Out" mini-section containing eligible wagers, in which you can see – at a glance – what your options are.
Coral do all of the calculations automatically, so the odds quote will be presented by them. As noted, it will all depend on the time remaining and current situation of the event in question. If you're happy with the return being offered, just select the bet that you want to Cash Out and click the button to confirm. Once you've done so, the bet will be settled at the given odds.
To summarise, these are the few steps you need to take here:
Place a wager on a Cash Out-eligible market

Visit the "My Bets" section of the Coral betslip

Click the Cash Out option within your betslip

Selecting a Coral Cash Out will settle the bet entirely at the quoted odds

If it's a

partial Cash Out at Coral

, first select the amount of stake to settle, then click the Cash Out button and wait for confirmation
Cash Out from the Mobile Website & App
The Coral app is incredibly easy to use, and this extends to the cash out tool. Getting to your betslip is only a quick click away at all times, via the ever-present top menu, and you can use this to gain access to your cash out options.
If it's a full cash out you're after, just select the bet and click the Cash Out button. Alternatively, if it's a partial Cash Out that you'd prefer, you need to determine how much of your stake to leave in by using the slider. This can be adjusted from 9% all the way up to 90%. Once you're ready, click the Cash Out button to settle the bet, then wait for a confirmation message.
Here's a quick summary of how to cash out your bet on the go. Be aware that you can generally follow the same steps whether using the app or mobile website.
Log into your account, and select "My Bets"

Select an active wager in the "Cash Out" section

Click Cash Out to fully settle a bet

To do a partial Cash Out, use the slider to set how much stake to settle first, then hit the Cash Out button

Wait for a "Successfully Cashed Out" message to show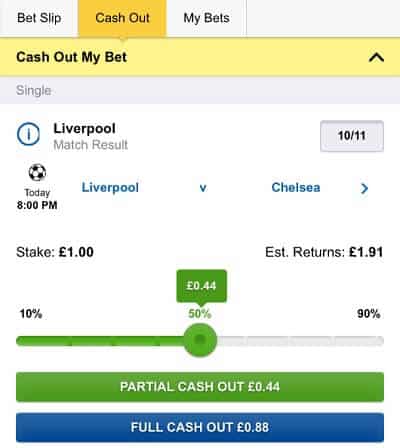 Coral Retail Cash Out Betting Tracker
There is a lot of interconnectivity between the features with Coral, which is a great thing if you are betting in-person and still want to utilise the Coral Cash Out. If you have placed a wager in a brick-and-mortar betting shop, then the Coral Bet Tracker is a convenient and easy-to-use online tool that still allows you to Cash Out.
When you get a physical bet slip, you should find a seven-digit Cash Out code printed on it. Enter the code into the online Bet Tracker at Coral, and the Cash Out option and odds will be sorted out for you automatically. Through Coral Connect, which links all of the brand's online and retail services, you can log in online whenever you like thereafter and see any active bets that were placed in a retail store.
Technically, the other option would be to cash out your wager in a shop. Coral Cash Outs in person can only be done at certain times, however, and you certainly won't be given priority over punters placing a bet.
Coral Cash Out Terms & Conditions
As with any form of betting tool, there are quite a few Coral Cash Out rules in place. Here are some of the most important ones.
The availability of Cash Out is never guaranteed –

Don't just wager with the specific intention of utilising the Cash Out tools. There's absolutely no guarantee they will be available when you want or need them

Singles and multiples bets placed both pre-match and in-play are eligible to Cash Out

–

The versatility of eligible bets for the

Cash Out in Coral

extends beyond just singles to multiples. That means, in short, that you can also bail from bets with two or more selections

Cash Out is subject to a time delay, price fluctuations, and market suspensions –

All Cash Out offers are dependent on live factors in a match, and key events happening can drastically affect the quality, and even the availability, of odds

Cash Outs are calculated using the following factors: selection, original odds, and current bet status

–

That's a simple overview of what goes into determining the value of the odds that a

Coral Cash Out

might have

After a successful Cash Out, the bet will be settled immediately and deemed final –

Always wait for a confirmation message when using the Cash Out. Once you get this, you can consider the wager officially closed, regardless of what happens afterwards

When a bet is partially cashed out, part of your bet is settled and any subsequent events will only impact the part of your bet that has not been cashed out.

–

Only the remaining stake from a partially settled bet remains in effect for the remainder of a match

Maximum Cash Out value of £50,000 per bet –

There's a high limit for Coral Cash Out options. For a Partial Cash Out, that applies to all increments done on each individual wager

Partial Cash Out allows you to Cash Out in 9% increments, up to a maximum value of 90% –

The minimum that can be partially cashed out is 9%, while 90% is the maximum, with the user controlling the specific amount
One of the most important takeaways you'll get from browsing the T&Cs is that not all sports markets will be guaranteed to have the Cash Out tool available. Even if they are, they may not be fully active throughout the duration of an event because of suspensions.
That said, the tool does cover plenty of markets and bet types, and we were impressed by the upper limit of £50,000 per Cash Out. We also like the flexibility you're given to control exactly how much of your bet you Cash Out each time, and – in general – we found the T&Cs to be clearly-explained.
What Sports Markets Does Coral Cash Out Apply To?
As noted, not all markets are compatible with the Cash Out offer with Coral. Plenty of the big hitters are though, with these being some of the most important examples.
Horse Racing – Unusually, you can indeed Cash Out your horse racing wagers with Coral. There's only one way to do so, and that's by settling a bet placed on a long-distance race, but it's better than nothing.
Football – There are a whole lot of football markets covered by the Coral Cash Out and Coral Partial Cash Out tools, such as the Match Result, Both Teams To Score, Correct Score, Over/Under Goals, and Double Chance.
Tennis – The Cash Out options on tennis betting at Coral are generally limited to full Cash Outs on Match Winners. You'll also be allowed to bail on your outright picks sometimes.
Cricket

–

Again, the Cash Out tool for cricket is usually limited to only Match Result wagers or outright bets.
Darts – Set Winner, Leg Winner, and Over/Unders on darts betting may crop up for Coral Cash Out. This largely depends on how high-profile the tournament is, however.
Snooker

–

Cash Out in Coral is available on snooker betting, but not on all matches at all tournaments. Instead it's generally reserved for bigger events, like the Masters and World Championship.
Basketball – Basketball from both the NBA and European leagues is extremely well covered by both the Partial and full Coral Cash Out options.
Boxing

–

Boxing is another sport where sporadic options for Cash Out in Coral sports betting can be found. Again, these are often limited to the biggest bouts.
Volleyball – Along with football and basketball, Volleyball is one of the most well-served sports for Coral Cash Out in terms of market diversity, with both full and partial Cash Outs widely available.
Coral Cash Out Suspended
As on other sportsbooks, there will be times when the Coral Cash Out tool is suspended. This is pretty common, with market suspensions tending to happen directly after major incidents in matches.
A goal in a football match, for example, changes the situation drastically, as does a tennis player wrapping up a set. After such moments, it's common to see a suspension in your Coral Cash Out betting slip, meaning that it's simply not available for a few moments, or as long as two minutes. The operator needs this interval to reassess and update markets, and is thus unable to offer you a Cash Out price.
Remember that Coral reserves the right to amend, suspend or remove Cash Out availability at any time, on any market, to any customer. As the operator, they have full control not only over how their Cash Out offers are handled, but when they're available too.
Final Thoughts
Even among the crowded landscape of Cash Out tools, Coral's version really does stand out. Primarily, this is because of its excellent versatility, with both full Coral Cash Outs and Partial Cash Outs being available. This gives you an exceptional amount of control, particularly as you can adjust your partial Coral Cash Out increments to a pleasingly precise degree. The fact that you can Cash Out both singles and multiples from your Coral bet slip also gives you more possibilities.
Elsewhere, we were impressed by the clarity of Coral's T&Cs, and the sheer number of markets they make eligible for Cash Out. In short, if you're a fan of live betting who's been let down by your bookie's Cash Out tool in the past, Coral are an excellent and reliable alternative.
💰Full List of the Cash Out Betting Sites for the UK Players >>
FAQ
How can I Cash Out on the Coral app?
Look on the Coral bet slip for the Cash Out section in My Bets. Active bets that are Cash Out-eligible can be found there. Either click the Full Cash Out option to settle the bet, or move the Partial Cash Out slider to set the percentage of your stake that is left in place.
Why is Coral Cash Out not working?
The Coral Cash Out tool is not available on all markets, meaning it could simply be an eligibility issue. Otherwise, the Cash Out option is often suspended towards the final few minutes of a sporting event, or whenever something major happens in a game which affects odds in a significant way (e.g. a goal being scored).
Can I Cash Out from my Coral betting slip?
All of the Coral Cash Out options are handled through the Coral bet slip. The tools for the Partial Cash Out are in there as well.
How do I activate my Coral Cash Out?
Towards the bottom of a bet slip is where the Coral Cash Out buttons are located. On the buttons there will be an odds quote for settling the bet. To activate it, just click the Full Cash Out or Partial Cash Out button, depending on which option is being taken. Always wait for a confirmation in the slip that a Cash Out has been completed.
Top Cash Out Bookmakers: