BEST CS:GO BETTING SITES (2022)
For years now, eSports has been one of the fastest-growing markets around for British punters. While the likes of Dota 2, Overwatch, and FIFA are definitely popular, CS:GO is arguably the biggest title of the bunch from a betting perspective. In this article, you'll learn everything you need to know about Counter Strike betting. For starters, you'll discover the five best CS:GO betting sites right now, based on our extensive testing. We've also explained the most important bet types and tournaments to focus on, brought you some top betting tips, and plenty more besides.

Top 5 Sites for Counter Strike Betting – 2021
Counter Strike: Global Offensive (CS:GO) Basics
Counter Strike is a team-based online first-person shooter. There are five players on each team, who work together to either take out their opponents, or achieve another objective. Matches are split into 30 rounds, with each round – at the competitive level – lasting just under two minutes. Teams swap between playing as 'Terrorists' and 'Counter Terrorists' at the halfway point. When one team wins 16 rounds (i.e. over half the total rounds), they've won that match.
At the pro level, the teams will normally play a 'best of three' format in a series to determine the overall winner. These are carried out on a variety of different maps, each with a completely different layout, and therefore representing a different challenge to players.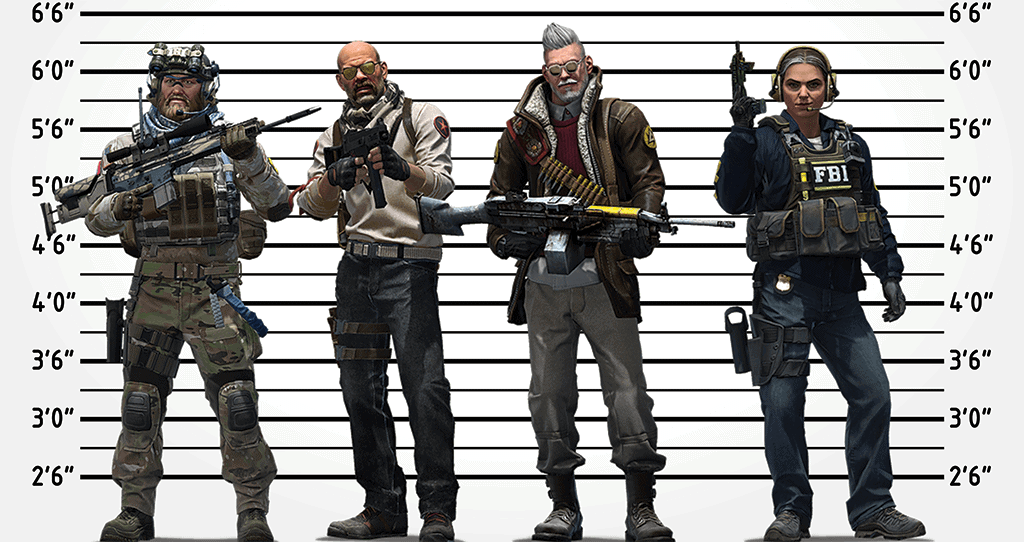 The top players in CS:GO have put many thousands of hours into the game. Along with supernatural shooting skills, they'll also acquire CS:GO 'skins' as they go along – cosmetic changes for their weaponry, which can be collected, traded, or sold.
The first version of Counter Strike actually came out all the way back in November 2000. The release of version 1.6 a few years later birthed the competitive scene. Although CS: Condition Zero and CS: Source were somewhat popular, it was CS:GO – released in August 2012 – which turned Counter Strike into a global eSports sensation, and led to the boom in CS:GO odds and Counter Strike betting sites. At its peak, a whopping 24 million people have played the game concurrently, and hundreds of thousands more regularly watch the biggest tournaments live.
CS:GO Betting Site Reviews:
The vast majority of sportsbooks nowadays will have an eSports betting section, and almost all of these will include CS:GO. That said, not all of those sites are created equal. We've tested out and researched all your top options, and identified these as the five very best sites for Counter Strike betting.
Bet365
Bet365 is arguably the best all-round sportsbook in the UK right now. It's no surprise, therefore, that they excel when it comes to CS:GO markets.
They have coverage of basically every Counter Strike tournament around, not just in Europe, but further afield too. This coverage includes pre-match and outright Bet365 CS:GO markets, but it's live betting in which this brand truly shines. Their odds for ongoing CS:GO matches are constantly updated, and the range of in-play bet types is absolutely exceptional.
Elsewhere, Bet365 has one of the best selections of other eSports titles around too. Rainbow Six: Siege, Valorant, Starcraft II, LoL, Overwatch, and more are all featured, including further excellent in-play coverage.
Unibet
Unibet's international growth over the past couple of decades has been remarkable. Key to this has been their ability to move with the times, and this is amply demonstrated by their commitment to eSports.
CS:GO is the clear flagship title, with Unibet's coverage being impeccable. Everything from the European Development Championship up to the Masters is represented here. Easy betting is facilitated with an incredibly intuitive interface, which is a cinch to use from the first time you visit the site. Better still, live streaming of CS:GO is provided free of charge, via Twitch integration. This works extremely smoothly, and is available directly from the main page of the eSports section.
888sport
888sport have made enormous strides in recent years. This has included developing their mobile features, improving their customer service, and widening their market selection to include a whole range of eSports titles.
They're particularly strong when it comes to eSports CS:GO coverage, with different tournaments from all around the world available to bet on on a daily basis. While you won't find the widest selection of bet types here, those in place have highly competitive odds. This includes in-play wagers, and the odds for these update with pleasing regularity to reflect the latest goings-on.
Elsewhere, 888sport cover Overwatch, Dota 2, Rainbow Six, FIFA, and LoL. Again, while there's not a huge variety in bet types with these titles either, the odds are excellent.
Widget not found
Betway
Betway definitely qualifies as an all-round sportsbook. In recent years, however, they've made a massive push into gaming, and the Betway eSports section is arguably the best around right now.
Naturally CS:GO is covered here, with bet types ranging from simple Match Winner, to Maps Handicap, to Correct Score. You can also watch all live events via the free Twitch integration.
Where Betway distinguish themselves, though, is in their offers. They are the only major sportsbook to provide a Free Bet Club specifically for eSports, through which you can net a £10 free bet each week. You can also get a £10 matched in-play free bet on Saturdays, and the £10 free bet welcome offer can be used on eSports too.
Marathonbet
Marathonbet might have started in Eastern Europe, but has made significant strides westwards in recent years. Nowadays it provides a highly modern eSports betting experience for CS:GO fans.
Marathonbet's platform isn't the prettiest, but – once you get past this – you'll find an excellent eSports section. Their biggest strength is definitely the variety of their bet types. Dozens of different markets are available on the bigger matchups, featuring teams like FaZe Clan and Dignitas. These include not just Match Winner and Handicap wagers, but innovative 'Statistics Markets' too, including Over/Under Total Kills, and Most Kills Per Map.
In short, Marathonbet gives you a degree of control over your CS:GO gambling which is extremely rare.
How to Bet on CS:GO
In the best cases you'll find a couple of dozen CS:GO bet types to choose from, on both regular sportsbooks and CS:GO skin betting sites (explained below). When you're starting off though, we'd recommend focusing on these top options.
Outright Winner
This is the most straightforward form of Counter Strike betting, with only two outcomes to pick from, making it perfect for inexperienced eSports punters. In short, you're simply betting on which team will win the match. Please note, however, that this means the overall match, not simply the map which is currently taking place.
Handicap Betting
A CS:GO Handicap works similarly to an Outright Winner bet, but gives you more control. You're predicting not just the winner, but the margin of victory. This is usually done in terms of Total Maps Won. If you pick Iberian Family to beat Sharks on a -1.5 Maps Handicap, for example, they must win by at least two maps for your wager to triumph.
Correct Score
As the name suggests, you're simply picking the Correct Score of the match here. Similarly to Handicap betting, this is done in terms of maps, rather than rounds. In our aforementioned matchup, for example, you might pick Iberian Family to specifically win 2-0 (i.e. they win two maps, and Sharks win zero).
Multiples Bets
In addition to making singles wagers, you'll usually have the option to place multiples too. If you think Dignitas will destroy their opponents, for example, you might take Dignitas to Win and Under 2.5 Maps together. Combining bets like this will take your odds to the next level, but – since you need multiple outcomes to go your way – they're naturally harder to win too.
Special Bets
As with other eSports betting, bookies will occasionally provide Specials markets for CS:GO. The specifics here can vary wildly depending on the competition, and the teams involved. Most commonly though, these will be pre-made multiples (usually doubles), on which the odds have been inflated. As with regular multiples, make sure to properly assess the risk/reward ratio here before committing to the wager.
Other
Over/Unders are one of the most popular other bet types. Similarly to football, you're given a set point here, and must predict whether the outcome will be over or under that point. The simplest Over/Under for CS:GO is Total Maps (e.g. Over/Under 2.5 Maps), but Total Rounds is a more intriguing and trickier alternative.
Elsewhere, you can bet on Map Winner, which means backing a team to win a specific map rather than the whole match. Meanwhile, if you're simply looking for some fun, we'd recommend Pistol Round betting. This involves simply picking which team will win the first round, and is invariably a short-lived but enjoyable wager.
CS:GO Skin Betting
As touched upon, as you continue to play CS:GO you will acquire 'skins'. These are simply cosmetic upgrades which can be used to personalise your weaponry. While they have no actual impact on gameplay, however, a mini-economy has still sprung up around these skins.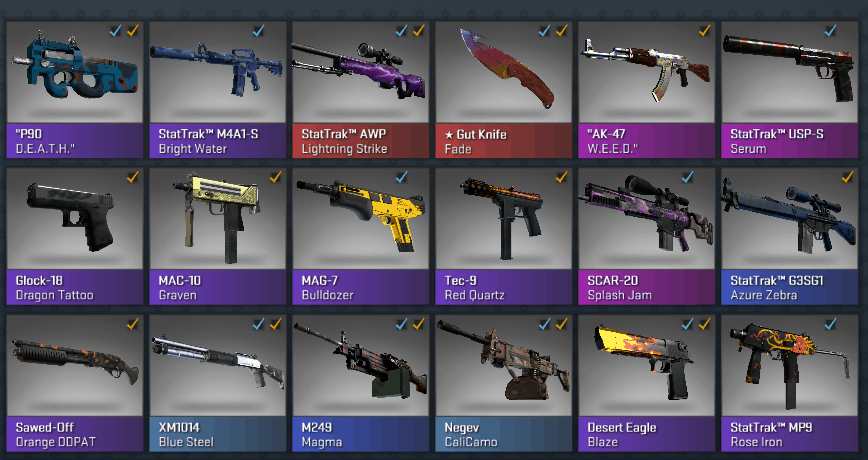 In addition to trading skins, Counter Strike players can actually use them to fund their accounts on certain betting sites. They effectively work in the same way as regular cash – you simply use a Counter Strike skin as your stakes instead.
The appeal here is obvious. You're being allowed to place wagers without spending any actual money, instead simply using digital goods you probably got for free. The downside is that the sites which provide CS:GO skin betting are unregulated, and – therefore – there's no guarantee that they're legitimate. If you want to play it safe, we'd recommend simply sticking to regular CS:GO betting sites.
CS:GO Tournaments
One of the things which makes this game so appealing on the best CS:GO betting sites is its year-round nature, with competitions taking place almost constantly. Some definitely stand out above the competition though, and we'd recognise prioritising these five Counter Strike tournaments.
Major Championships
The Major Championships are run by Counter Strike's creators, Valve. The winnings can't quite compete with those at The International – Valve's other main eSports tournament – but a $1 million prize pool for the CS:GO 2021 edition is still nothing to sniff at.
The Majors are held twice per year, although the actual dates vary. The venues also alternate regularly between the USA and Europe. Recently the Majors have been dominated by Astralis, who have won the last three tournaments at the time of writing.
DreamHack
DreamHack was originally Europe's biggest LAN festival, although it has since been held in the US too. For CS:GO players, the DreamHack Masters specifically is one of the marquee events on the calendar. The prize pool is a hefty $250,000, and – among fans – DreamHack is famous for being one of the best-produced tournaments around, always ensuring a top-notch viewing experience.
ESL Pro League
This is the top league-based CS:GO competition, as opposed to the knockout-format cups above. 24 teams from around the world compete in the Pro League each season, including 13 permanent members. Along with incredibly high level play, the Pro League is famed for its unpredictability, having had different winners in each of the previous six years, at the time of writing.
ESL Premiership
Like the Pro League, the Premiership is operated by the ESL (Electronic Sports League), and also has a league-based format. This tournament, however, is exclusively reserved for teams from the UK and Ireland. A $20,000 prize pool is up for grabs each year, which – in recent years – has been dominated by END.
Intel Extreme Masters
The Masters – which is also sanctioned by the ESL – is the definition of a global CS:GO tournament. Smaller events take place all around the world, with the top teams then entering the IEM World Championships for an exciting showdown multiple times each year.
Best Counter Strike Players of All Time
Even with the newer version of Counter Strike – Global Offensive – there's no consensus as to who earns 'GOAT' status. As in other sports, it often comes down to a debate between personal and team success.
Many believe that Ukranian S1mple is the most talented player around, for example, but – despite winning 13 MVP awards – he has struggled to actually triumph in big tournaments. On the other end of the spectrum is Dev1ce, who – back when he was part of Astralis – won a whopping four Majors (including two MVPs), along with nearly $2 million in prize money, before moving to NiP.
For a player who has simply stood the test of time, it's hard to look beyond GeT_RiGhT. Swede Christopher Alesund started playing during the Version 1.6 days, reached the top of the pro scene back in 2007, and showed remarkable consistency to stay there all the way up until 2020.
CS:GO Betting Tips
As with any other form of gambling, there's no guarantee of profiting from CS:GO betting. There are definitely steps you can take to improve your chances though, and these are some of the most important.
Do Your Research: The better informed you are, the better your picks will be. Take advantage of the vast amount of statistics, previews, analysis, and betting tips which are available for free.
Watch Along: Watching streams on CS:GO gambling sites helps you judge a match's momentum swings yourself, and find the perfect time for a live wager.
Know When to Back Out: The cash out tool for CS:GO betting is there for a reason. Don't be afraid to use it, either to lock in some early profit, or bail on a bet that's going bad.
Create a Staking Plan: Identify how much you're willing to spend – and potentially lose – per month. Then calculate how many wagers you'll place in that span, and divide the first number by the second to work out your average stake.
Mix it Up: Different CS:GO bet types offer different blends of risk and reward. Look to mix safer picks – like Match Winner – with riskier ones, like multiples or specials.
Use Those Offers: Trigger free bet deals whenever possible, and use these tokens to save your real money account. Odds boosts and acca insurance deals are also very useful.
Have Multiple Accounts : Doing this allows you to trigger multiple welcome offers, which usually deliver the biggest bonuses. It also lets you quickly pick and choose the best odds for a particular market.
Final Thoughts
If you're already a fan of CS:GO, there's never been a better time to try placing some wagers too. There are a whole range of bookies out there who cover it, and we've recommended five of the best CS:GO betting sites at the top of this page.
Each of these will deliver a streamlined, feature-packed gambling experience, allowing you to use a variety of bet types. In many cases you can watch your wagers play out live too, via high quality live streaming. Follow our CS:GO betting tips and gamble responsibly, and you're sure to be in for an enjoyable experience.
FAQ
What is the most popular CS:GO tournament?
The Major Championships – backed by Valve themselves – is arguably the most important tournament of the bunch. There are many other events throughout the year though, including the Pro League, DreamHack, and more.
How do you bet on CS:GO?
It works similarly to any other sport. Pre-match betting is the most common route to take, but you can also place longer-term outright wagers (on an entire tournament) or more immediate in-play bets.
Is Counter Strike betting popular in the UK?
Absolutely. While the British pro scene can't compete with those in Europe and elsewhere in the world, CS:GO is still enormously popular in the UK. In part, this is shown by the sheer number of British bookies who pull out all the stops to offer Counter Strike betting markets and features to their punters.