What is IBAS and How Do You Raise a Dispute?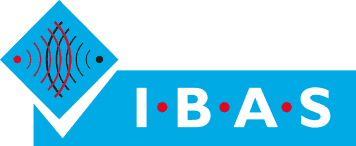 If you've ever scrolled to the bottom of an online gambling site's main page, then you've probably seen the IBAS logo. But what exactly is IBAS? Well, IBAS is an acronym for Independent Betting Adjudication Services. IBAS is an Alternative Dispute Resolution Service, or ADR, and it adjudicates disputes involving licensed gambling operators and their customers.
IBAS was founded in 1998 and has operated under the direction of the United Kingdom Gambling Commission since 2015. Operators who register with IBAS are bound by IBAS' terms and conditions as well as the service's rulings. IBAS' core values include:
How to Raise a Dispute with IBAS
Before someone brings a dispute to IBAS, they must first make a reasonable attempt to resolve the issue with the operator in question. Taking a complaint to IBAS should be a last-ditch effort. If you have exhausted all other avenues, then you can bring your case to IBAS' attention. Complainants can do this by following a series of steps.
1.Register with IBAS: You can register with IBAS online or through the post. Obviously, it is much faster to do it online. To register online, simply go to the IBAS website and fill out the registration form. You need only provide some basic personal information including your full name, email address, residential address, and telephone number.
2.Make a Claim: Once your email address has been verified, log in to your account and select the "Make a Claim" option from the "Consumers" menu.
3.Fully Explain Your Grievance with the Operator:
You are asked to explain:
The steps you took to resolve the issue with the operator and when you took them.

The outcome you expected and reasons why you expected that outcome.

What the outcome was.

The explanation offered by the operator for their decision.

Any subsequent interactions with the operator.
4.Any Additional Information that's Relevant: You can attach any other information such as chat logs, emails, or photographs that support your case.
5.Reply Quickly if Asked to Provide More Information
What Betting Issues can IBAS Help With?
To start with, IBAS doesn't only adjudicate issues with online casinos and bookmakers. They deal with a range of gambling sectors including:
Betting Exchanges

Betting Intermediaries

Retail Bookmakers

Bingo Operators

Gaming Machines
While the scope of complaints IBAS deals with is vast, there are limits. For instance, they will gladly resolve an issue surrounding maximum payouts. Let's say you place a 15-leg football accumulator with a potential payout of £500,000. Let's also say that it wins. The problem is that the bookmaker limits football winnings to £250,000.
IBAS will start by looking at how those limits were advertised. If the limits were made easily available, then it stands to reason that the bettor should have known and could have made fewer picks on the accumulator and still have won the maximum payout. However, it could be a different story if those limits were not clearly indicated by the operator or if they were ambiguous.
Some of the most common complaints that the service deals with are in regards to:
Pricing Errors

Late Bets

Unclear Market Terms

Related Bets

Betting Shop Scanner Failure

Disputed Wager Instruction

Cashing Out

Exclusions from Bonuses, Promotions, and Other Offers
There is a certain onus on the bettor to know what an operator's terms and conditions are. This is why it's so important to read and understand them. Always ask the operator to clarify if you have any doubts.
What Does IBAS Not Cover?
While IBAS can help consumers with a wide range of issues, there are certain things that the service does not deal with.
Customer Service: Whether it happens online or at a land-based establishment, IBAS will not delve into disputes regarding the standard of customer service received.
Accusations of Fixing or Unfair Games: Complaints relating to fixing, cheating, or unfair games are beyond IBAS' scope. Instead, these types of complaints should be taken up with the regulatory body that oversees gambling in that country. In the UK, that body is the Gambling Commission.
Responsible Gambling: IBAS will not get involved in disputes relating to safer gambling standards. For example, you were able to place wagers during a period of self-exclusion. IBAS can't help you with that. The only exception to this rule is if the operator breached their contractual obligations or those obligations were somehow unfair. Cases like this should be brought to the attention of the regulatory authority.
Underage Gambling: Like most other areas that IBAS does not get involved in, underage gambling is overseen by the licensing authority.
Closing Accounts and Refusing to Accept Bets: The legal reality is that operators are not obligated to offer their services to you. IBAS will not intervene if an operator closes your account or refuses to accept your wagers.
How Does the IBAS Procedure Work?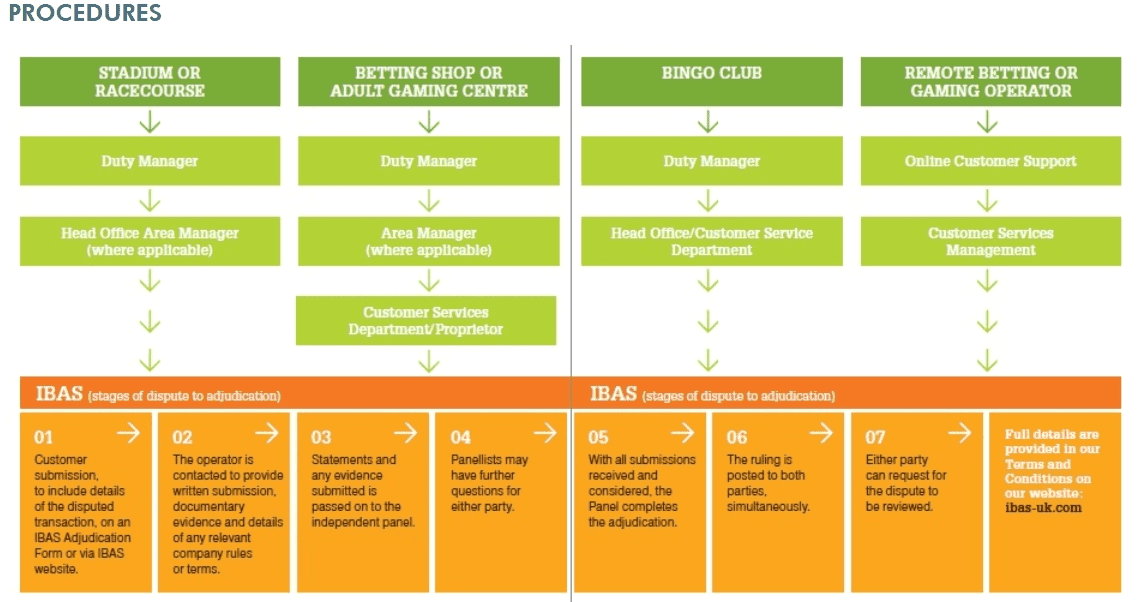 As mentioned, IBAS impartially adjudicates disputes between licensed and registered gambling operators and their customers. Prior to IBAS' Adjudication Panel examining the details of a grievance, they will start by asking that you confirm to following:
You have put forth a reasonable effort to resolve the issue with the operator.

You accept IBAS' terms and conditions. In issues relating to gambling operations, the operator must be registered with IBAS.
The entire process goes as follows:
Customer Lodges a Complaint:

You must complete the IBAS complaint form and include such information as the details of the dispute

The Operator is Contacted:

IBAS requires the operator to submit any relevant documentary evidence and details regarding the company's relevant terms and conditions.

The Complaint is Reviewed:

All evidence is passed on to IBAS' independent panel of adjudicators.

Follow-Up Questions:

The adjudicators may have further questions for one or both parties involved.

Adjudication Phase:

Having received all the available information, the adjudicators consider the evidence and come to a decision.

Ruling:

The panel's ruling is made available to both parties at the same time.

Request for Review:

Either party involved may request that the panel's decision be reviewed. If a review is granted, the panel will once again evaluate the evidence and come to a conclusion.
History of IBAS
IBAS is an independent third-party adjudication service that was established in 1998. They deal with disputes involving gambling establishments and their customers. In order for a customer to seek a resolution through IBAS, the operator in question must be registered with IBAS.
In its first year, IBAS handled about 800 disputes. That number rose to over 1,200 by 2002 and nearly 1,700 by 2007. Adjudicators awarded over £365,000 to customers in 2007. In 2020, IBAS adjudicated 5,673 cases and awarded payments totaling £480,222. IBAS is now the third-party adjudicator for almost all bookmakers in the United Kingdom and it works closely with the UK Gambling Commission.
IBAS is dedicated to delivering fair and even-handed decisions based on a thorough understanding of gambling and gaming. Unlike operators who are bound by IBAS' decisions, consumers are free to further pursue their grievances in a court of law. IBAS is funded by operators who pay their registration fees which must be paid a year in advance. To date, IBAS has received over 75,000 adjudication requests and awarded consumers with over £6.5 million.
FAQ
How do I contact IBAS?
The fastest way to contact IBAS is by visiting their website. You can then select the "Contact IBAS" link from the menu at the top of the main page. Bear in mind that you must first register if you want to lodge a complaint against an operator using IBAS. You can also call, fax, email, or send them a letter through the mail.
Does IBAS charge people for settling disputes?
IBAS is a free service for consumers, but gambling operators must pay an annual fee to use the service.
Can I trust IBAS?
Yes. IBAS is fair and impartial. While they have awarded customers over £6.5 million since they were established, they have also sided with operators on many occasions. Adjudicators adhere to the relevant laws, consider legal precedents, and take all available information into account when they are adjudicating a dispute.