Ladbrokes Cash Out Guide (2022)
Ladbrokes is one of the oldest names in the betting industry. In fact, the origins of the company go back to 1886, before the Ladbrokes name was adopted in 1902.
Remaining profitable and relevant for that length of time requires the ability to adapt to the needs of customers, and over the years Ladbrokes have continued to meet those needs with tools and features that make the betting experience more competitive. One of those useful features is the Cash Out.
What is Ladbrokes Cash Out?
Ladbrokes Cash Out is a tool that is offered to customers when they bet online. The principle of the Cash Out offer was – in part – influenced by the success of betting exchanges. These betting sites enabled customers to back and lay the same selections during an event, and this proved extremely popular with punters, so bookmakers such as Ladbrokes looked for a way to compete.
The Ladbrokes Cash Out offer was the result. While bookmakers like Ladbrokes cannot offer people the chance to directly lay a selection, they can give them the opportunity to take their winnings or cut their losses before an event is over, which is what the Cash Out does. Whether you use the full or partial Cash Out, Ladbrokes have made it possible for you to rapidly adapt to changing circumstances.
For every event that offers Cash Out, customers are able to close their bet while the event is ongoing by taking the Cash Out offer. The Cash Out figure is calculated by Ladbrokes and changes as an event continues, but it provides punters with the flexibility to close out their winnings or to limit their losses even after an event has started. This can alternately save or make you a significant amount of money.
Do You Want to Join Ladbrokes?
Ladbrokes New Customer Offer
Get £/€20 in Free Bets! Register as a new customer at Ladbrokes and place cumulative qualifying stakes to a total of £/€5 win or £/€5...
Show More
Get £/€20 in Free Bets! Register as a new customer at Ladbrokes and place cumulative qualifying stakes to a total of £/€5 win or £/€5 each-way at odds totalling 1/2 or greater. You will be credited with 4 x £/€5 Free Bets to use immediately. Once your Free Bets have been credited you will have 7 days to use them before they expire. PayPal and certain deposit types and bet types excluded. Minimum £/€5 bet within 14 days of account registration at minimum odds 1/2 = 4 x £/€5 Free Bets. Free Bets valid for 7 days on any sports. Stake not returned. Restrictions apply. 18+, full T&Cs apply.
Show Less
What is Ladbrokes Partial Cash Out?
The bookmaking world is extremely competitive and bookmakers such as Ladbrokes are always looking for new ways to get an edge. That's why Ladbrokes took the Cash Out offer a stage further by developing the Ladbrokes partial Cash Out.
To create the partial Cash Out, Ladbrokes again took their cue from betting exchanges, which enable customers to back and lay selections for varying amounts. In the same way, the partial Cash Out on Ladbrokes makes it possible for you to adjust the level of your Cash Out.
With a standard Cash Out, you are effectively cashing out the entire bet. With a partial Cash Out, however, you can decide how much of your bet you want to cash out. This is done through a handy sliding scale tool that enables you to cash out as much as 100% or as little as 10% of the Cash Out figure offered by Ladbrokes.
This can be useful in circumstances where you are relatively confident that the result will go your way, but you want to take a small piece of your winnings before the end. You can set the slider to whatever Cash Out level you wish, and leave the rest of your money in the market. In this way, the partial Cash Out in Ladbrokes offers you even greater control and flexibility over your betting.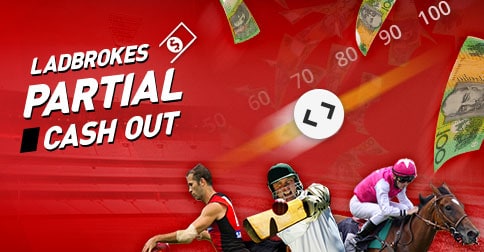 How to Cash Out on Ladbrokes
Ladbrokes Cash Out obviously sounds like a good tool, but it's high time for us to take a look at how it actually works. If you are new to the concept, don't worry, as we've put together a step by step guide to both the full and partial Ladbrokes Cash Out tools.
Cash Out from the Website
The Ladbrokes desktop site is one of the easiest around to use, and this applies to its cash out tool too. These are the few steps you must take to bail on a bet via your computer.
Check – before placing your bet – that the market in question is eligible for the Cash Out feature. Most of the major markets for the big sports do indeed offer

Ladbrokes Cash Out

Place your bet and wait for the event to start

While the event is in-play, you will see the Cash Out button indicated in green. You will also see that the Cash Out figure changes as the event progresses

If you want to take your winnings and Cash Out, you can click the green button at any time

If you want to go for a

partial Cash Out on Ladbrokes

, you can use the handy slider to set the percentage level of your Cash Out

When you have requested a Cash Out, there will be a small delay as the Cash Out is confirmed

After confirmation, you will receive your cashed out amount in your Ladbrokes betting account
Cash Out from the Mobile Website and App
The Ladbrokes mobile website and betting apps are just as easy to use as the desktop version of the site. As you can see, the steps are generally the same too:
Place your bet through the Ladbrokes app or mobile site

Check your current bets using the betslip at the top right of the screen. Ongoing bets with a Cash Out option will indicate this in green next to the bet details

Open the bet and click on the Cash Out option

After a short delay, the Cash Out payment will be credited to your Ladbrokes account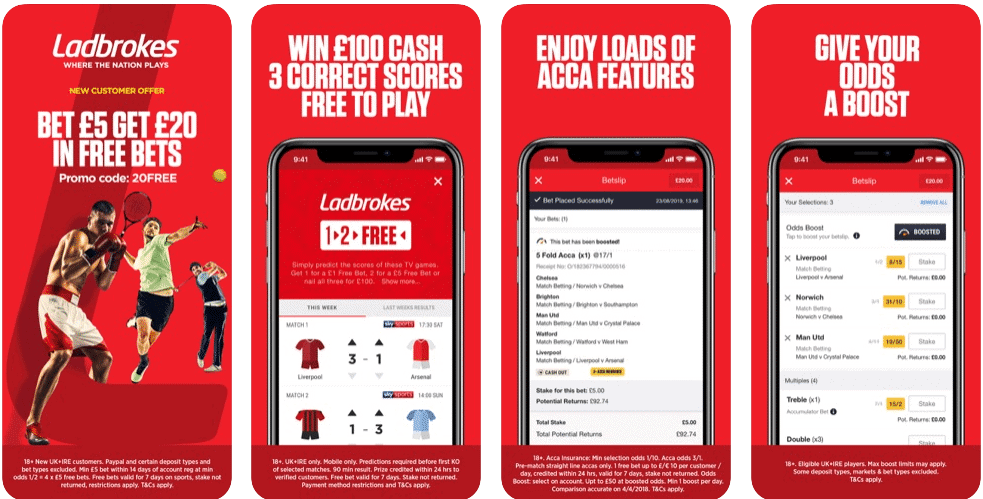 Ladbrokes Bet Tracker
Being able to keep track of your bets is essential for punters, and Ladbrokes have made it easy to do this thanks to the Ladbrokes Betting Tracker.
With some bookmakers, checking on your existing bets can involve lots of clicking and scrolling, but the Ladbrokes Bet Tracker is easy to find. Simply click on the tab marked The Grid at the top of the home page and this will open a variety of options, including the Bet Tracker.
If you click on the Bet Tracker, you will see two simple options. On the left is the Open Bets section, which details your currently open bets, and on the right is the Settled Bets tab, which displays your settled bets. You can then see at a glance where your liabilities are and which bets you need to check. And if you want to use the Ladbrokes Cash Out facility, you can use the Cash Out Ladbrokes Betting Slip to take advantage of the feature.
Ladbrokes Cash Out Terms and Conditions
As with all features and betting tools provided by bookmakers, the Cash Out has terms and conditions attached. These are the three main points to note in the Ladbrokes Cash Out rules:
Ladbrokes Cash Out

is not available on all markets

If you have used a Free Bet to make your original bet, you won't be able to use Cash Out

All

Cash Out bets in Ladbrokes

are subject to a short delay before confirmation
The fact that Cash Out is not available on all markets is something that you will find across the betting industry. Although it is often disappointing to punters, the Ladbrokes Cash Out is usually available for the main markets and events, particularly football.
A Free Bet is often awarded to new customers when they sign up for a Ladbrokes account, as a form of Welcome Bonus. There are usually a number of terms and conditions attached to Free Bets, however, so it is not surprising that they are excluded from Cash Out offers.
Elsewhere, the short delay between requesting and receiving a Ladbrokes Cash Out offer is understandable. As the Cash Out feature is operated during live matches, events could influence the price available. On occasions, you may find that the price you were initially offered has gone, which means it is important to act quickly if you want to use the Ladbrokes Cash Out.
What Sports Markets Does Ladbrokes Cash Out Apply to?
As mentioned in the previous section, the Ladbrokes Cash Out offer does not apply to all sports, but it does cover most of the main sports betting markets.
Football – As the most popular betting sport in the world, football is a key part of the Ladbrokes betting portfolio. They have made the feature available across most markets here, from Match Result to Over/Under betting. One way that football punters can successfully use the cash out in Ladbrokes is to bet on a team that usually starts well in their games, and then cash out if they take the lead early on.
Horse Racing – Ladbrokes made their name with horse racing, so it's no surprise to see that when it comes to the cash out offer, Ladbrokes are keen to make it available to horse racing punters. The Cash Out facility will sometimes be available in-running, but its most effective use is often in Ante Post racing markets on the big events.
Tennis – The Ladbrokes Cash Out tool is generally only available in the Match Winner markets for tennis events, but these can be ideal opportunities for shrewd punters as tennis provides regular breaks in the action for punters to analyse and make their move.
Golf – Golf betting odds are often generous, particularly on the Majors as bookmakers are keen to attract customers. Golf also has some appeal to Cash Out punters as it is relatively slow moving, giving punters plenty of chances to claim their winnings. For instance, if the golfer you bet on is leading a tournament after the third day, that could be an ideal time to Cash Out and avoid any slip-ups on the final day.
Ladbrokes Cash Out Suspended
One problem that punters can face is the temporary suspension of the Ladbrokes Cash Out facility. This can be frustrating, but such suspensions occur for particular reasons.
Major developments in the live market – The main reasons why Cash Out suspensions occur on cash out betting sites is that changes in the event occur, requiring a major recalculation of the Cash Out odds across several markets. The most obvious example is in football markets. If a goal is scored, you will often find that the Cash Out feature is suspended. Fortunately, these suspensions usually last for just a few seconds (although they can occasionally drag on for a couple of minutes).
Market is closed – Another reason for suspension of the Cash Out facility is that the market you are betting on might be closed. For instance, if you are betting in the Over/Under 2.5 goals market and three goals have been scored, that market is effectively over, and the Cash Out feature will obviously be suspended.
Abandonments and void events – In rare circumstances, sports events can be abandoned or delayed due to a range of factors, including crowd disturbance, a significant injury to one of the players, or bad weather. In these cases, you may often find that the Cash Out feature is suspended.
Account issues – It is also sometimes the case that the Ladbrokes Cash Out suspended notice occurs due to particular issues with your account. This could be associated with the use of a Free Bet on this market or a range of other issues. Often these can be identified before you cash out your Ladbrokes betting slip.
Conclusion
The Cash Out feature has been an excellent development in the betting industry for sports punters, and Ladbrokes are a good example of one of the many cash out betting sites that uses the feature to provide additional value and attract new customers.
As with any tool, there are both pros and cons to using the Ladbrokes Cash Out feature. If you take the time to weigh these up though, you might find that the Cash Out on Ladbrokes can add a new dimension to your sports betting and – in turn – help to increase your chances of making a profit.
FAQ
How can I cash out on the Ladbrokes app?
You can cash out through the Ladbrokes app by clicking on the Cash Out option that is displayed alongside the market you have bet on.
Can I cash out with Ladbrokes?
Yes. Ladbrokes is one of the leading Cash Out bookmakers, and they make the Cash Out facility available across a wide range of sports, including football, tennis, golf and horse racing.
Why do Ladbrokes suspend cash out?
The Cash Out feature at Ladbrokes can be suspended for a variety of reasons, but the most common explanation is that a significant development, such as a goal or the dismissal of a player, has occurred. Most Cash Out suspensions are temporary.
How do I activate my Ladbrokes cash out?
You can activate your Ladbrokes Cash Out by clicking on the Cash Out option that is shown at the top of the market you are betting on. The Cash Out figure will change as the market evolves, and there will be a short delay after you choose Cash Out before the amount is credited to your account.
Top Cash Out Bookmakers: