New members. £10 min deposit & bet on sportsbook, placed & settled at 1.5 min odds within 14 days of sign-up. Win part of E/W bets. 2 non-withdrawable £10 Free Bet Tokens: accept in 7 days, valid for 7 days from crediting (ex. E/Ws & Multiples), stakes not returned. Click here for Rules & Exclusions. Bet Responsibly. BeGambleAware.org18-plus
New members. £10 min deposit & bet on sportsbook, placed & settled at 1.5 min odds within 14 days of sign-up. Win part of E/W bets. 2 non-withdrawable £10 Free Bet Tokens: accept in 7 days, valid for 7 days from crediting (ex. E/Ws & Multiples), stakes not returned. Click here for Rules & Exclusions. Bet Responsibly. BeGambleAware.org18-plus
Livescore Bet Mobile App Review
More recently, punters in the UK have shown considerable preference for mobile betting. So, it's no surprise that many platforms are making their services accessible via mobile phones and tablets. One of such reputable betting sites is LiveScore Bet, a major player in the UK. In this review, we tested the LiveScore Bet Mobile App across iOS and Android smartphones.
Our test spanned functionality, appearance and user experience across a wide range of devices. That way, we could assess how the LiveScore Bet Betting App would fare with the average punter. Wonder how well the app performed? Dive right into this article to find out.

LiveScore Betting App Compatibility
The Livescore Bet mobile app passed the compatibility test across multiple devices. A large number of recently produced phones with iOS or Android operating systems can comfortably run this software. Compatible Android smartphone brands include Samsung, Google Pixels and Huawei products, among others.
To download the LiveScore Bet app on your Android device, it must be running on the Android version 5 or higher. For iPhone users, downloading the LiveScore Bet app for iOS on your phone requires a compatibility with iOS 12.0 or later. However, the mobile app is not picky with software overlays and graphical user interfaces.
How can I Download the LiveScore Bet Android App?
The LiveScore Bet App is compatible with Android devices, so you would not have any challenges while downloading or installing the app. Follow these simple steps to install the LiveScore Bet App for Android.
Open your phone's App Store. For your Android phone, it would be Google Play Store.
Search 'LiveScore Bet' using the search bar at the top of the app screen
On the app page, select "Install" to download and install the LiveScore Bet Android App on your device.
How can I Download the LiveScore Bet iPhone App?
iPhone users also have the option to download the LiveScore Bet iOS app. Just like with android devices, the process for installing and using the app is simple and straightforward. Follow these basic instructions, and you will have the LiveScore Bet app for iPhone installed shortly.
Open the App Store
Search 'LiveScore Bet.
You would be redirected to LiveScore Bet on the App Store page and be presented with all the requirements and features of the app. If your iPhone is compatible with the app, you will be able to install it.
Select install to get the app on your device.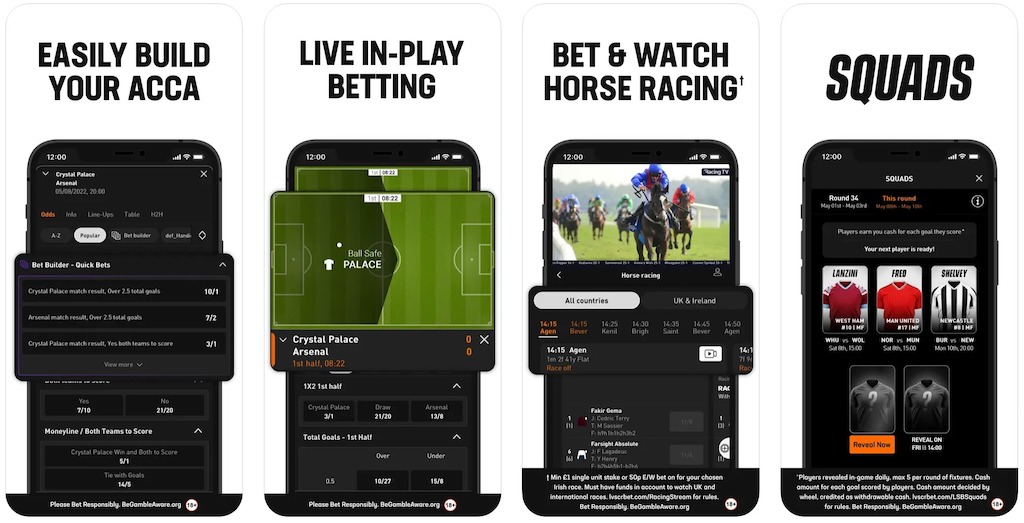 LiveScore Bet Betting App Features
The LiveScore Bet mobile app packs some features which bettors might find enticing. We have compiled some of the top features we noticed while reviewing the app.
Live Sports Streaming and Betting
On the LiveScore Bet Mobile App, you can follow your games live as they are being played and also place live bets. The casino's interface allows users to see the game's live odds while it is being played, and users can place bets based on those live odds while the game is on. Users can also stream live sports and horse racing while they have money in their betting accounts.
For users who prefer to place bets on virtual sports, they can do so on this app.
Just like on most betting sites, gamblers using LiveScore Bet on mobile can use an accumulator to get a bigger payout while gambling. The ACCA feature on this app is easy to use and manage, so bettors can easily combine bets and move on to other things while using the LiveScore Bet App.
If you have played Fantasy Football before, you would be familiar with how the squads feature works. When you play squads, you could also win a big payout too. It is a free-to-play feature, and you get paid in cash, not in free bets. As a user, you get to reveal one player a day and have a total of five players before the weekend games. You get paid real cash if any player on your squad scores a goal. The more your players' score, the more money you get.
The LiveScore Bet mobile app uses Face ID and Fingerprint Unlock options to verify users before opening the app. This way, you can access your app quickly and without any hassle. Your money and bets are also safe because, without your biometric verification or password, the app would not be opened.
App Design and Appearance
If you've used LiveScore Bet or any other LiveScore service, you would know the traditional orange colour the brand uses. The LiveScore Bet app uses this orange colour on a black background in its dark mode state. This is consistent with the design of most betting apps online.
The app has the regular bookmarker mobile app look and feel. The odds and games pasted around would let any user know that this is a sports betting app. There are also some features to give users a good experience when live betting or following a game. For instance, when monitoring a football game live, you can follow the action on the pitch as it is happening. You can't watch the game live here, but the app would give you updates on what is happening in the game on a pitch on your phone as it is happening. These design features would make the app appealing to users.
How is the Users Experience?
We combed through user reviews to determine what the average user's experience was like while using the LiveScore Bet Mobile App.
For Android Users, most user reviews stated that they enjoyed using the app. One feature that users appreciate is the free bets that you get on registration. However, we noticed that users were not comfortable with the app's constant verification. Apparently, the LiveScore Bet Betting App could attempt to verify users' identities multiple times. Whenever this verification is due, a user that cannot verify their details would be locked out of their account. Users found this multiple verification exercise to be unnecessary, as it placed too much stress on them uploading ID repeatedly while their money was locked in the app.
The reviews we picked up from iPhone users were almost the same as those gotten from the Android app users. On the App Store, the LiveScore Bet Betting App has a rating of 4.7 out of 5 stars. This is quite high and is proof that a lot of users are enjoying the bookmarker's service. From the reviews, we also noticed that users here are also uncomfortable with the app's enhanced verification programme. Some users also had problems with the bookmarker's customer care service.
Other LiveScore Apps
There are other apps from the creator of this betting app. One very popular one is the LiveScore Live Sports scores App. This app was actually developed before the betting app and gave it a substantial amount of the popularity it has today. Millions of sports fans around the world use the LiveScore Sports App to monitor live games, match statistics, player records, sports news and lots more.
Another app from this creator is the LiveScore: World Football 2018 app. The app was created for monitoring live action from the 2018 FIFA World Cup in Russia. As the competition has ended, the app has lost its relevance. However, it is possible that the app will be active again during the 2022 FIFA World Cup in Qatar.
About LiveScore Bet
LiveScore Bet is run by LiveScore Betting and Gaming Limited. If you use LiveScore to check your match statistics and live updates, it's the same team that runs LiveScore Bet. They are known as LiveScore Group. The logo and the name, LiveScore are trademarks of the LiveScore Group.
In the UK, LiveScore is a registered online casino with the UKGC (UK Gambling Commission). This is why GamStop and other UKGC regulations are active on LiveScore bet. The online betting site is also registered and licensed in Gibraltar by the Gibraltar Gambling Commissioner and the Government of Gibraltar.
Our Honest opinion about the LiveScore Bet App
We found many interesting details about the LiveScore Bet app. Overall, we will say the app offers great service. The casino is properly licensed by the UKGC and in Gibraltar. The app offers amazing features that make gambling a lot easier and more fun for users. At the same time, the app recognises Gamstop rules and provides other self-exclusion services to punters looking to control their gambling.
The only downside we noticed about this casino from user reviews is that the customer complaint system needs to be improved, and users do not like the multiple verification sessions they have to go through. Overall, the LiveScore Bet app is a great app to use for sports betting.
Frequently Asked Questions
How do I download the LiveScore Bet App?
The app is available in your phone's app store. If you are an Android user, check the Google Play Store app on your phone to download and install the betting app. If you are an iPhone user or you use an iOS-enabled device, check the App Store for the app.
Why can't I live stream games on the app?
First off, this feature is only available for users with money in their betting accounts. So, ensure you have some cash in your betting accountl. If your account has cash, and you still can't view the live stream, consider updating your device's operating system. It could be that your device is not compatible with the live stream feature.
What is the LiveScore Bet welcome bonus?
As a new player in LiveScore bet, you could get a £10 Free ACCA Bet when you place two ACCA bets worth above £10 each. This bonus is called the Welcome offer in LiveScore Bet.
Is LiveScore Bet part of GamStop?
LiveScore Bet is registered with the UKGC (UK Gambling Commission), so by extension, it recognises Gamstop Self-exclusion. If at any point any LiveScore gambler registers for self-exclusion on GamStop, their accounts would be restricted on the LiveScore app while the exclusion program is on.