BEST BETTING SITES TO REQUEST A BET (2022)
We live in a time where people are accustomed to getting what they want, when they want, wherever they are. Naturally, this has carried over to sports betting too. The Request a Bet feature – which is now provided by most big bookies – is one of the latest examples. We've tested this tool on all the top Request a Bet bookmakers, and you can find our recommendations below.
Best Request a Bet Bookmakers
Request a Bet Explained
It's fair to say that modern-day betting sites – both large and small – already offer enormous selections of betting markets. Despite this, until recently, you were still completely limited to those wagers – the ones you could actually see on the desktop platform or mobile app.
Request a Bet changes this completely, handing almost completely control over to you instead. It lets you not only dream up whatever wagers you please, but also submit them to the bookie, and be given official odds on them. You can add these customised selections to your betslip, set a stake, and place the wager. If it wins, you'll collect your profits as you normally would with any regular market.
How to Request a Bet
Based on the description above, this tool might sound like a good idea, but one which would be tricky to put into practice. We're pleased to say this is not the case at all. Doing so is actually incredibly easy, regardless of your experience level with online betting. These are the few steps you need to take.
Creating an Account – Before you can request a bet with any bookie, you obviously need an account with them. Pick the site you want to sign up with (your top options are listed for you in the next section), and complete the registration process. Now make your first deposit, being careful to avoid payment methods which are ineligible with the welcome offer.
Welcome Bonus Completion – Technically, this step isn't 'necessary' for using the Request a Bet feature. Given that welcome offers deliver the biggest bonuses by far, however, it's definitely something you should commit the time and effort towards completing.
Bet Creation – This is the fun part, in which you get to flex your creative muscles. Request a Bet lets you form any wager you can dream of. You can mix sports, matchups, bet types, and whatever else you please. The worst thing that can happen is that your wager gets rejected, but – however ambitious it seems – the likelihood is that it will be accepted.
Requesting the Wager – Most bookies utilise social media for this step, and you can read a separate guide to using Twitter for Requesting a Bet shortly. Basically though, this is the point at which you actually ask your bookie if they'll take your wager. Specify the selections you want included, use any hashtags they ask for, then cross your fingers.
Bet Placement – Usually, your bookie will reply to your Request a Bet swiftly, and accept it. You'll then be given a message containing two key pieces of information: the odds, and a link. Click on the link to automatically add your customised wager to your betslip back on the sportsbook. Now simply set a stake, and place the bet as normal.
Final Result – The final step works exactly the same as with a regular wager. If all your outcomes come in, you'll get a return equal to your odds multiplied by your stake. If any of them fail, both your wager and your stake will be lost.
Best Bookmakers for Requesting a Bet
As noted, almost all top bookies nowadays will provide a Request a Bet tool. The name might change, but both the purpose it serves and the general mechanics will remain the same. Of all your many options here though, this handful really do stand out.
William Hill -⭐
#YourOdds

William Hill is arguably the top all-round bookmaker on the scene right now, so it would be more of a surprise if they didn't have Request a Bet in place. They do, of course, and in this case it is called '#YourOdds'.
The focus is definitely on football here, but major competitions in a wide range of sports are also covered, including cricket, rugby, golf, and the NFL. To use William Hill Request a Bet, simply hop onto Twitter and tweet @WilliamHill, including the hashtag #YourOdds at the end.
Betfair – ⭐
OddsonThat

In the past, there was a defined Betfair Request a Bet feature, which worked similarly to other such tools. It was called #OddsonThat, and you would tweet your request, get a response, and add that selection to your betslip.
Nowadays, things are a bit more informal. Basically, if you believe a market you're interested in is not available on the exchange or sportsbook, you can ask for it to be added via Twitter. Betfair's traders will usually then add that market. You cannot, however, ask for complex multiples in this way.
Ladbrokes -⭐
#GetaPrice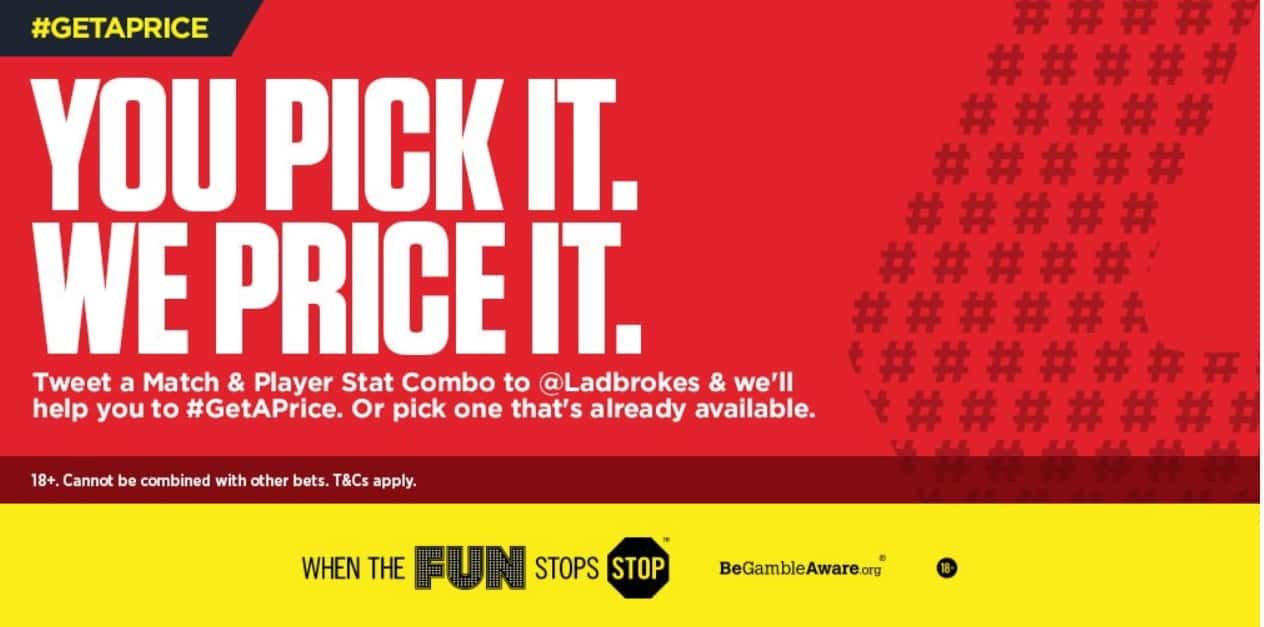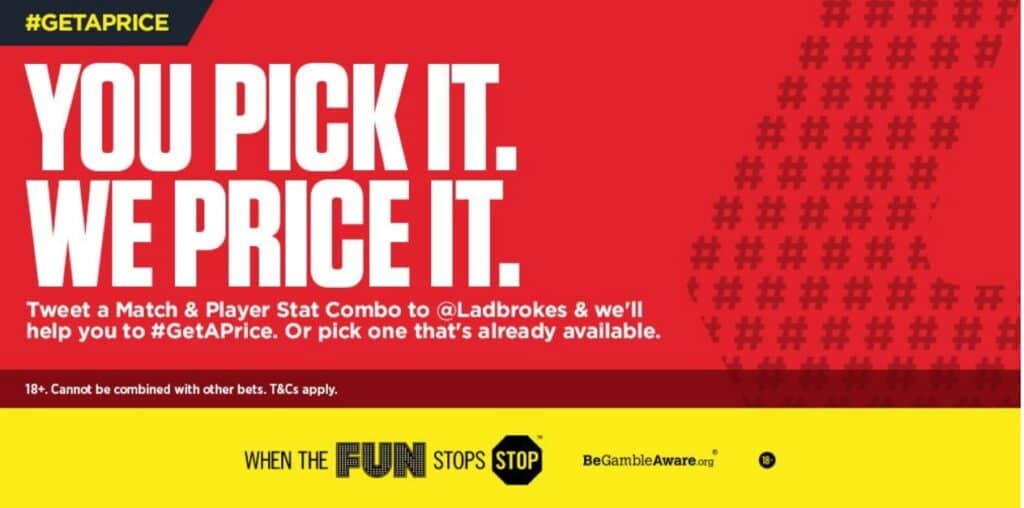 When it comes to special features, very few bookies can rival Ladbrokes. Unsurprisingly, Request a Bet is indeed included in their vast array of tools.
It's called '#GetaPrice' here, and is very straightforward to use. You just go to Twitter, send a message to @Ladbrokes with that hashtag, and – hopefully – get a link back in return. Football, darts, cricket, snooker, and the NFL are all available with Ladbrokes Request a Bet. A solid range of bet types can usually be used, but only the biggest competitions are typically covered.
Coral – ⭐
Your Call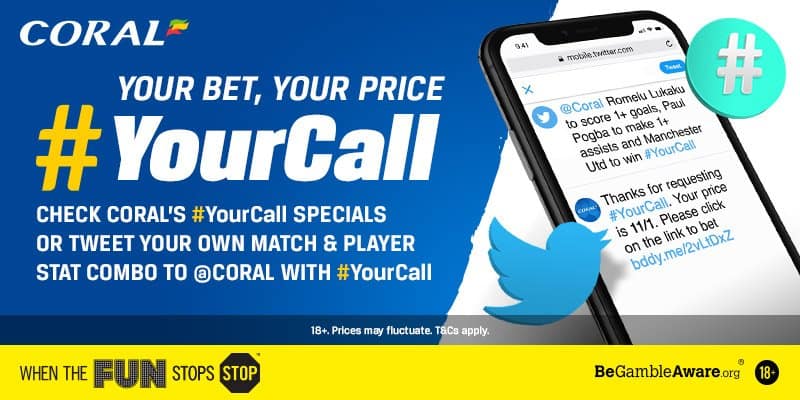 Coral don't trail far behind the other big brands on this list in terms of their special features. Their Request a Bet offers – called 'Your Call' – also happen to be of extremely high quality.
The range of eligible markets with Coral Request a Bet is extensive, including football, basketball, golf, darts, racing, and more. Better yet, you have the choice between creating your own wager by tweeting @Coral, or browsing the wagers other users have put together. The latter can easily be viewed in the Your Call area of each eligible sport's section.
BetVictor -⭐
#PriceItUp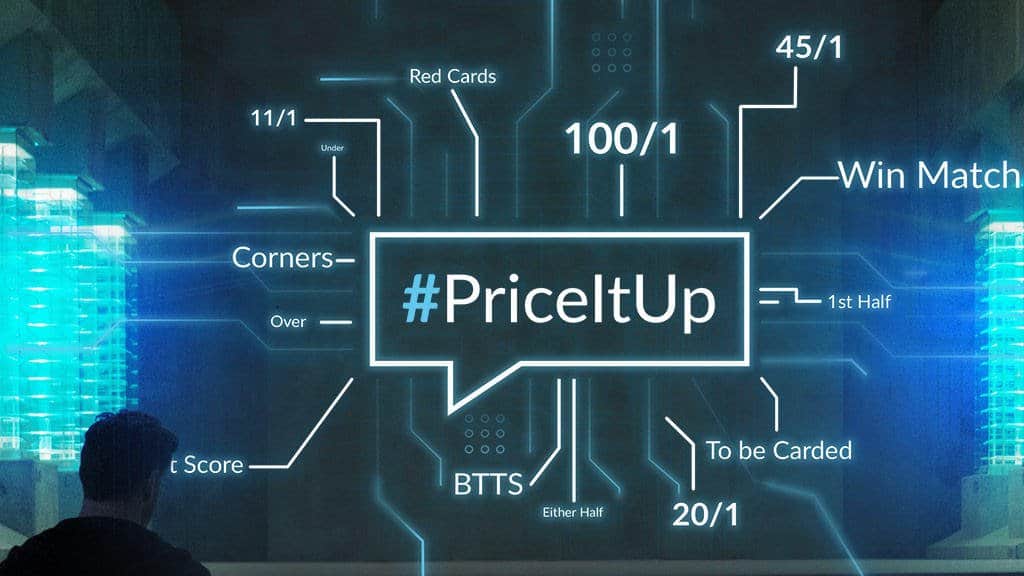 BetVictor aren't quite as well-known as some of the other titans on this list, but they're still a highly respectable bookmaking brand. Along with a decent selection of other features, Request a Bet – known here as '#PriceItUp# – is also included.
The sports selection on offer with BetVictor Request a Bet isn't as broad as elsewhere, with football being a clear focus. You still have plenty of creativity within the markets that are covered though, and the feature is very easy to use indeed, simply requiring you to tweet BetVictor and use the hashtag #PriceItUp.
Betfred -⭐
#PickYourPunt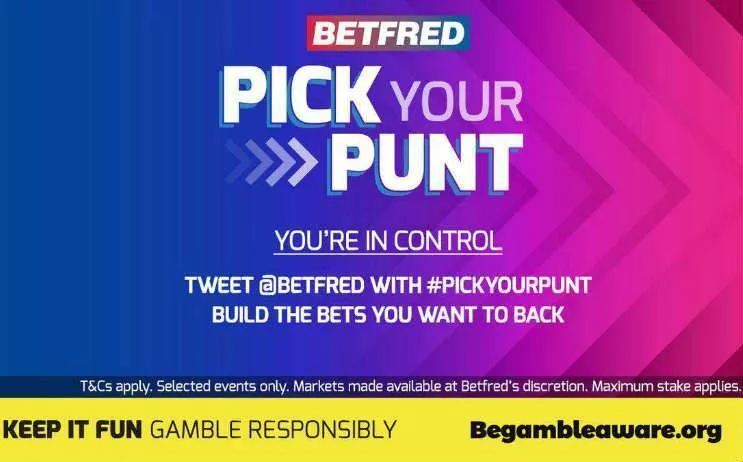 Betfred is not only a powerful and feature-packed sportsbook, but a user-friendly one too. You'll be unsurprised to learn, therefore, that they not only have a Betfred Request a Bet tool, but also that it's a top-notch effort.
The Pick Your Punt page on Betfred is constantly updated with a list of upcoming eligible events. These cover not just football, but the likes of F1, NFL, and darts matchups too. As with Coral, you can either tweet your own request using #PickYourPunt, or see the wagers other users have already created.
Paddy Power – ⭐
Request a Price

Beneath the light-hearted exterior, Paddy Power is definitely a very serious sportsbook indeed. This applies to their betting markets, customer service, and special features, with Request a Bet being just one example of the latter.
In this case, the Paddy Power Request a Bet feature is simply called 'Request a Price'. There's no hashtag attached, and you're actually given the choice of asking for a wager over either Twitter or email. Given the sheer range of sports and bet types at Paddy Power, the possibilities here are simply enormous.
Request a Bet vs Build a Bet
'Request a Bet' and 'Build a Bet' might sound similar, and – on occasion – the terms might be used interchangeably. In reality though, while both let you create customised wagers, the ways in which they work are actually very different.
Form – You already know how Request a Bet operates. Build a Bet, though – usually referred to as a 'bet builder' – works differently. This tool will usually be available within the subsection for a specific sporting event, and will let you craft a wager from a series of typical bet types.
Same-Game vs Multiple Games – Bet builders always apply to only one matchup. Specifically, the bet types they help you to create are called 'same-game multiples'. With Request a Bet, however, there are no such restrictions. You can (within reason) bundle as many matches as you like into one single wager. These can cross competitions, and even entire sports.
Availability – Request a Bet is provided by the majority of top-level betting sites nowadays. It requires a sizable customer service team though, and – therefore – is out of reach for many lesser-known brands. Bet builders are much easier to implement, with the hard work being done by a computer. As such, you're much more likely to find them on the smaller sportsbooks.
In-Platform vs External Apps – Bet builders operate entirely within the sportsbook itself. Request a Bet – by contrast – will almost always require you to head to a social media site. If you've got a big aversion to a certain platform, therefore – like Facebook – this could be a problem.
Pros and Cons of Requesting a Bet
Request a Bet is definitely a creative innovation, but it's still not perfectly suited to all punters. Below, you can check out the main advantages and disadvantages of using this tool
Pros
➕Flexibility – This is the most obvious advantage of Request a Bet. Your bookie will already offer thousands of betting opportunities at a time. With this feature, your possibilities are basically endless, only being limited by your imagination.
➕Idea Generation – Most bookies will not only let you ask for your own bets, but see other punters' Request a Bet examples too. You can then either pinch these and wager on them for yourself, or use them as inspiration for your own wagers.
➕Convenience – Between its reliance on social media, and immediate nature, Request a Bet is basically designed to be used on the go. With any bookies that have this tool in place, you genuinely can bet on whatever you want, whenever you want.
Cons
➖Analysis Paralysis – There's such a thing as having 'too' much choice. Being limited in your options forces you to make a decision. When you can wager on literally any outcome you like, however, you may find yourself struggling much more to actually commit to a bet.
➖Inconsistent Prices – With Request a Bet, bookies will offer you odds on just about anything, within reason. The actual quality of those odds, however, can be pretty poor. Because they're only trying to appeal to you and a few others, not the mass betting public, sportsbooks simply don't need to provide particularly enticing prices here.
On occasion, a sportsbook might handle all their Request a Bet work in-house. The vast majority of the time, however, your requests will be made over social media, with Twitter being the most common option. Here's a quick and easy guide on exactly how to use the platform for your customised betting.
Registration – Before using this feature, you need two accounts: one with your bookie, and one with Twitter. In both cases, it will take only a minute or two to complete the highly straightforward registration processes.
Request – Once you've done your research and concocted your bet idea, it's time to place your request. Head over to either the Twitter app or desktop site, create a new message, and start it with @<sportsbook> (e.g. @PaddyPower). State the selections you want bundled into your bet, finish the message with the correct hashtag (e.g. #RequestaBet), and send the tweet.
Response – Most top bookies have support teams who will reply very quickly. Check out the reply as soon as you get it, and see if they agreed to create your bet, and – if so – what the odds are.
Bet Placement – In addition to the odds, most bookies' Twitter responses will include a link. Click this link, and your customised wager will automatically be added to your betslip in its entirety, whether you're using a computer or mobile device. After that, you can simply set a stake and place the wager as normal.
Request a Bet – Terms and Conditions
You won't find as many terms and conditions for Request a Bet as you inevitably would with a special offer. A few do still apply though, with these being the most important ones.
Minimum Deposit – You won't usually need to make a specific minimum deposit in order to trigger the Request a Bet tool. You will, however, need enough funds to meet the minimum stake amount for each brand. This will typically be £0.10 or less, but can rise to £0.50 on certain betting sites, or for particular markets.
Wagering Requirements – The main complication of using Request a Bet tools surrounds the amount of bet types you can mix together. That's because each bet type will come with its own rules and wagering requirements. Use regular Match Result markets, for example, and that's straightforward enough. When you start adding team props and player props, you also increase the complexity. Fortunately, most bookies provide thorough explanations of how each market works within its T&Cs.
Validity Period – You can't actually request odds until the market itself is live. This might happen anywhere from a couple of days to a couple of weeks before kickoff, depending on the popularity of the occasion. After getting your Request a Bet created, the link should remain valid right up until the event kicks off.
Payment Options – You won't typically encounter any ineligible payment methods with Request a Bet. Do be aware, however, that certain brands will not let you use free bet tokens to fund these wagers.
Request a Bet Tips – Getting the Best Prices
Request a Bet isn't a 'silver bullet' for betting success. There are definitely steps you can take to boost your chances though, with these being some of the main ones.
⭐Get Creative – You can ask for whatever odds you like with Request a Bet, on any sport you please. Your request might seem outlandish, but you could actually be pleasantly surprised by the price you're offered on it.
⭐Be (Somewhat) Realistic – Remember that your wager needs to be accepted by a sportsbook employee. As such, you must – to an extent – moderate the scale of your requested wager, to stand the best chance of getting a price for it.
⭐Have Multiple Accounts – If you like a wager you've created, ask for it from a few different sites, then go with the one who gives you the best price.
⭐Mix Up Your Sports – Unlike regular multiples, you really don't need to limit yourself to one sport here. Don't be afraid to blend multiple markets in which you're knowledgeable, and watch the odds increase accordingly.
⭐Use Others For Inspiration – If you're struggling for ideas, check the Request a Bet hashtag for your chosen bookie on Twitter. You'll be able to see other punters' requests there, and the prices they were offered, and get inspiration for your own wager.
⭐Do Your Research – While you're welcome to get creative with your requested bets, remember that your own cash is still on the line. Doing more research will result in better wagers, and more valuable prices.
Final Thoughts
If you've ever felt limited by the betting markets available on a sportsbook, Request a Bet is the feature for you. With this tool in place, you can ask for odds on whatever wager you can dream of. Better yet, it is extremely quick and easy to do so.
Most of the top bookies will provide this feature nowadays, in one form or another. Think up a wager, give this tool a shot, and – if you like it – consider making Request a Bet into one of the cornerstones of your betting strategy.
FAQ
❔Can a requested bet be cashed out?
Yes. While T&Cs do vary from bookie to bookie, most of them will indeed allow you to cash out any eligible live wagers, even if they were created using Request a Bet.
❔What is the difference between a Request a Bet and a bet builder?
Bet builders are tools housed within a sportsbook, allowing you to create same-game multiples. Request a Bet usually uses social media, and typically features wagers spread across multiple matchups.
❔Which bookmakers offer Request a Bet?
Most top bookies will provide this tool in one form or another. We've listed your top options above in this article, but – even if your brand isn't included here – you can always ask their customer service department for a custom wager.
❔Will my Request a Bet always be accepted?
No. Most bookies are pretty accepting when it comes to creative Request a Bets. That said, whether because it's too unrealistic, or for logistical reasons, there's always a chance you'll be refused.
❔Do I need a Twitter account to request a bet?
Not always. Most bookies do use Twitter for this feature, but – even if it isn't listed as an option – you can often use email or live chat to Request a Bet instead.