Tennis
Partly thanks to its year-round nature, tennis is actually an extremely popular betting market. New sportsbooks undervalue it at their peril, therefore, but we're pleased to say this isn't the case with 2kBet.
Instead, you'll find a tennis section which is packed to bursting with markets. These encompass an international selection of competitions, held in the USA, Australia, UK, and plenty of other places too. Naturally all the slams are featured – including Wimbledon – but there's also a constant stream of men's and women's tour events. Pre-match, in-play, and outright bets are all available for these contests.
Other Sports
There are no obvious omissions in 2kBet's range of markets. Basically, if it's a sport you'd realistically expect to bet on… you probably can here!
Sections for British favourites like cricket, rugby, golf, and so on all feature excellent depth, as do those for American sports like basketball, American Football and baseball. 2kBet have also been sure to keep things modern with a tasty buffet of enticing eSports treats, and the likes of F1, MMA, boxing and more round out the selection beautifully.
Live Betting
In this day and age, it's arguably just as important to provide live betting for your customers as pre-match markets. Yet again, this is a vital box which 2kBet have managed to tick with aplomb.
Naturally there are nowhere near as many live markets as longer-term ones, but there are still hundreds per day – at least – to choose from. The majority will usually be for football and tennis, but other major markets such as cricket and rugby are also well-represented, as are less-popular options such as darts, snooker, boxing, cycling, and so on. As with pre-match markets, you're given a nice variety throughout these sports in terms of what actual bet types you can use.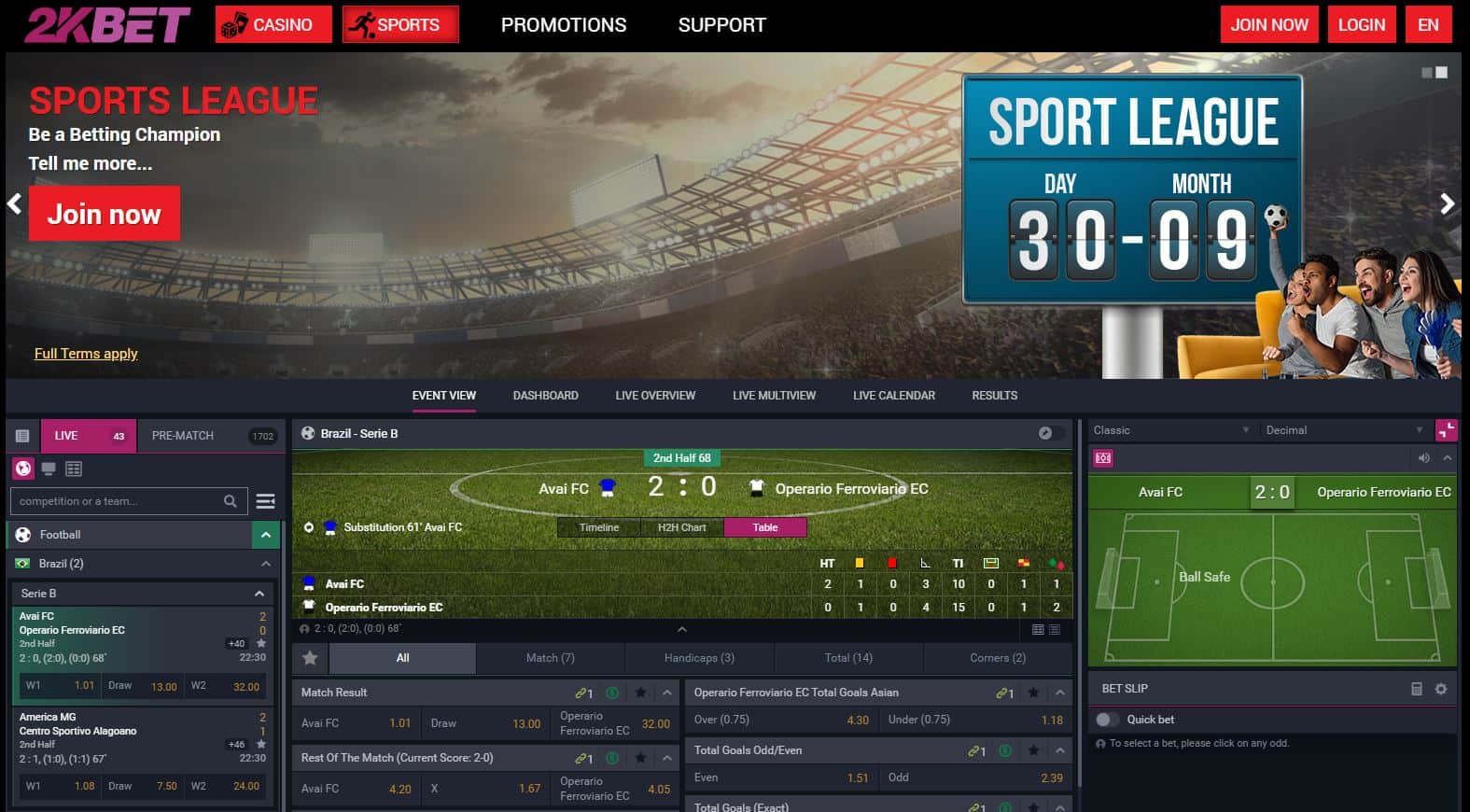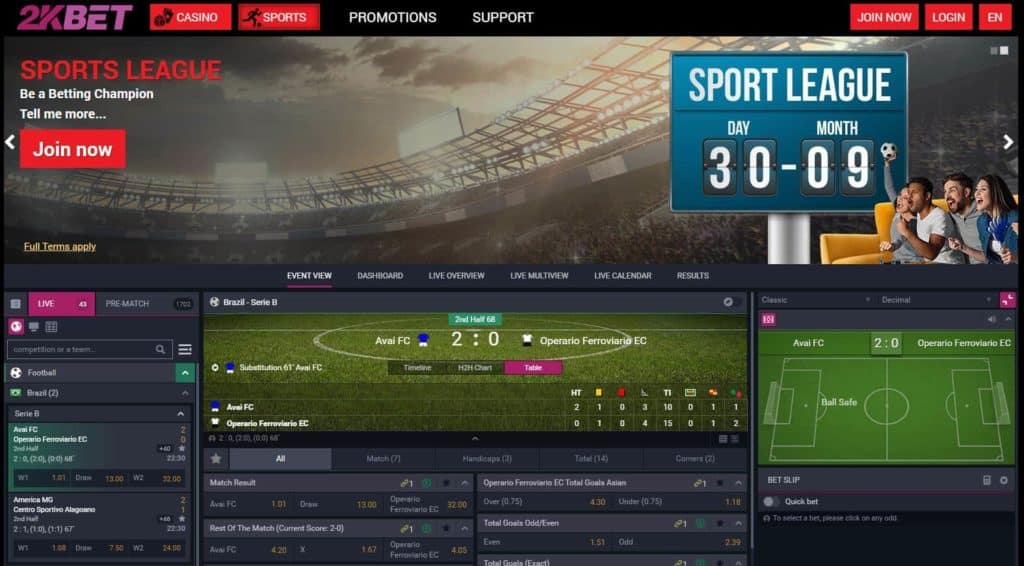 2kBet Mobile Betting And Sports App
Technologically, sports betting has progressed at an incredible rate in recent years. Undoubtedly one of the biggest changes has been from using computers to place bets, to using mobile devices. Nowadays, it's incredibly important that a new bookie nails its mobile features.
As such, it's both surprising and disappointing to see that 2kBet clearly haven't devoted much time or effort in this area. For starters, they haven't bothered to create any mobile app whatsoever, either for iOS or Android users. Given that they're actually run by a pretty experienced development team, this is doubly strange.
Of course, if there was a quality mobile version of the main website to make up for this absence, we wouldn't mind too much. Unfortunately… there isn't! Navigating the mobile site which is in place is tedious, to say the least, and the whole thing looks pretty unprofessional. Technically the functionality has been carried over – for placing bets, managing your account, and so on – but it's really not very fun to actually use.
2kBet Bookmaker Features
If you're in the market for a glitzy, glamorous, feature-packed sportsbook… this isn't it! Whether because they're so new, or because they simply don't prioritise such things, 2kBet have failed to offer many eye-catching features so far. Several useful things you'd find from most premium sportsbooks – like live streaming, a bet builder, and so on – simply aren't included here.
That's not to say 2kBet's cupboard is completely bare. As briefly mentioned, the live betting features are actually pretty impressive. While there's no streaming, you can still keep up with the goings-on pretty well courtesy of live stats and a visualisation tool. Market prices are also updated with pleasing regularity, and both placing and cashing out live bets is quick and easy to do.
Aside from that, though, there's not much to write home about here. 2kBet certainly has all the most important tools you need to place sports bets, but lacks the 'premium' features of its veteran competitors.
2kBet Banking Options
When it comes to payment options, 2kBet actually give a very reasonable account of themselves. For starters, they have a highly respectable range of deposit methods in place.
Most notably, these include Visa, Mastercard, and PayPal (not always a given, with a new bookie). Backing these up are several further good options, namely Trustly, MuchBetter, ecoPayz, Paysafecard, and Payviaphone. All deposits are processed instantly, and minimum amounts are either £10 or £20 depending on the method.
Unfortunately, withdrawals aren't handled quite so impressively. While no minimum amount is stated, all transactions are subject to a £2.50 fee. Withdrawal fees are basically unheard of in modern bookies, and to have one that high is annoying to say the least. A mandatory 'pending' period of three days for all withdrawals makes them comparatively slow here, too.
2kBet Sign Up Process
Registration processes used to be a massive pain with most bookies. Modern-day sportsbooks, however, have managed to reverse this trend, and we're happy to say that 2kBet definitely falls into this category. Their sign up process is quick, painless, and pleasantly straightforward.
You begin by heading to 2kBet.com, and clicking the big 'Join Now' button in the top-right. The first screen will now appear, asking you to enter your email address and phone number, and set a password. Once you've done so, click 'Submit' to progress to the next screen. This is the stage at which you'll provide the bulk of your personal information, including your name, date of birth, address, and so on. You can also enter a promo code here, if you have one, and decide your currency and marketing preferences.
Once everything is set, hit 'Submit' again. You'll now be sent a four digit confirmation code via both SMS and email. Simply copy that code into the 'Activation number' box back on the website, and press 'Submit' one more time, to activate your account and finish the process. After that, congratulations – you're now ready to start betting!
2kBet ID Verification Process
This is another area in which sportsbooks used to frustrate their users, before – thankfully – streamlining their operations. 2kBet follow suit here too, having installed an easy and approachable verification process, like their competitors.
While you won't need to verify your ID when signing up and depositing on 2kBet, you will need to before making a withdrawal. This is standard practice for all modern bookies, with these security measures imposed on them by regulatory bodies.
In the case of 2kBet, here's how to go about verifying your identity:
Log in to your 2kBet account
Click 'Cashier' along the top menu
Select 'Verify ID' from your options on the left
You will now see four options: Identity Card, Address, Payment, and Other
Click on each of the first three in turn, and upload your ID in the relevant box.
Examples of acceptable ID are listed within those sections
You should hear that your account has been verified shortly
If necessary, you may be asked to provide further ID. Do so within the 'Other' section
2kBet really do go out of their way to make this as quick and easy as possible. In total, assuming your ID is already in digital form, it shouldn't take longer than a couple of minutes to complete the process.
2kBet Layout
Let's be clear: the 2kBet platform isn't going to win any awards for its appearance. The colour scheme is dull, and the graphics are pretty generic. What this sportsbook lacks in beauty, however, it more than makes up for in sheer functionality.
The entire interface here is incredibly user-friendly, to the extent that you'll genuinely become accustomed to it within only a couple of minutes of logging on. The menu along the top not only splits the Sports half of the website from the Casino half, but also allows you to access the crucial Cashier, Account, and Contact Us sections with the click of a button. Another menu along the bottom makes it equally easy to visit several important sections, including the T's & C's.
The betting area is split into four clear sections. Along the left you have the full, scrollable list of available sports and competitions. Clicking a competition opens its markets in the next section, and selecting an individual match there shows its specific markets in the third section. Finally, you have the betslip in the far-right section, where you confirm your odds, set your stakes, and place your bets.
Customer Support
Despite being such a new sportsbook, we were delighted to find that 2kBet already have some solid customer support in place. This is extremely easy to access too, via an ever-present 'speech bubble' button at the top of your screen. Both email and live chat support are included, with the latter – which is naturally the quicker contact option – being available 08:00 – 00:00 every single day.
Elsewhere, while 2kBet do have an FAQ section in place, it's far less impressive than their direct support. The whole thing is poorly arranged, with all the text being simply dumped on a single page without a search function, and relates almost exclusively to the casino section rather than the sportsbook.
More On The Bookmaker
As with most new sportsbooks, there are very few details available about 2kBet at this time. In fact, we only really have two proper pieces of information: they were launched in 2020, and are operated by ProgressPlay.
While the brand itself is new, its operating company certainly isn't. ProgressPlay have been operating in the online betting space for almost a decade now, and – while they previously focused on casinos – they have been making a strong push into sportsbooks in the past couple of years.
Elsewhere, 2kBet are based in Malta, and hold licenses with both the Malta Gaming Authority and UK Gambling Commission.
2kBet Bottom Line
The extent to which 2kBet will appeal to you depends on exactly what you're looking for from a sportsbook. If you're after a bookie with plenty of special features and a glamorous appearance, this obviously isn't it. If the fundamentals are more important to you, however, 2kBet may well be worth your time.
The interface is extremely intuitive, and houses an outstanding selection of both live and pre-match betting markets. In areas like customer support and payment options, 2kBet is also highly competitive.
It's not all sunshine and roses though, as we've made clear in our review. From a lack of variety in the promotions, to some seriously underwhelming mobile features, this is far from being a perfect sportsbook.
Ultimately, though, this ticks most of the most important boxes. It's a reliable, professionally-made platform, which facilitates easy sports betting, and has plenty of potential to grow. Even in its current state, we have no problem in recommending that you try out the 'Bet £10, Get a £30 Free Bet' welcome offer, and take 2kBet for a spin yourself.