You can receive a 100% bonus of up to £250 on your first deposit. You must deposit at least the equivalent to 10 Euros to qualify. To activate the bonus you may choose it while depositing. In order for the bonus amount to be withdrawn, you need to convert the amount received 15 times. For single bets, odds must be at least 1.80. For combination bets, the odds of each game must be at least 1.80. You may only use one bonus at a time. You have 30 days to complete the bonus, otherwise, the bonus and winnings are canceled. Total winnings are limited to £1000 during the bonus period. Full T&Cs apply.
You can receive a 100% bonus of up to £250 on your first deposit. You must deposit at least the equivalent to 10 Euros to qualify. To activate the bonus you may choose it while depositing. In order for the bonus amount to be withdrawn, you need to convert the amount received 15 times. For single bets, odds must be at least 1.80. For combination bets, the odds of each game must be at least 1.80. You may only use one bonus at a time. You have 30 days to complete the bonus, otherwise, the bonus and winnings are canceled. Total winnings are limited to £1000 during the bonus period. Full T&Cs apply.
Agentsino Sports Betting Review
Sometimes, a simple name can be the most effective. Take some of the biggest hitters in the sportsbook market: Bet 365, SkyBet, Betway, Betfair, and so on. They usually have one thing in common when it comes to their name: 'bet'. Agentsino most certainly doesn't play to that rule – with a name very thinly connected to its casino side and separated from its sportsbook entirely.
Opening its virtual doors in December 2021, Agentsino is SG International NV's newest venture, joining the likes of Casoo Casino, Webby Slot Casino and Pokies2Go Casino in their betting portfolio. Their focus has clearly been on 'more, but smaller' casino products, taking a small chunk of both the casino and sportsbook side of the market little by little.
In this review, we'll take a closer look as to whether their newest addition, and more recent foray into the sportsbook side of betting – Agentsino – has proven to be a success, and whether you should consider making Agentsino your sportsbook operator of choice.
Agentsino Sign Up Offer
One of the biggest challenges for any new sportsbook is acquisition. With so many prominent and trusted names in the industry, persuading bettors to jump onto your site with little reputation can prove tricky. That's why a competitive sign-up offer can be critical in making that first step.
Agentsino have certainly delivered when it comes to this. They're offering a 100% bonus up to £250 to use on the sportsbook on your first deposit, meaning – in short – that you could get an additional £250 to play with very quickly indeed after creating an account. Using the sign-up offer is simple, with these being the few steps you must follow to do so:
Head to the Agentsino home page

Click 'Sign Up'

Choose your preferred sign-up offer (There is a similar casino offer of a 100% bonus up to £250 to use on any casino games on your first deposit).

Complete the sign-up process (please see the sign-up process section, later in this review, for more information), and deposit a minimum of £10.

Your bonus will automatically be applied to your wallet.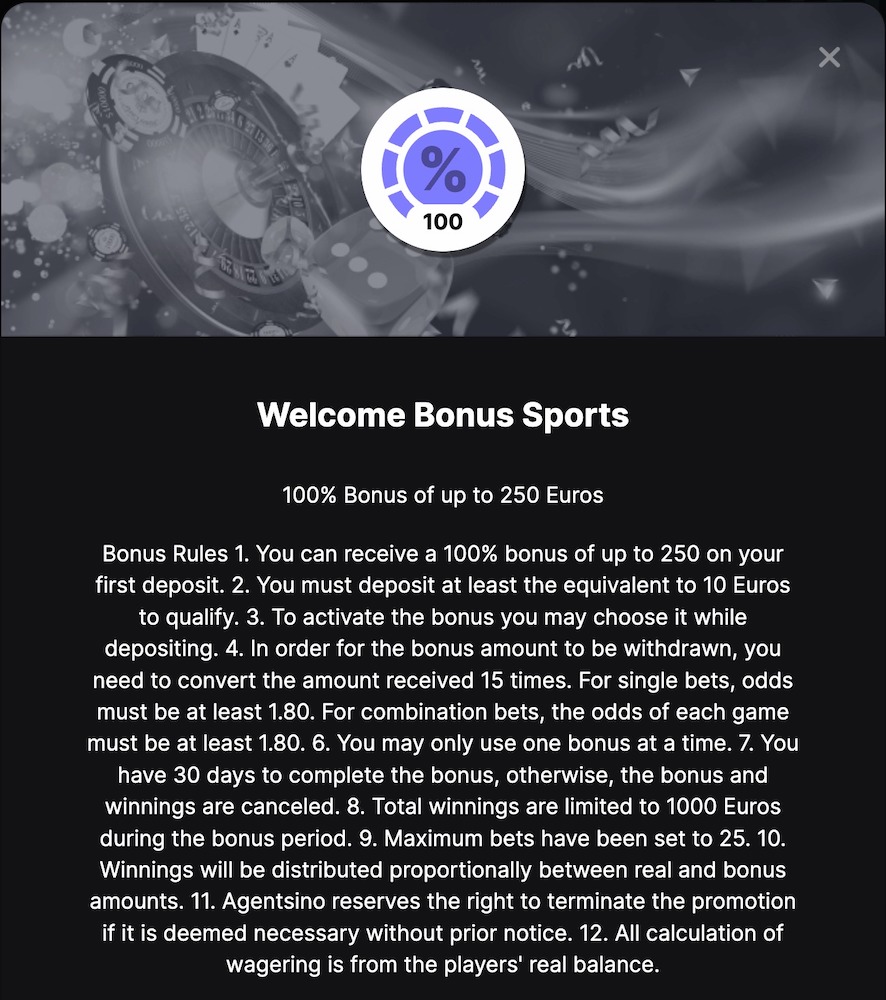 At first glance, this all seems pretty straightforward. There is a thorough list of terms and conditions, however, that cloud the offer on show. If you are thinking about depositing with Agentsino in order to use their sign-up offer, the following should definitely be considered:
You must deposit a minimum of £10 to qualify.

You must wager through the amount you receive 15 times

Minimum odds of 4/5 (1.80) when completing the rollover requirement.

You may only use one bonus at a time.

You have 30 days to complete the bonus, otherwise the bonus and any winnings are cancelled.

Total winnings are limited to £1,000 during the bonus period.

Maximum bets are set to £25.
On first glance, this is an extremely competitive offer that even beats some of the biggest sportsbooks in the industry. That's particularly true when it comes to sheer scale, with a £250 bonus certainly being nothing to sniff at.
As usual with deposit match deals, however, it's the rollover requirement which complicates things. Needing to bet through your bonus amount 15x is a seriously big ask, and generally makes it more difficult to get the most value out of the offer. For those who aren't betting on a consistent basis, this deal simply may not be for them. But for those who do bet consistently in that initial 30-day period, it can help to produce some seriously big winnings.
Agentsino's promotions certainly slow down once you have completed your sign-up offer. In fact, there is only one offer available to customers afterwards, which is both surprising and disappointing.
This single deal follows a similar theme to the sign-up offer, as you can see below:
Second Deposit Bonus
Similar to the sign on offer, the Second Deposit Bonus focuses on rewarding players for adding funds to their account, giving you a 50% sportsbook bonus up to £200 on your second deposit. There are some stipulations, however:
You must deposit a minimum of £10 to qualify.

You must convert the amount you receive 15 times, at odds of at least 1.80.

You may only use one bonus at a time.

You have 30 days to complete the bonus, otherwise the bonus and any winnings are cancelled.

Total winnings are limited to £1,000 during the bonus period.

Maximum bets are set to £25.
Again, you only have 30 days to use the offer, and the offer must be played through a minimum of 15 times. This isn't a long time to complete such a sizable rollover requirement, meaning that – for those who bet infrequently – this is not an appealing offer. For those who do bet frequently, however, it can obviously provide impressive rewards.
Once the second deposit bonus has been triggered and used, there are no additional promotions or bonuses for customers. For those who are looking for longevity in their play, this is a huge problem to a player's betting experience, which may prove critical for Agentsino's survival. Getting players on the site is only the first step – the second and much more difficult step is keeping players betting on your site. Without a competitive offer structure post sign-up – such as a VIP program, cash back deal, or a way to consistently claim free bets – bettors may quickly search for pastures new.
Agentsino Markets and Betting Markets
SG International NV are generally more recognised for their casino products. In terms of sportsbooks, Agentsino is one of their first attempts at breaking the sports betting market. When it comes to the variety of sports on offer, however, we're pleased to say that the attempt is more than enough to keep punters entertained.
There are over 30 different sports markets to choose from here. Unsurprisingly leading the way are the most popular sports like football (known as soccer on Agentsino) and tennis. There is also a clear focus on American sports, such as basketball, ice hockey and American football. If you're looking for sports popular in the UK, then rugby, Gaelic football and darts are also offered.
Elsewhere, niche sports fill up the selection, including water polo, futsal, floorball, and bandy. There is also a tab exclusively for esports, including Call of Duty, Counter Strike, Dota 2 and more. There is one clear omission to the offering, however – horse racing isn't offered as a betting option at Agentsino, which – considering it's obviously one of the most popular markets in the UK – is disappointing.
In general, the sports offered include some of the biggest leagues, tournaments, and events from around the world. It focuses on the major leagues and events, yet includes those less known in both in-play and pre-match markets. Whilst the more minor events and tournaments are also offered in pre-match markets, they are only added to the site close to the time of the event. As for major events, they are added to the site pretty far into the future, giving punters plenty of time to cover the odds movement.
In general, Agentsino's betting offering is satisfactory, without being exceptional. Within their most popular markets, however, they do truly excel, providing unusual and intriguing bet types that make the Agentsino betting experience stand out amongst some of its competitors.
Football
It's no surprise that – when it comes to the most popular sport in the world – Agentsino have focused on making it a priority when it comes to markets. Top club and international competitions – including the likes of the Premier League, La Liga, and Serie A – are covered with both pre-match and in-play markets. The more alternative leagues are also covered, including those in Saudi Arabia and Uganda to name just a couple.
While some outright markets are available, it is within the specific match markets where Agentsino's football offering truly stands out. The pre-match football markets on offer are truly vast. From the most popular markets like match result, both teams to score, total goals and more, to more niche markets like Asian handicaps, multigoals, and double chance, you're given plenty of flexibility here. They have also combined some markets to make one exciting bet, such as double chance and both teams to score, first goal and winner market and scorecasts, and so on.
Agentsino not only includes real-world matches, but also a constant stream of simulated matches courtesy of their virtual sports section. This means that there's action 24/7 when it comes to Agentsino's football offering, regardless of the real-world schedules.
For a betting site that mainly focuses on casino games, it's really impressive how complete the football offering is at Agentsino.
Tennis
Despite a clear focus on football, many of the popular sports offer a complete betting package here, and that includes tennis.
Agentsino offers bettors the opportunity to wager on a huge array of tennis, from the most popular tennis events in the world like the Miami Open, the Australian Open and Wimbledon, to the less-exposed events like ITF events from Colombia, Egypt, and India.
Like football, the betting markets on offer are vast, offering players the chance to wager exactly how they want. From winner markets, total games, and correct score, to exact sets and a player to win exactly one set, there truly is something for every tennis bettor here.
What's more, all major events available on Agentsino can be taken via both pre-match and in-play markets. This means that no matter when you join in on the action, there is something for you here.
Other sports
As mentioned, the selection of sports available on Agentsino is vast, offering markets on much more than just football and tennis. The likes of basketball, MMA, volleyball, table tennis, badminton, American football, baseball, handball, Aussie rules, bandy, and boxing are just a small list of what's on offer at Agentsino.
eSports has become a behemoth in the betting industry over the last decade, and Agentsino also step up here. They already offer some of the biggest and best games on their site, including Call of Duty, Counter Strike, Dota 2, League of Legends and Starcraft, and we'd expect to see more titles added in the months and years to come.
Live Betting
If there was a section on Agentsino's betting offering that truly stands out, it is their in-play offering. They have created an impressive system for live betting that does not only include a huge array of live betting markets, but displays them and accompanying event statistics in a way that rivals – and even surpasses – some of the biggest industry hitters. Particularly for a company that focuses mainly on their casino, it is impressive that they have already built such a detailed live betting offering – something that many new betting sites struggle with.
To access live betting sites from your preferred sport, simply click the live betting tab at the top of the page (on mobile, use the hamburger menu in the top-right of the screen). Here, you can find all live betting events currently on offer, then navigate through the separate sports to find exactly what you're looking for. Once you've found a market you're interested in, you can usually add it to your betslip and execute an in-play wager both quickly and smoothly.
Agentsino App & Mobile Betting Options
To compete in the betting industry, accessibility is key. There's no better way to improve accessibility than by using smartphone technology – a system that allows players to play whenever and wherever they please. With most bettors now using their phones to wager, not including an app or at a minimum a mobile version of the site can prove to be a huge problem for new sites.
Unfortunately, this is an obstacle at which Agentsino also falters. At the time of writing, there is no Agentsino mobile app on either iOS or Android. With major betting companies understanding that most now use mobile betting apps to place bets, this is something that Agentsino should most definitely consider soon.
Thankfully however, there is a mobile version of the site. Its functionality is similar to what can be found on the desktop site, offering simplicity when manoeuvring around. This includes the sign-up process, banking, and placing bets. It's unsurprising that Agentsino has transferred a good user experience from its desktop to its mobile site, having experience in the past with various casino sites, but we're still pleased to see how mobile bettors are catered-for reasonably well here.
Agentsino Betting Features
Competing with the biggest names in sports betting is difficult. There's usually nowhere this is shown more apparently than when it comes to the special features on offer. Surprisingly, however, Agentsino breaks that trend with a few features that give the site an edge over many competitors.
Specifically, the live betting options are where Agentsino truly come into their own. Not only is their live betting offering complete with a multitude of markets both popular and niche, but the live stats system included gives players more insight than ever before.
Take football, for example. Many of the most popular leagues (and even some of the less popular) include live betting statistics of the game as it happens. Based on a green football pitch background, these are broken down into six sections: match, statistics, head-to-head, standings, timeline, and line-ups. Between these six areas, you're given a significant amount of helpful information, all of which can help you to get a great idea on exactly what's been taking place during the game.
It's on the green football pitch itself, however – the visualisation tool – where the Agentsino live feature most impresses, eloquently detailing in-time events graphically. If you are unable to watch the match live or on the TV, this really is the next best thing.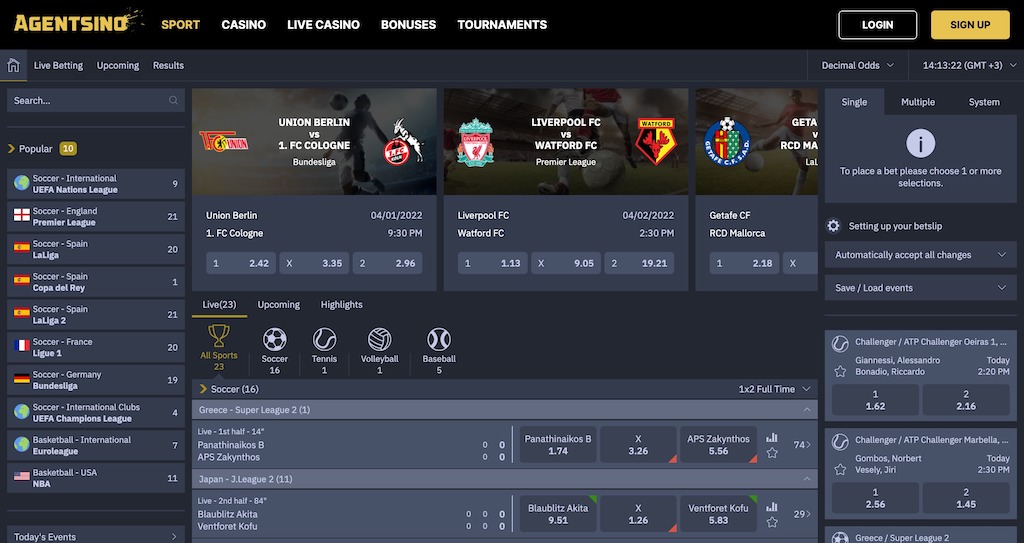 Agentsino Sign Up Process
The first obstacle for any player is the sign-up process. A bad first impression often means that you don't even bother placing your first bet, after all. Agentsino's operating company has had more than enough experience developing a simple sign-up process through their multiple casino sites, and that is apparent throughout this version too.
Signing up is simple on Agentsino. The process is similar if not identical on both desktop and mobile devices, with these being the few steps you must take:
Click Sign Up in the top right corner.

Pick one of the bonuses on offer, and click Next.

Add your email, new password, currency and any promo codes you may have.

Check the terms and conditions and 18+ boxes, and hit sign up.

Add your personal details, which include your name, date of birth and home address and click open account.
And that's it. You will then be asked if you wish to make your first deposit and begin your Agentsino adventure.
Agentsino Verification Process
As part of gambling law, verification is a necessary but critical hassle, but it can be made easier for players to complete, in order to make the user experience that much better. Similarly to the sign-up process, Agentsino has relied on their experience building casino sites to create a verification process that doesn't divert the player's attention from the enjoyment too much.
Once again, the verification process is simple, with only three main steps required:
Log into your Agentsino account.

Click on your profile in the top right of the screen.

Select 'Upload Documents', and upload the required documents
Unfortunately, the process isn't well explained on-site. However, the process is extremely straightforward. You must include documents that prove your residential address (such as a bank statement), and photo ID (such as your passport). As always, the images must be extremely clear, and show all the crucial details.
Your documents will then be checked by the Agentsino team, at which point you will receive a response regarding whether you have passed the verification process. If you have, you can withdraw your funds. If you have not, the email will detail the next steps of the process.
Banking Options
Agentsino understand the importance of a convenient depositing and withdrawal system, and have merged this with some of the most popular banking methods in betting. These include Bank Transfer, CardPay, ecopayZ, Interac, Litecoin, MasterCard, Neteller, Skrill, Tether and Visa, for both depositing and withdrawing.
One of the most exciting inclusions here are the cryptocurrency options, like bitcoin and ethereum. Currently, most major betting sites won't allow these banking options due to the uncertainty in the market, but Agentsino have broken that trend by including a modern concept onto their site, which also provides punters with more anonymity than usual.
This tidy selection of payment methods is partnered with a reasonable minimum deposit and withdrawal limit of £10. Please note, however, that withdrawals of over £1,000 will take up to seven business days.
Agentsino Layout
More than a decade of building casino sites has set SG International NV in good stead to build a sportsbook that is easy and efficient to manoeuvre around. Its brilliance is in its simplicity, generally making every single journey across the site require one click less than even some of its major competitors in the betting industry.
In terms of design, however, Agentsino relies too heavily on its casino product as an identity. The "secret spy" debonair feel fits well across the casino floor, but it is most certainly lost on the sportsbook side. Instead, it comes across as bland and boring, rarely straying from the dark grey/black with hints of gold. If the sheer visual appearance of a platform is important for you when playing, Agentsino may not be to your tastes.
That can be improved easily over time, however. What is more difficult to improve is the fundamentals of what makes the experience on a betting site enjoyable, which are definitely already in place. If you are looking for a live bet, for example, it's clearly marked here, and with just one click you can be wherever you want to be. This is just one instance in which the user experience based on the layout of Agentsino makes it an impressive sportsbook, especially for such a new brand.
Customer Support
Up to this stage of the review, Agentsino has generally impressed. When we come to customer service, however, it certainly falters.
Unfortunately, Agentsino does not have a live support feature, meaning that any urgent discrepancies or issues cannot be resolved quickly. Instead, they focus on an email address which is directed towards their customer support team. Agentsino promote a reply time of no longer than 24 hours for this service. After an issue we reported to their customer support team, however, we are still yet to hear a response, with those 24 hours having elapsed long ago.
For a company that is only regulated by the Curacao betting commission, it is likely that some issues may arise whilst betting with Agentsino. With the lack of a cohesive customer support system, this – unfortunately – may well scupper your experience betting on the site completely.
Company Details
Agentsino is one of SG International NV's first forays into the sportsbook scene, having mainly focused on popular casino products like Casoo Casino, Webby Casino and Pokies2Go Casino. Agentsino is generally no different, with a clear focus on the casino side of the site. In December 2021 though, they did indeed open the virtual doors to the sportsbook side of their site.
Elsewhere, Agentsino operates under a licence awarded by the Curacao Gaming officials. This licence is not as extensive as that of the UKGC, which is something that should be considered when choosing Agentsino as your sportsbook operator, although it still ensures that Agentsino has been vetted for security and fairness.
Agentsino Bottom Line
In certain areas, Agentsino offers a very appealing option for those looking for a new sportsbook. Its live betting functionality is genuinely fantastic, the selection of pre-match markets is solid too, and its user-friendly layout helps to make it stand out in an industry filled with competition.
However, it is critical that players consider the following factors before deciding to sign up, as many of these points could sway bettors to other sites.
The lack of direct, immediate customer service here is a real obstacle. If a player does encounter an issue, actually resolving it may prove to be difficult. The lack of bonuses after signing up could also prove costly, when attracting customers to not only sign up, but continue betting thereafter. Often, after all, it is ongoing promotions that sway bettors into continuing betting on a site, rather than finding a new one. Add this to the extensive list of terms that are included with the sign-up offer, and the spark that Agentsino has thanks to its impressive mobile site and desktop site is diminished.
Finally, to compete with the behemoths of the betting industry, it is critical that Agentsino apps on both iOS and Android are added. With the world now hooked to their mobile phones, it is apparent that most bettors now favour an app when betting, particularly on the sportsbook side of the business.
In general, Agentsino has the core roots of a sportsbook that could prove to be a hit, thanks to the build of the site itself, and the clear quality of the markets. In its current state, it's probably already good enough to justify claiming the 100% deposit match welcome offer. If it wants to compete with the biggest hitters in the future, however, certain improvements do need to be made.