It's true that the sports betting landscape never stops changing. That's one of the things that makes being a part of it so exciting. It's hard to imagine, though, that we'll see many bigger shifts than the one from desktop to mobile. Of course desktop-based wagering still has its place. But for many punters it's been surpassed by the sheer speed and convenience of mobile betting.
Kwiff is a relatively young brand who have made their mobile features the clear priority. If you even try going to their desktop site, you'll be met with a message telling you to use a phone or tablet instead! This leaves us with two main queries.
Firstly, just how good are those mobile features? Secondly, is the desktop version even worth using, or has it been completely neglected? Those questions, and many more, will be answered throughout the course of our comprehensive Kwiff review.
The team at Kwiff never quite like to do things in the traditional way. Unsurprisingly, this extends to their new welcome offer too. On the surface, this looks like a traditional 'Bet £10, Get £20 in Free Bets' deal. Dig deeper however, and you'll see it's anything but.
Before we go any further, let's look at the most important T&C's for the current Kwiff welcome offer:
To an extent, this offer summarises both the good and bad sides of Kwiff. It's clearly-explained, and has entirely reasonable and straightforward requirements. It's also an unusual offer, but it will undoubtedly prove a little too 'creative' for traditional punters. As you'll have spotted, this is because your reward comes as a 'Surprise Bet'. This means your wager will actually be placed by Kwiff, on a market picked using their algorithm.
That's unusual, but it's not necessarily desirable. Most betting fans would much prefer to simply get a regular £20 free bet. They could then choose for themselves how to spend it, and – even if that wager failed – accept the results. If you spend £10, get a £20 wager on something you have no interest in whatsoever, and that wager loses anyway, you've gained absolutely nothing from this welcome offer. In short, the Kwiff 'Bet £10, Get a £20 Surprise Bet' welcome offer definitely represents a gamble… but not necessarily a good one.
Due to its somewhat convoluted nature, Kwiff's welcome offer won't be for everybody. In an ideal world, therefore, you'd like to see a few ongoing promotions backing it up which might hold more mass appeal.
There are indeed some deals available for existing Kwiff customers, and – thankfully – they're more straightforward than the sign up offer! There are four ongoing promotions in place at the time of writing, all of which should suit a different type of bettor. Let's take a close look at each in turn.
Refer A Friend
'Refer a Friend' deals are routinely some of the best you can target on any sports betting platform. Their appeal is obvious, delivering rewards for both you and a pal, usually with little input required from either of you.
In the case of Kwiff's Refer a Friend promotion, it's definitely easy enough to trigger. You simply send your unique referral link, and they click it to download the app. Once they've made their first bet of at least £5, you'll both get a reward.
Unfortunately, as with the welcome offer, that reward is a Surprise Bet. The stake is higher in this case – £10 instead of £5 – but you still have no control over how the bet is placed.
Kwiff Loyalty Club
Loyalty Clubs are another classic promotion type for bookmakers, which should regularly give value to loyal users. Kwiff's version certainly ticks this box. While it's not the most generous VIP program we've seen, it still rewards you for consistent wagering on the sportsbook.
To qualify for the Kwiff Loyalty Club, all you need to do is opt-in on the offer page. Thereafter, you must place a wager of at least £10 each day between Monday and Friday. The wager can be on any sport you please, and must have odds of evens or greater. Do so and you'll automatically be given £5 back into your account. Pleasingly this comes as cash, rather than as a free bet or Surprise Bet.
Money Back
Money Back offers are always a welcome sight on a sportsbook. While they don't help you to actually win wagers, they certainly help you to avoid losing them, which can also be very important for your long-term profits.
The Kwiff Money Back deal applies to football markets. All of the biggest matches are covered, including the top five European domestic leagues, the Champions League, and the Europa League. Place a pre-match singles bet on one of these matches, and – if your team is winning at half-time but ends up losing – you'll get your stake refunded.
That's all well and good, but – surprise, surprise – the refund comes as a Surprise Bet, rather than a regular free bet. Obviously this is still better than losing your stake entirely, but if you have question marks over the Surprise Bet concept – as we do – the promotion loses some appeal.
Weekday Virtuals Sports Campaign
Virtual sports are an increasingly popular area in betting, so we were pleased to see Kwiff providing a promotion solely for them.
Again, it's very easy to get started here. All you have to do is go to the Weekday Virtual Sports Campaign page, and enter your email address to opt-in. After that, just go to the Virtual Sports section and start betting! For every £5 you wager there, you'll receive five free spins in the Casino. This can be triggered constantly for up to 100 free spins between Monday and Thursday each week.
Kwiff Markets And Betting Markets
Even if it hasn't exactly broken into mainstream levels of popularity yet, Kwiff still has quite a few of the hallmarks of a premium bookie. Overall it's a professional platform which generally delivers a smooth, modern betting experience.
There are some key areas, however, in which it lags behind the biggest brands out there. Unfortunately, the selection of available betting markets is one major example. At the time of writing, there are literally just 12 sports available to wager on. On a premium betting platform, you'd expect to see at least double this number. William Hill, for example, has around 30 different betting markets.
Naturally that's a bit disappointing, but we will say that most of the key betting markets you'd actually want to bet on are in place. These include football, horse racing, darts, cricket, and tennis. Three of the biggest North American leagues are also present and correct, as are the most popular combat sports. There's also a full virtual sports section, which features the likes of football and horse racing.
Let's not beat around the bush, though – with only 12 sports represented, there are obviously some major absences. Golf is a big loss, and there are no motorsports or eSports whatsoever available to bet on.
Football
Kwiff's market selection might lack breadth, but we're pleased to say that it has plenty of depth in key areas. This definitely applies to the football section, which again – while not quite a match for what you'd find at a top-notch bookie – is certainly good enough to get the job done.
Basically every major competition you could realistically hope to find here is present and correct. All key domestic competitions are in place, including the Premier League, La Liga, the Bundesliga, and Serie A. The top continental contests are also covered – namely the Champions League and Europa League – as you would expect. Or, if you prefer to get a little more niche, worldwide opportunities are provided in leagues from Bolivia to Denmark, and Saudi Arabia to Argentina.
There's not only plenty of choice in what football matches you can wager on, but how you can bet on them too. Here are just a few of the pre-match bet types you'll be able to pick between:
Full Time Result
Over/Under Goals
Handicap
Double Chance
Draw No Bet
Both Teams to Score
If you prefer multiples to singles, Kwiff actually bundle many of those popular bet types together for you into convenient doubles wagers. There are also a few player props – such as 1st Goalscorer – and plenty of ways to wager half-by-half, instead of betting the full game.
One area in which Kwiff does disappoint is in longer-term football betting. We couldn't find any outright markets whatsoever available at the time of writing, even for something as popular as Premier League Winner.
Horse Racing
Getting horse racing on a non-premium sportsbook isn't a given. It's not the easiest sport to license, so many such bookies simply skip it entirely. While Kwiff initially took this approach too, they have actually begun to secure the necessary licenses in the past couple of years.
The result certainly isn't the most impressive racing section you'll have seen, but it's heading in the right direction! At the time of writing, races at only five courses were available to bet on: three in the UK, plus one each in France and South Africa. All races at those courses are covered though, meaning you still get dozens of betting opportunities per day, and both Winner and Each Way wagers are available.
Tennis
Tennis is another enormously popular betting sport, so we were pleased to see a section in place for it on Kwiff. Once again though, while the sport is technically covered, the market selection really isn't the deepest here.
There are no outright betting opportunities available right now, whether for tournament winners or anything else. If you're happy to bet match-by-match, though, you'll find a few different bet types. You can take the overall Match Winner, bet the 1st Set Winner instead, or – if you're feeling especially confident – bet the correct final score in terms of sets.
Other Sports
As noted in the introduction to this section, the selection of sports here is very sparse. Aside from the three we've looked at above, you can only bet on darts, cricket, basketball, American football, rugby, snooker, ice hockey, and boxing.
To be frank, this is pretty shocking. Bookies literally launch nowadays with far more sports than this available from the beginning. Kwiff launched over five years ago, so they have no excuse whatsoever for still having such a poor range of markets in place.
Live Betting
Kwiff's sports selection might be bad in general, but they do a fine job of providing live betting opportunities for the markets which are in place. 11 of the 12 available sports appear to be covered by in-play, with horse racing the obvious exception.
The number of bet types available in-play is actually pretty impressive. With football, for example, there's little drop-off in choice compared to pre-match markets. You're also given a very good selection of stats to give context to each matchup, and – while there's no live streaming – the visualisation tool is absolutely excellent.
Kwiff App & Mobile Betting Options
Kwiff do have dedicated mobile apps available. You can get these for either iOS or Android devices, straight from the App Store or Google Play respectively. For some reason, user feedback for the former is vastly better than that for the latter – 4.5/5 versus 3/5 – despite each having thousands of reviews. We'd tend to support the Apple users in this case, having found the app a fine all-rounder.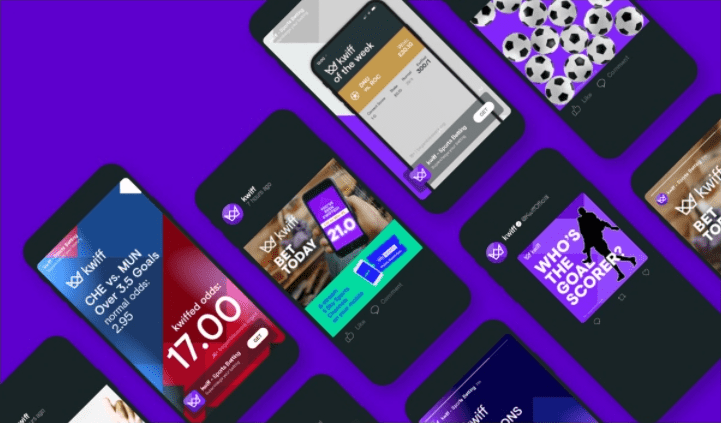 We'll discuss the navigation in more detail shortly. Even leaving that aside though, this is a pretty strong app. It looks great, and everything loads extremely quickly – much faster than the desktop version, in fact. You get access to the full range of ongoing promotions here too, plus a couple of mobile-only features, like a unique take on pulse betting and the ability to place your bets with a swipe.
The mobile version of the main site follows the same layout as the app, and still loads pretty quickly. The interface isn't optimised quite so well, however, and we'd recommend simply going with one of the apps if possible.
Kwiff Bookmaker Features
Kwiff isn't exactly a 'feature-packed' sportsbook, by any means. It lacks many of the shiny toys you'd get from a premium bookie, like live streaming, a bet builder, betting tip columns, and so on.
That's not to say that the cupboard is completely empty here, though. For starters, the live betting tools are very good indeed. Both in-play bet placement and cash outs are executed smoothly and quickly. Technically there's even a 'Supercharged Cash Out' feature which is supposed to boost the prices you get, but the effect this actually has is debatable. The visualisation tool – briefly mentioned earlier – is also genuinely one of the best around right now.
Perhaps this bookie's most notable feature is 'kwiffing' itself. In short, every time you place a wager, there's a chance that it will be 'kwiffed' – i.e. given a significant odds boost. The size of that boost could be 2/1, 4/1, or 400/1 – it's completely random, based on one of Kwiff's algorithms. In certain circumstances this could help deliver some major profits… but it's obviously not something you can build a betting strategy around!
Kwiff Sign Up Process
Like most mobile-oriented betting brands, Kwiff puts a strong emphasis on speed and convenience. We're pleased to say that this generally applies to their registration process too, although it's not necessarily the most streamlined we've seen. Kwiff have gone with the 'one piece of information per screen' approach, rather than trying to compress the process into as few screens as possible. It still only takes a minute or two to complete, though.
Whether on a desktop or mobile device, you kick things off by heading to the home page, then clicking 'Join'. You'll now be presented with the first screen, at which you must simply enter your email address before hitting 'Next'. After that you'll need to create a password, then set a four-digit pin number (iOS users can choose to use Touch ID instead here).
Next, you'll be given a link to Kwiff's full terms and conditions, and – once you've agreed to those – you must provide your full name, date of birth, and your residential address. Finally, you'll be asked for your phone number, which Kwiff will confirm by sending you a four-digit verification code.
With your number verified, you'll have finished providing your personal details. Kwiff will give you the chance to set deposit limits, which can be daily, weekly, or monthly. After that, you'll be asked to make your first deposit. Annoyingly, unlike with most other betting platforms, you will need to make a deposit before your account is made fully functional, and you're allowed to browse the full website while logged in.
Kwiff ID Verification Process
Like all legitimate modern betting platforms, Kwiff have Know Your Customer (KYC) measures in place. This means that – to prevent identity fraud (and confirm your age) – you must verify your ID before you can make a withdrawal from your account.
Doing so might be a minor frustrating, but it requires very little effort on your part. Here's a short step-by-step guide on the Kwiff verification process.
To request a withdrawal, log into your Kwiff account, tap the Profile icon in the top-right, and select 'Withdrawal'
Tap 'Request withdrawal'
Select the payment method you want to use, provide any details that are needed, and enter the amount you wish to withdraw
Click 'Withdraw'
If this is your first time cashing out, you will probably be asked to provide additional documents. These can be sent by email to help@kwiff.com, or via live chat
Valid documents include a passport to confirm your ID, and bank statements to verify your address
Your documents should be processed within 72 hours of Kwiff receiving them
Once your account has been verified, your withdrawal will be processed as normal
Banking Options
In certain areas, Kwiff does occasionally seem like it might be a genuine challenger to the bigger names in the industry. Just when you get that feeling, however… this sportsbook lets you down in a new way!
Banking options are easily one of Kwiff's biggest weaknesses. In fact, we don't even need to use the plural 'options' here. You literally have only one choice: debit card. You can't use any eWallets, or even bank transfers to fund your account. In this day and age, this lack of options is pretty remarkable.
There are a couple of small saving graces here. The minimum amount for both deposits and withdrawals is only £5, which is comfortably below the industry standard £10. Payments are also processed with decent speed, with deposits going through instantly, and withdrawals taking 3-5 business days.
Kwiff Layout
Kwiff isn't technically a mobile-only platform, but it's made abundantly clear this is where their priorities lie. To be quite honest, the desktop website is barely worth bothering with. The interface doesn't just look mediocre, but is extremely basic, and navigating the site is completely unintuitive. In short, you'll just about be able to manage your account and place bets here, but you won't have much fun doing it!
The layout on the mobile app, by contrast, is much better. You have a bottom menu with four main options clearly displayed – Sports, Betslip, Cash Out, and Casino. Towards the top of the screen you can also open the deposit menu, account management options, or the help section with the single tap of a button.
Browsing markets is just as easy, thanks to a combination of side-scrolling menus for the sports, and standard scrolling menus for individual matchups and prices. From the first time you use this app, you'll be able to locate the bets you want and put them down quickly. The visual clarity of the interface – in terms of the colour scheme, and the size and font of the text – also helps in this regard.
Customer Support
As we've seen, Kwiff do drop the ball in a few key areas, such as their market selection and available payment methods. When we came to check out their customer support though, we were actually fairly impressed!
Most importantly live chat is available, and is extremely easy to access via both the mobile apps and desktop website. You also have the option to get in touch by email instead, if you prefer.
In addition to the direct contact options, Kwiff also have a reasonable FAQ section in place. It's hardly packed out with content, but the major areas are covered, and the writing in the entries is both direct and helpful.
Company Details
Kwiff doesn't quite qualify as a 'new' sportsbook, having launched back in 2015, but it's obviously still very young compared to brands like Bet365, Betfair, and Ladbrokes. Despite operating for a half-decade now though, there still aren't that many details available about Kwiff.
We do know that they're run by a company called Eaton Gaming Ltd, but they seem to be this business's only sports betting platform. More intriguingly, their original founder – Anders Ström – is actually the man who invented the highly successful Unibet, so there's certainly pedigree behind this brand! Finally, Kwiff hold a full license with the UK Gambling Commission, and – like many betting companies – have their headquarters in tax-friendly Malta.
Kwiff Bottom Line
Even after some extensive testing, it's hard to know where to stand with Kwiff. There are certainly things to like here, but there are also some real problematic areas which can't be ignored.
On the positive front, the mobile app – which has clearly been the development team's focus – is very good indeed. It's fast, reliable, and generally easy to use. The customer support is also solid, there's a decent selection of ongoing promotions, and the live betting features work well.
Unfortunately, there are also some serious flaws. The lack of both payment options and sports markets is very disappointing in a modern-day sportsbook. We also have our doubts about the randomness behind some of Kwiff's key features. Which bettors would really prefer 'Surprise Bets' over free bets, when the latter offers them complete control? Is 'kwiffing' itself really a better idea than standard bet boosts?
Overall, one thing is for sure – Kwiff definitely offers something different! If that appeals to you, and particularly if you prefer on-the-go betting, we'd still recommend looking into the £5 Special Bet Welcome Offer, and checking out this unusual brand for yourself.