18+. New customers only. Full Terms and Conditions apply.
18+. New customers only. Full Terms and Conditions apply.
Luckland Sports Betting Review
Punters in the United Kingdom are blessed with having such an abundance of reliable online bookmakers to choose from. 2022 has already seen plenty more online bookies join the fray, giving UK sports bettors even more choices than ever. One of these new additions to the UK online sports betting scene is Luckland Sports.
You may already be familiar with the Luckland brand, as it has operated a UK online casino since 2015. We've spent a lot of time with the newly-launched sportsbook section though, and this comprehensive review will tell you all about our findings, to help you decide whether this fledgling bookmaker is the right one for you. En route, we'll cover the available special offers, betting markets, customer service options, and more.
Luckland Sign Up Offer
Like almost every other UK online bookmaker, Luckland greets new customers with a welcome bonus offer. UK punters who open a new account, make a deposit, and place their first wager are eligible to receive a £10 free bet token.
You can use your desktop or mobile browser to claim your £10 free bet. To do so, start by going to Luckland Sports and hitting the green "Join" button at the top of the sportsbook lobby. You can then fill out and submit the registration form. Next, you can use one of the many secure payment options to deposit at least £10. The last step involves placing £15 in wagers, on events with odds of 1/1 or greater. Once those wagers have settled, Luckland will automatically credit the £10 free bet to your account.
You have 14 days to use your free bet, and it can be used on any live or pre-match event with 4/5 odds or greater. If the free bet wins, then your winnings will be added to your real-money account balance and eligible for withdrawal. Please note that the returns from winning free bets will not include the £10 free bet stake.
To summarise, here's a quick overview of how to get the Luckland new customer offer:
Open a new account at Luckland.

Deposit £10 or more using one of Luckland's eligible payment options (see below).

Place £15 in wagers on events with odds of 1/1 or greater.

Luckland will credit the £10 free bet to your account.

Use the £10 free bet on any live or pre-match wager with odds of 4/5 or greater.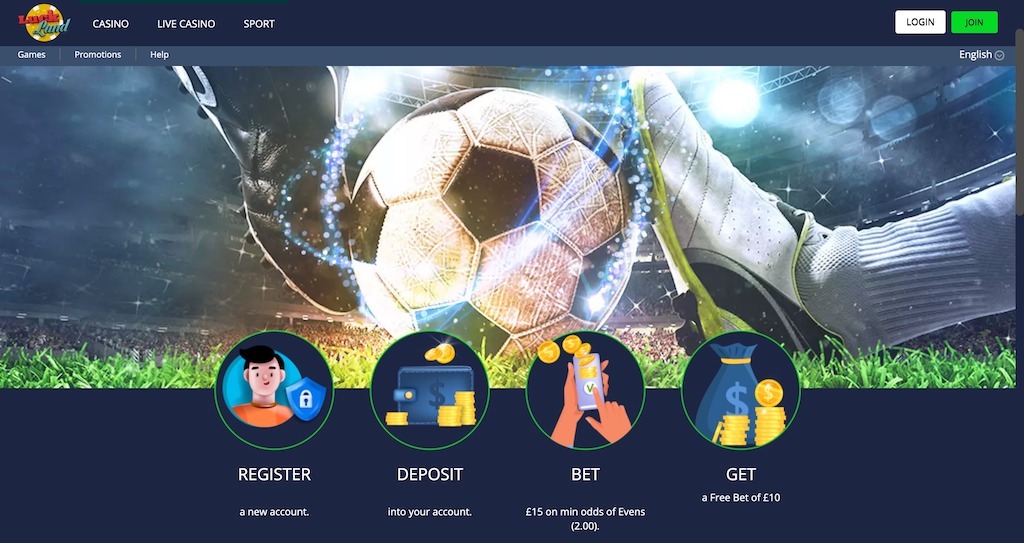 As always, some terms and conditions do come attached here. The most significant include:
Only available to new customers.

You must deposit at least £10 and wager £15 on events with odds of 1/1 or greater.

Deposits made using PayPal, Neteller, Paysafecard, Skrill, or Skrill 1-Tap do not qualify for this offer.

Free bet must be used within 14 days of being issued.

Free bet must be used to wager on any live or pre-match event with 4/5 odds or greater.

Payouts for winning free bets will not include the free bet stake amount.
In general, this serves as a pretty mediocre introduction to the Luckland brand. You're normally looking for at least a 1:1 return on your investment from a welcome offer, so needing to bet £15 here just to get £10 back isn't great. On the flip-side though, the minimum odds are completely fair, and giving 14 days – rather than the customary seven – to use your free bet is generous.
As great as sign up bonuses are, they are only for new customers. With the UK sports betting scene being so fiercely competitive, the best UK bookmakers need to offer something special to existing customers, so that they stick around for the long haul. Top-tier online sports betting sites offer existing customers a variety of perks such as free bets, risk-free wagers, bonus cash, and more.
Sadly, Luckland doesn't really excel in this area, which is a typical but disappointing trait of most Aspire Global operations. A visit to Luckland's promotions page reveals just three sports promotions. One of them is the aforementioned £10 free bet welcome bonus. Of the remaining two offers, one is the 'Cash Out' option, which is more of a standard bookmaker feature than a promotion. That leaves us with just one other bookmaker promotion.
Combo Boost Offer
The combo boost offer gives punters a chance to boost their accumulator winnings by up to 77%. To qualify, you simply place an accumulator bet with at least four pre-match legs, and with each selection having odds of 1/2 or greater. If your accumulator wins, then Luckland will boost your profits based on the number of selections you made.
As usual, the size of the boost here depends on the number of selections you throw into your acca. The minimum four legs will only give you a 4% boost, but this increases to 7% for five legs, 10% for six, and so on, all the way up to 77% for 15 or more selections. The maximum amount you can make is £11,000 from the boost, and – pleasingly – your profit boost will still apply if any of your selections are cancelled. So, if you place an 8-legged accumulator, and one of the picks is cancelled, then the profit boost will be applied to the remaining seven selections.
Luckland Markets and Betting Markets
Ultimately, while special offers are certainly handy to have, every sportsbook lives and dies by the quality of its actual betting markets. We were very pleased indeed, therefore, to find the impressive number of sports and betting markets that Luckland offers their customers.
You'll find dozens of sports and hundreds of leagues from all over the world on the betting menu here. Not only will you find mainstream markets like cricket, football, rugby, and basketball, but you will encounter plenty of niche sports too. Cycling, darts, handball, snooker, volleyball, and lacrosse are just a few of the smaller-market offerings on display at Luckland, and they even provide odds on the likes of Gaelic games and water polo.
Punters are also presented with loads of betting options within those categories. For instance, those who like betting on NBA basketball are usually given well over 60 unique bets to choose from. In addition to the standard sides and totals, you can wager on double chance, Asian handicap, half-time/full-time, draw no bet, or whether the game will go into overtime. Even those who have little basketball knowledge can wager on things like whether the score will be even or odd.
Luckland therefore serves up countless pre-match betting opportunities every day. However, they also do an admirable job with their live betting options. Whilst the live betting menu usually doesn't have quite as many items as the pre-match menu, it still covers a broad range of wager types, which will be more than enough for must punters.
Football
Seeing how football is the most popular sport in the UK, it only makes sense that Luckland pays plenty of attention to it. You will find loads of live and pre-match betting options for all the popular leagues here, such as the Premier League, Champions League, Bundesliga, Serie A, and so on. In addition to offering odds on European leagues, Luckland covers over 100 other leagues across Australasia, South America, the United States, Africa, and Asia. Even if you follow obscure leagues, in countries like Azerbaijan, Botswana, or Thailand, then Luckland probably offers odds on them.
In terms of sheer number of betting opportunities, we were generally satisfied with the diversity of options on Luckland's football betting menu. However, we can still say that there are fewer choices here than you could find at other major UK bookmakers. Whereas the very best UK bookies offer well over 500 betting options on a single mainstream football match, Luckland offers around 130 to 150, with perhaps the most notable void in Luckland's football betting menu being player props. Some of the most common football bet types which are on Luckland's menu include:
Both Teams to Score

Double Chance

European Handicap

Exact Score

First Team to Score

First-Half Results
Horse Racing
Horse racing is another sport that draws huge amounts of attention in the UK. And, like most other UK online bookmakers, Luckland offers odds on it.
The bookie covers loads of races and events from English tracks like Kempton, Fontwell, and Newton Abbot, as well as Scottish venues like Kelso. With that said, it's too bad that they don't cover races in other major markets like Japan, Australia, and the United States. Doing so would allow horse racing bettors to play the ponies pretty much round the clock.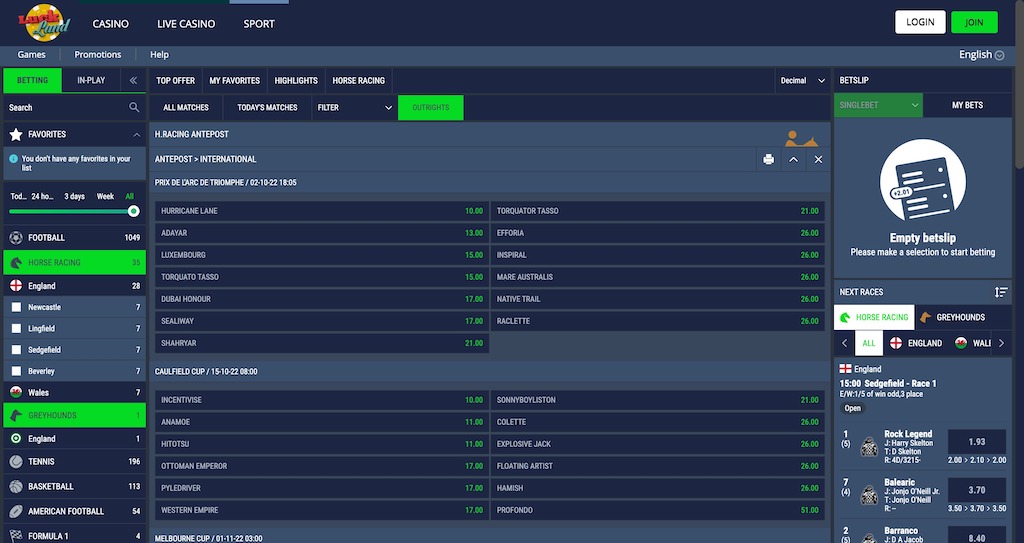 Tennis
One of the great things about tennis is that it appeals to men and women of all ages and demographics. Tennis might not be as popular as other major sports like football and cricket, but it is still one of the most widely followed sports on the planet. And, as you would expect, Luckland does a good job of their tennis coverage.
They offer odds on any major event you can think of including Wimbledon, the French Open, the Australian Open, and Indian Wells. Luckland also provides odds on smaller events in dozens of countries all over the world. For instance, you can wager on the ITF W15 Curitiba tournament in Brazil, or the ITF Men's Monastir in Tunisia, and you can either bet on an outright winner long before an event kicks off or place your wagers before a match begins. The wide array of live tennis betting options is simply the icing on the cake here.
Other Sports
We have already mentioned how Luckland covers a huge array of major and niche sports betting markets. They also, however, have a little something for those who aren't interested in sports.
If you go through the list of sports and events, you will come across a "Specials" tab. When you hit it, you will discover that you can wager on such things as entertainment and politics. The latter allows you to wager on who will win an upcoming election, while – if you follow music and entertainment – you can wager on the Oscars, Academy Awards, BAFTAs, and other prestigious industry awards.
Live Betting
Is one of your pre-match wagers looking like it's destined to go down in flames? In that case, you might want to consider hedging it with a live wager. Is your team ahead leaving you wishing you had more riding on them? Perhaps you should consider doubling down on your wager with a live bet. Maybe you simply forgot to stake your pre-match bet? Regardless of your reason, with Luckland's live betting tools you can get your wagers down while the game is in progress.
Live betting is wildly popular among UK punters, and Luckland have stepped up to the plate in a big way here. There is almost always a match being played somewhere, and you can get in on the live betting action no matter where you are or what time it is. To do so, simply select the "In-Play" tab on the main menu to see all events open for in-play wagering. The live wagering menu features many of the same bet types found on the pre-match menu, which includes Next Team to Score, Double Chance, and Draw No Bet, along with a variety of team and game totals.
Just remember that live betting requires a bit of speed on the punter's part. Live betting odds move quickly as the clock winds down and circumstances change, with Luckland's updating especially frequently.
Luckland App & Mobile Betting Options
As of this review, Luckland does not yet offer a native betting app for iOS or Android, and we aren't sure if the bookie intends to launch one in the future. In the meantime though, Luckland has still made its main website compatible with most mobile browsers. Provided you have a good wireless connection, you can simply open your browser and head over to Luckland Sports. The mobile pages will load automatically, and will instantly adjust to your screen size.
The Luckland mobile platform has basically all of the features found on the desktop version. It looks nearly identical too, with the exception of the side menu and a few other minor details. You can use the mobile platform to open a new account, claim a bonus, place bets, and use the 'Cash Out' feature. In short, if you can do it on the desktop site, you can do it right in your browser when you're on the go with a minimal amount of fuss.
Luckland Bookmaker Features
It's fair to say that Luckland isn't exactly overflowing with features. The best UK online bookmakers support a variety of features like bet builder, name your bet, and, of course, live streaming. However, the only real feature of note at Luckland is the Cash Out option.
For those who are unfamiliar with Cash Out, this feature lets punters close their wagers before they settle. So, if you wagered on Arsenal to beat Manchester United, and Arsenal is winning, you can trigger the Cash Out feature to close the bet and lock in the win. Frustratingly, Luckland only allows punters to cash out their entire bet. A lot of other leading bookmakers give you the option of cashing out the whole wager or just a portion of it, but this is sadly lacking here.
To be fair, aside from that, Luckland does have a few other minor common features. For example, you can customize the way you view the betting menus and the odds. You can also make use of an array of responsible gambling tools, including setting limits on the amount of money you can deposit and wager in a specified period of time.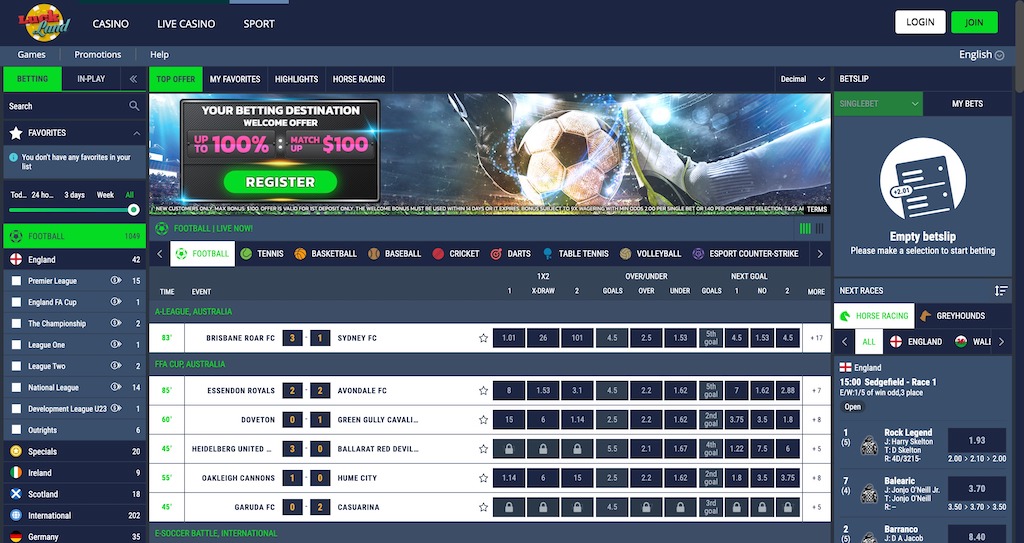 Luckland Sign Up Process
Whether you use a desktop computer or a mobile browser to do it, opening a new Luckland bookmaker account is a piece of cake. If you have ever opened an account at another UK bookmaker, then you'll already be familiar with the process here. If not, you will still find that everything is self-explanatory and straightforward.
Start by launching your desktop or mobile browser, and making your way over to the Luckland sportsbook. When you arrive at the bookmaker lobby, hit the "Join" icon at the top of the page to trigger the registration form. You will then be asked to provide some basic personal details, like your date of birth, full name, email address, residential address, and mobile number. You can rest assured that any information you provide is protected by the latest and most effective internet security technology, including SSL encryption and firewalls.
Once you have filled out all of the required fields on the sign up form, it's a good idea to quickly double-check your details to make sure they are all correct. You can then submit the registration form, and will be asked to either click on an activation link that Luckland will send to your email address, or enter a PIN that you will receive via text message. Once that's done, your account will be officially activated. With your new account now in place, you can proceed to deposit funds and start placing bets to qualify for the aforementioned £10 free bet.
Luckland ID Verification Process
While opening an account allows you to deposit funds, place real-money wagers, claim the £10 free bet, and much more, you will not be able to withdraw your winnings until you have completed the verification process. This procedure is required by law, and as part of Luckland's licensing agreement, with the verification process being designed to prevent underage gambling, money laundering, identity theft, and other fraudulent activity.
Fortunately, this process is quick and easy, and simply entails providing Luckland with digital copies of a couple of documents that prove your age, identity, and place of residence. In most cases, you can prove your age and identity by providing a copy of your driver's license, birth certificate, or other government-issued photo identification. Another document like a rental agreement, bank statement, or something else with your full name and address will prove where you live. Once you've got these documents prepared, you can follow these steps to submit them:
Log in at Luckland.

Go into your account profile.

Select the "Documents" tab.

Use the uploader to upload a copy of your photo ID.

Use the uploader to upload a copy of your secondary document.
Whilst it can take up to three days for Luckland's security team to verify your documents, they usually do it within a few hours. We should also mention that you only have to complete this process once, although we still suggest you do it soon after opening your account, to avoid any unnecessary delays when it comes time to cash out your winnings.
Banking Options
Luckland supports a nice selection of payment methods that are popular among UK punters. You will probably notice that Luckland does not accept credit card payments, which is due to recent changes to the UK's gambling laws, but you can still use your debit card. Whilst Luckland does not charge any fees for deposits and withdrawals, you should check with your payment provider to find out if they do.
With all that said, here's a quick and easy overview of both the deposit and withdrawal options available at Luckland.
Deposits
| | | | |
| --- | --- | --- | --- |
| Deposit Method | Processing Time | Fee | Minimum Deposit |
| Visa Debit Card | Instant | Free | £10 |
| Mastercard Debit Card | Instant | Free | £10 |
| PayPal | Instant | Free | £10 |
| Instant Banking | Instant | Free | £10 |
| Trustly | Instant | Free | £10 |
| MuchBetter | Instant | Free | £10 |
| Paysafecard | Instant | Free | £10 |
| Skrill | Instant | Free | £10 |
Withdrawals
| | | | |
| --- | --- | --- | --- |
| Withdrawal Method | Processing Time | Fee | Minimum Withdrawal |
| Visa Debit | 0 to 6 Days | Free | £10 |
| Mastercard Debit | 0 to 6 Days | Free | £10 |
| Neteller | 0 to 2 Days | Free | £10 |
| Skrill | 0 to 2 Days | Free | £10 |
| PayPal | 0 to 2 Days | Free | £10 |
| MuchBetter | 0 to 2 Days | Free | £10 |
| Trustly | 0 to 4 Days | Free | £10 |
| Instant Banking | 0 to 4 Days | Free | £10 |
| ecoPayz | 0 to 4 Days | Free | £10 |
| AstroPay | 0 to 4 Days | Free | £10 |
Luckland Layout
No matter which UK online bookmakers you visit, you will generally find that the sites look quite similar. With the exception of colour schemes and a few other minute details, there is very little difference in how these sites are designed. Luckland also follows a fairly generic layout, meaning that – if you've navigated one UK online bookmaker – then you're going to be able to navigate Luckland with no problems.
As mentioned, Luckland's desktop and mobile versions are nearly identical. The main difference is that the desktop version has a menu on the left side of the screen, while the mobile version lets you open the side menu by tapping on the menu icon in the top-left corner of the screen. In both versions though, you are greeted immediately by the most important betting menus for popular upcoming events and live events. If you are looking for a particular sport, you can select it by navigating the sports menu at the top of the page, the one in the side menu, or by using the search function.
The bottom line is that Luckland Sports is designed with the minimal amount of fuss, so that even the most inexperienced user can easily find their way around. Everything is where you would expect it to be, and you shouldn't have to go more than a couple of links deep to find exactly what you are looking for.
Customer Support
The customer support offering on Luckland is a bit of a mixed bag. On the plus side, the customer service agents are truly professional, polite, and knowledgeable, which is obviously great. The problem, however, is that they are only available to help you between 08:00 and midnight. If you encounter a problem or have a question during off-hours, then you will simply have to wait.
When the support staff is indeed on duty though, you can reach them quickly by using the Live Chat option. Alternatively, you can send a detailed message through email, but you may have to wait up to 24 hours to get a reply. Luckland does not currently offer support over the telephone, but the other two options should be enough for most punters.
Luckland Details
Because Luckland Sports is so new, there isn't a lot of information available yet on this bookmaker. However, Luckland Casino have been offering their services since 2015, and they have earned a solid reputation in that time. We also know that Luckland is operated by Aspire Global International, which runs several reputable UK online casinos and online bookmakers. Elsewhere, Luckland possesses licenses in Malta, the UK, and Ireland. This is important because those regulators are among the most respected in the industry, meaning you can be confident that any online bookmaker who has signed up with them will treat you fairly, and afford you the highest levels of player protection.
Two other small details bolster Luckland's credibility. For starters, they support PayPal, which only offers its services to the most trusted online gambling sites. The other is that Luckland's RNG is certified by iTech Labs. Whilst this doesn't have anything to do with the bookmaker vertical, it does demonstrate that Luckland is committed to fair play.
Luckland Bottom Line
Even after spending a significant amount of time exploring Luckland as research for this review, we are still conflicted about this sportsbook.
We should begin by saying that Luckland has all the markings of a respectable and reliable operation. We can base this on the fact that the bookmaker is licensed in the UK, Malta, and Ireland, and the general fact that Aspire Global International is known for being completely on the level.
With that out of the way, let's focus on the actual product. Like most other Aspire Global bookmakers, Luckland is fairly generic and doesn't give punters many reasons to choose them over their current UK bookmaker. Luckland admittedly does a pretty good job with their sports coverage and betting markets, but you won't have a hard time finding both more sports and more betting options at other top-tier UK online bookies. Whilst the odds are generally competitive, they are inferior to those found at many other sites. For instance, odds margins for Premier League markets routinely approach the 7% to 8% mark which is rather high.
The £10 free bet welcome bonus is also fairly underwhelming, even compared with other small competing sites, and that's really all the site offers in terms of sports betting bonuses and promotions. The lure of a free bet might still prompt a few punters to give Luckland a go, but there is nothing special among the ongoing deals to keep them coming back. A lack of useful betting features doesn't help their cause, and limited customer service hours won't impress anyone.
Ultimately, we can say that Luckland is a modern, safe, legitimate, and easy to use platform. On the flip side, punters won't have a hard time finding a better alternative. There are plenty of other young bookies out there which trump Luckland in several key areas, never mind the many older, bigger brands which are clearly superior.