SBK SPORTS BETTING REVIEW
SBK launched in August 2019, with the dedicated sportsbook app being operated by Smarkets, who have an excellent reputation within the industry thanks to their low commission betting exchange.
SBK aims to provide some of the most competitive odds around using advanced technology, with both iOS and Android users being able to take advantage their mobile betting platform. SBK is licensed and regulated in the UK by the Gambling Commission, with the app having already made a significant impact in the market.
This review will take a detailed look at the entire SBK operation, including its promotions, markets and banking. However, let's kick things off by discussing the generous sign up offer available to SBK app customers.
Looking for an unbiased SBK review? You've found it! We've got all the details on this new betting brand for 2020. We've tried it out for ourselves and are here to let you know, based on our experience, what we thought of everything this brand has to offer.
Here is our in-depth review for this fascinating bookie:
SBK Sign Up Offer
SBK has recently updated its welcome offer. New customers depositing £10 or more will receive £30 in free bets. In order to qualify, simply download the SBK app, before depositing £10+ using a bank card or Trustly.
Bet £10 Get £30 In Free Bets
New UK, IE & Malta users only. Min. £10/€10 first deposit only using Debit Card or Trustly. Free bets expire in 90 days. T&Cs apply.
New UK, IE & Malta users only. Min. £10/€10 first deposit only using Debit Card or Trustly. Free bets expire in 90 days. T&Cs apply.
Show Less
However, new customers must still consider the following points before signing up:
You must deposit at least the qualifying deposit of £10 in a single amount with your first deposit to be eligible for the rebate.
Once the bonus is credited to your account, losses will be refunded up to the bonus amount.
The promotion is open to new users making their first deposit by card or Trustly only.
Unfortunately, the SBK sign up offer is where things stop in terms of promotions, with existing customers having no free bets, accumulator insurance or price boosts to take advantage of. SBK have instead chosen to focus upon odds and the social aspects of their app, while it remains to be seen as to whether they introduce further promotions in the future. After all, SBK has been in operation since August 2019.
SBK Markets & Betting Options
The following are among the most popular sports markets available on the SBK app:
Football – Football markets at SBK are divided into four separate categories, popular, live, today and competitions. As a result, app users can easily locate their preferred fixtures, whether it be from the Premier League, Champions League or World Cup. A large number of pre-match and in-play markets are available too, with many encounters coming with a useful set of statistics, helping punters in deciding who to back. It is not just major football matches in which SBK cover though, with ties from the lower divisions in England and a host of other countries being available to bet on, whether it be 1×2, under/over goals, total goals or number of corners.
Horse Racing – All significant horse racing meetings from the UK & Ireland are covered on the SBK app, while a host of other races from countries such as Australia, United States and France are also regularly available to bet on. While most of the horse racing markets on the SBK app are pre-race, there are also a small number of ante-post options, including events such as the Cheltenham Festival and Grand National.
Cricket – Given the increase in the number of cricket competitions over recent years, it perhaps comes as little surprise that a whole host of markets are available in this area on the SBK app. Cricket markets are divided into popular and competitions, with matches involving international teams dominating proceedings. Meanwhile, punters have the chance to place outright bets on major cricket tournaments, such as the T20 World Cup winners.
Tennis – Tennis is one of the major sports markets at SBK, with markets being separated into popular, live, today and tournaments. Matches from the ATP and WTA Tours dominate proceedings throughout the season, however less high-profile encounters from the Futures and Challenger Tours are also on offer to punters. Depending on the tournament and players involved, app users generally have the opportunity to bet on the exact score in sets, along with individual set winners.
North American Sports – The NBA has its own page on the SBK app, demonstrating just how popular betting on basketball has become recently. Punters can place winner, spread and totals bets upcoming games, with the NBA, Euroleague, Greece A1, NCAAB and Republic of Korea KBL being just some of the available competitions.
Politics & Entertainment – At the time of writing this review, punters at SBK were able to place bets on the 2020 US Presidential Election, the next leaders of British political parties and the chances of another referendum, with 180 political markets being found in total. Meanwhile, entertainment markets also crop up from time to time on the app, with the Eurovision Song Contest being the only available market at this time.
SBK Mobile Betting And Sports App
As we mentioned earlier, the SBK app is available on both Android and iOS devices, delivering a range of appealing services and features to punters in the process. Android users can gain access to the SBK app via the Google Play Store, as well as through a link found on their mobile website, with the entire process taking just a matter of minutes. Meanwhile, the iOS version of the app can be downloaded via a quick search in the App Store, with the speed and ease of this again being very impressive.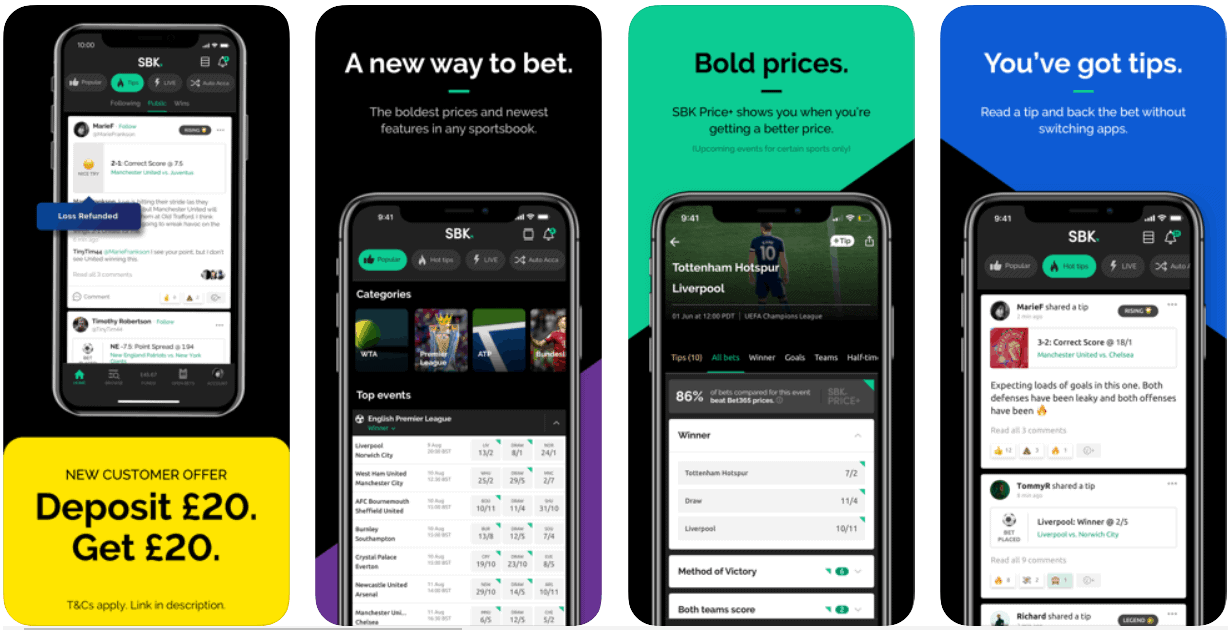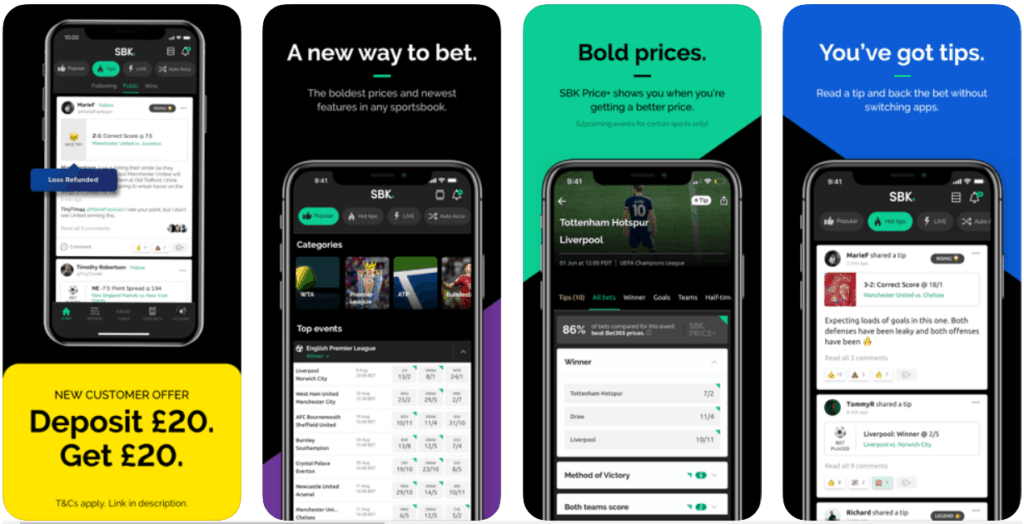 With SBK being an app-based sportsbook, the only way to gain access to their attractive prices and large range of markets is to download it, with their mobile website only providing a small amount of information surrounding the bookmaker, a long with download links for the app.
SBK Bookmaker Features
In terms of features, the SBK app delivers on almost all fronts, which is especially pleasing given the fact that they have only been in operation for a matter of months. After testing the app extensively, we found that the following features are currently available to punters:
Live Betting
For many, in-play has become an integral part of their sports betting strategy. We were pleased, therefore, to see that this is clearly a massive focus for SBK too.
Their live markets are incredibly easy to access, via the 'LIVE' button right at the top of the home page. Selecting this shows you all the biggest ongoing football games at that moment. Switching to other sports is a cinch, though, courtesy of a handy scrolling menu. This lets you flit between tennis, snooker, ice hockey, and a whole range of other sports, all of which are available for both SBK in-play bets and cash outs.
Once you've found the event you want to bet on, you can delve into its individual markets. These are particularly extensive for football, with the likes of not only Full-Time Result and Correct Score available, but also bets on corners, cards, and even live Asian handicaps. Although there's no streaming, a visualisation tool – situated above the markets – helps to keep you up to date. On top of all that, you also have the option to either post your own tips on live games, or get advice from other people, all without leaving the app.
Auto Acca
Perhaps SBK's best characteristic is their willingness to innovate. This is shown in their general choice to go mobile-only, and a few different intriguing features. Auto Acca is definitely one of the most original of those features.
Accumulators are fun bets to follow, and can deliver massive rewards. Their downside, of course, is that they can be time-consuming to put together. With Auto Acca, this is no longer the case.
As the name suggests, this handy tool will automatically create a full accumulator bet for you. All you have to do is choose how many selections you want: three, four, or five. Once you've picked a number, you simply swipe down to start Auto Acca working. A couple of seconds later, you'll be presented with a computer-generated accumulator, which mixes both sports and bet types. You can then scan down the selections, check out the odds at the bottom, and decide for yourself whether you like the acca or not. If you do, you can add it straight to your bet slip, set a stake, and place the bet. If not, you can simply swipe again to generate a whole new accumulator.
⭐Tips ⭐– Those registered at SBK are also in a position to both read and write betting tips. Punters can look to see which of their fellow customers are on a hot streak in terms of backing winners, while the leaderboard adds another sense of competition.
Bet £10 Get £30 In Free Bets
New UK, IE & Malta users only. Min. £10/€10 first deposit only using Debit Card or Trustly. Free bets expire in 90 days. T&Cs apply.
New UK, IE & Malta users only. Min. £10/€10 first deposit only using Debit Card or Trustly. Free bets expire in 90 days. T&Cs apply.
Show Less
SBK Banking & Deposit/Withdrawal Options
A large number of payment methods are available to customers on the SBK app, which is particularly pleasing given the short amount of time in which they have been in operation. All payment methods allow for instant deposits to be made, whether it be debit cards, bank transfer, PayPal, Neteller, Skrill or Trustly.
The minimum deposit amount using most banking options is just £10, aside from those using PayPal and Trustly, where the figure rises to £20 and £40 respectively. Unfortunately, those looking to withdraw using a bank transfer will incur a £10 charge, while also having to wait between 5-10 days. However, other options are processed free of charge, while taking anywhere between 24 hours and six working days to complete.
Opening A SBK Account, Deposit And Bet


Potential customers will open an account from the app's Home Page by clicking 'CREATE ACCOUNT'. The registration process involves specifying a Username and Password, selecting a currency and entering an optional promo code to activate the welcome bonus. Customers must confirm agreement with the Terms & Conditions.
A new customer is then prompted to select a payment method and enter an amount for the first deposit. The account balance is update accordingly. The new player selects the betting market and type of bet. When the bet is matched, the bet is active and the operator displays the current account balance. The bet can be unmatched or partially matched in which case it can be cancelled or left in the market for matching later. When backers and layers accept the mutually beneficial price a bet is matched.
Security And Safety
The security of a new bookmaker is always likely to be in question, even when it is solely for mobile customers. Unfortunately, not a great deal of information is made available by the bookmaker, aside from the use of two-factor authentication.
However, if parent company Smarkets is anything to go by, it is likely that SSL encryption technology is used throughout, helping to ensure that all activity is carried out safely on the app. Meanwhile, the fact that SBK hold valid licenses from both the Gambling Commission and the Malta Gaming Authority demonstrate that they can be trusted.
SBK Offers Highest Funds Protection
SBK uses high security features to ensure that deposited funds are protected and that transactions are 100% safeguarded with Transport Layer Security (TLS) and Secure Socket Layer (SSL) encryption protocols.
When you deposit funds at SBK as a UK punter, they are held separately by Smarkets (Clients) Limited. This is a group company that was created for the sole purpose of holding customer funds, under the terms of Trust Deed.
According to the UK Gambling Commission, which licenses SBK, this type of funds protection is the highest in the industry. The reason is that the customer's money is held in an account that is legally separate from SBK and is controlled by an independent party. As for the funds of customers who are registered outside the UK, these are also held separately from business accounts in dedicated ring-fenced accounts for these customers.
Customer Support
Unlike some operators, Smarkets provides customer with many methods to contact the support team. The comprehensive nature of customer support should is replicated on the SBK mobile app. That service allows customers to contact the operator by email, telephone, postal address, Twitter and Live Chat. Telephone support for active customers is available from 09:00 to 00:00 every day while logged in users can use Live Chat for 24 hours and 7 days a week. In keeping with Smarkets social media presence, customers will be able to engage with SBK using Twitter and Facebook.
Interface & Navigation
SBK's decision to be a mobile-only brand was a brave one. Amongst many other considerations, it's simply harder to create an interface for the smaller screen size of a mobile device, compared to a desktop website. In SBK's case, however, this needn't be a worry. The entire navigation on the SBK sports betting app is simply fantastic.
Within moments of booting up this app, you can tell that it's of the highest quality. The black, white, and green colour scheme looks fantastic, and the text and numbers are of an easily-readable size and style. Everything in the interface loaded quickly during our testing too, from the Auto Acca tool to the latest live odds, despite the liberal use of high-res photos.
Actually navigating the app is effortlessly easy, from the first time you use it. Five important sections – Home, Browse, Funds (including deposits and withdrawals), Open Bets, and Account – are all accessible via an ever-present bottom menu. Once you dip into a particular sport, you'll be shown the most popular markets by default, but you can then switch to 'Live', 'Today', and 'Competitions' with the press of a button. Browsing through the individual markets for a match is equally easy, and – again – these are laid out with absolute clarity.
When it comes to SBK's interface and navigation, we'd struggle to find literally any criticism. It is faultlessly easy to use, for both newcomers and mobile betting veterans alike.
More On The Bookmaker
SBK was first launched in August 2019, with the app being operated by parent company Smarkets, who have a long history in the world of gambling. SBK and Smarkets are based in the gambling capital of Malta, while it is believed that the bookmaker will soon be targeting the potentially lucrative US market. The fact that they are one of the newest betting apps around means that relatively little information is known about SBK, with no major sponsorship deals to speak of as of yet either.
Smarkets is the second biggest betting exchange in the industry after Betfair. The company is located in Malta and the operation is licensed and regulated by the UK Gambling Commission.
Smarkets – SBK's parent company – have a longstanding reputation for innovation. Already with their betting exchange, they had fused peer-to-peer betting with exciting technological advances. With the launch of SBK in 2019, they sought to take this to the next level.
Most notably, this was by attempting to fuse sports betting with social media. Rather than betting alone on SBK, their various social features – such as the Tips system – help you to feel like you're part of a wider community. There's also a massive emphasis on "transparent odds", as stated by Smarkets CEO Jason Trost. This first showed itself through the impressive SBK Price+ feature, which compared market prices directly against those of SBK's competitors, to help bettors be sure they were getting a great deal with their odds.
Reference: Smarkets launches SBK seeking to break barriers between punter & sportsbook
For decades, sports betting had been banned in the US, with only a handful of states – most famously Nevada – exempt from the rule. In 2018, all that began to change, and nowadays new states are legalising gambling with regularity.
Colorado took this step in May 2020. Within less than a month, Smarkets had already jumped at the opportunity, by soft-launching their highly-regarded SBK app in the state. Some 35 other sportsbooks have also gained licenses in Colorado, so SBK certainly have plenty of competition. CEO Jason Trost is typically confident, though, believing that local bettors will be glad to benefit from "some of the best odds in the world" and their "carefully crafted customer experience."
Reference: Smarkets enters Colorado market with SBK
Bet £10 Get £30 In Free Bets
New UK, IE & Malta users only. Min. £10/€10 first deposit only using Debit Card or Trustly. Free bets expire in 90 days. T&Cs apply.
New UK, IE & Malta users only. Min. £10/€10 first deposit only using Debit Card or Trustly. Free bets expire in 90 days. T&Cs apply.
Show Less
FAQ
❔Is the SBK app legit?
Yes, definitely. SBK is owned by Smarkets, who have an excellent track record stretching back over a decade. They also have a license with the United Kingdom Gambling Commission for their British operations, and another one with the Malta Gaming Authority for their overseas business.
❔What is SBK Auto Acca?
An SBK acca betting tool which automatically generates accumulators for you. You decide how many selections you want, and it creates an acca. You can then add the acca to your bet slip if you like it, or get a new acca if you don't.
❔How can I download the SBK app?
iOS users can download the SBK app directly from the App Store, where it is listed as 'SBK – Sportsbook by Smarkets'. Android users can get it straight from Google Play, where it's listed under the same name.
❔What is the minimum bet on SBK?
The minimum stake on SBK is £0.10, which is in line with industry standards.
SBK Bottom Line
For those who are happy with a completely mobile-based sportsbook, the SBK app is certainly a good option, with the early signs of their sportsbook suggesting that they could soon be a major player.
Their prices are already among the most competitive around, with the addition of a greater number of features only likely to attract even more punters, especially if it involves live streaming and cash out. Be sure to keep a close eye on what SBK has to offer, with many expecting big things from the Smarkets-operated sports betting app.