Use code COMMFREE to trade with 0% for 60 days OR code SMK20 to get a £20 / €20 cash refund. Min. £10/€10 first deposit only using Card or Instant Banking. Cash refund expires in 7 days. Full T&Cs apply.
Use code COMMFREE to trade with 0% for 60 days OR code SMK20 to get a £20 / €20 cash refund. Min. £10/€10 first deposit only using Card or Instant Banking. Cash refund expires in 7 days. Full T&Cs apply.
SMARKETS SPORTS BETTING REVIEW
Smarkets is a UK-based betting exchange that was launched in 2010. The operation is licensed and regulated by the Malta Gaming Authority and UK Gambling Commission (UKGC). The company provides a platform for peer-to-peer trading on sporting events and politics. The exchange business model is based on customers who want to bet on something to happen (backers) and others who want to bet on the same thing not happening (layers). Smarkets brings these two groups together who match bets at a mutually acceptable price. The service is available on desktop computers and mobile devices.
Smarkets Sign Up Offer
New customers with Smarkets can claim £20 in the form of a welcome bonus which is related to the first losing bets.
Smarkets £10 Welcome Bonus
Register as a new player and make a qualifying deposit of £20 with a card or bank transfer and claim a £10 bonus. Smarkets will refund the first...
Show More
Register as a new player and make a qualifying deposit of £20 with a card or bank transfer and claim a £10 bonus. Smarkets will refund the first £10 you lose. 18+, T&Cs apply.
Show Less
This sign up offer is subject to the following Terms & Conditions:
New customers only and current registered players are not eligible.
Initial qualifying deposit of at least £10 (or currency equivalent).
The first £20 of losing bets is refunded.
The wagering requirements equate to the qualifying deposit.
There are no odds restrictions.
The bonus expires after seven days.
Once the bonus has expired all unused funds will be lost.
Some deposit methods do not count.
Smarkets general Terms & Conditions apply.
Smarkets is operating in a market dominated by Betfair who credit new customers with up to £100 in the form of free bets. The direct competitors in the UK are Matchbook and Betdaq.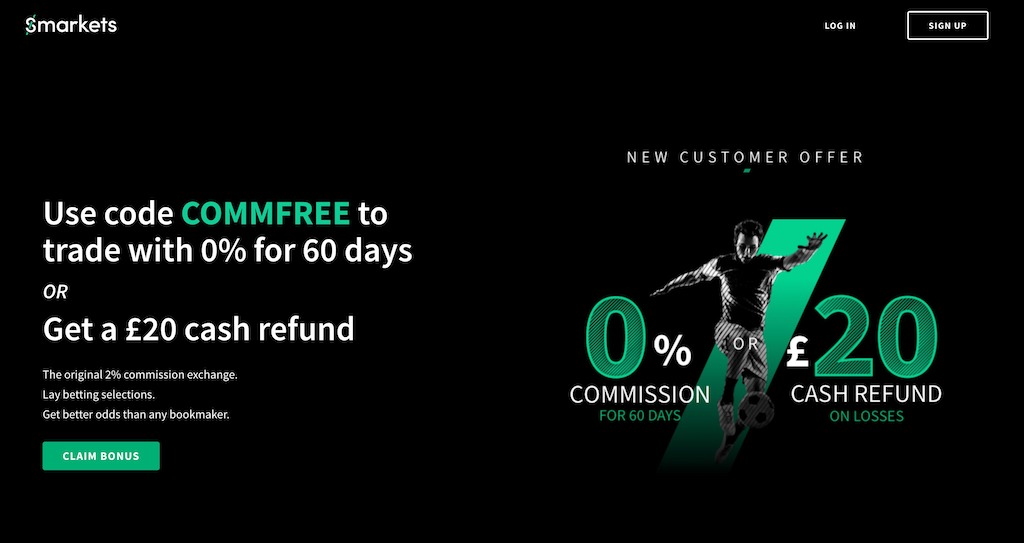 The Smarkets welcome bonus is for a small amount but is transparent and achievable. There are no multiple staking requirements and odds restrictions and it equates to a 50% match deposit bonus. The value of the bonus is half the value of the qualifying deposit. Smarkets are not using the welcome bonus to attract Betfair's potential customers.
The betting exchange model works on the basis of charging commission on net winnings. Smarkets base rate is 2% which applies across the sports and politics markets. Betfair's standard rate is 5% but this is discounted based on turnover. No other UK-facing exchange operator offers a lower rate than Smarkets. The company also offers competitive odds which often have better value than the same odds with a fixed odds bookmaker. Matchbook and Betdaq apply a similar base rate of commission. The Smarkets welcome bonus is complemented by one current ongoing promotion.
Liquidity
The liquidity in a betting exchange market is the amount of money available for back and lay bets. Low commission and competitive odds attract liquidity but more liquidity means bets are more likely to be matched. Here is a snapshot of the amount matched in the full-time result market and the back margin for the Liverpool v Southampton fixture in the Premier League 4 hours before kick-off:
| | | |
| --- | --- | --- |
| Betting exchange | Matched (£) | Back margin (%) |
| Smarkets | 694,871 | 100.43 |
| Betfair | 483,430 | 100.42 |
| Matchbook | 81,337 | 100.37 |
| Betdaq | 31,424 | 100.64 |
Clearly, there is very little variance in the back odds for this market but Smarkets have traded the biggest volume of bets. There is a detailed graphical history of turnover for each outcome on the Smarkets market interface. Customers with Smarkets are more likely to get bets matched at an agreeable price than with the other UK-facing exchange operators with the exception of Betfair where liquidity is rarely an issue.
Smarkets Markets & Betting Options
Smarkets displays the betting categories in a menu of Quick Links and list of the other betting sports. Customers can create a Watchlist of their favourite markets and select the In-play option. This operator offers back and lay odds for 16 sports. In addition to the regular sports categories, customers with Smarkets can place wagers on Politics and TV and Entertainment. Here is information about the most popular betting categories:
Football
At the time of writing, Smarkets were offering markets for 220 football fixtures of which over 100 were being played in the UK and 10 of those were matches in the Premier League. Customers can bet on leagues and competitions in each continent. However, the most traded matches are in the Premier League in England and Champions League. Smarkets offers over 30 markets for these fixtures and the most bet on are the full-time results, handicaps and totals. Customers can also back and lay the winners of several leagues.
Horse Racing
Customers with Smarkets can get bets matched for racing in the UK and Ireland and South Africa. Markets are available on the race winner and horses to be placed. On the morning of important fixtures in Britain and Ireland there was very little liquidity in the Smarkets markets. However, most trading on horse racing takes place in the hour before a race. The other exchange operators had only traded small volumes at the same time. However, Betfair offers a more extensive range of markets.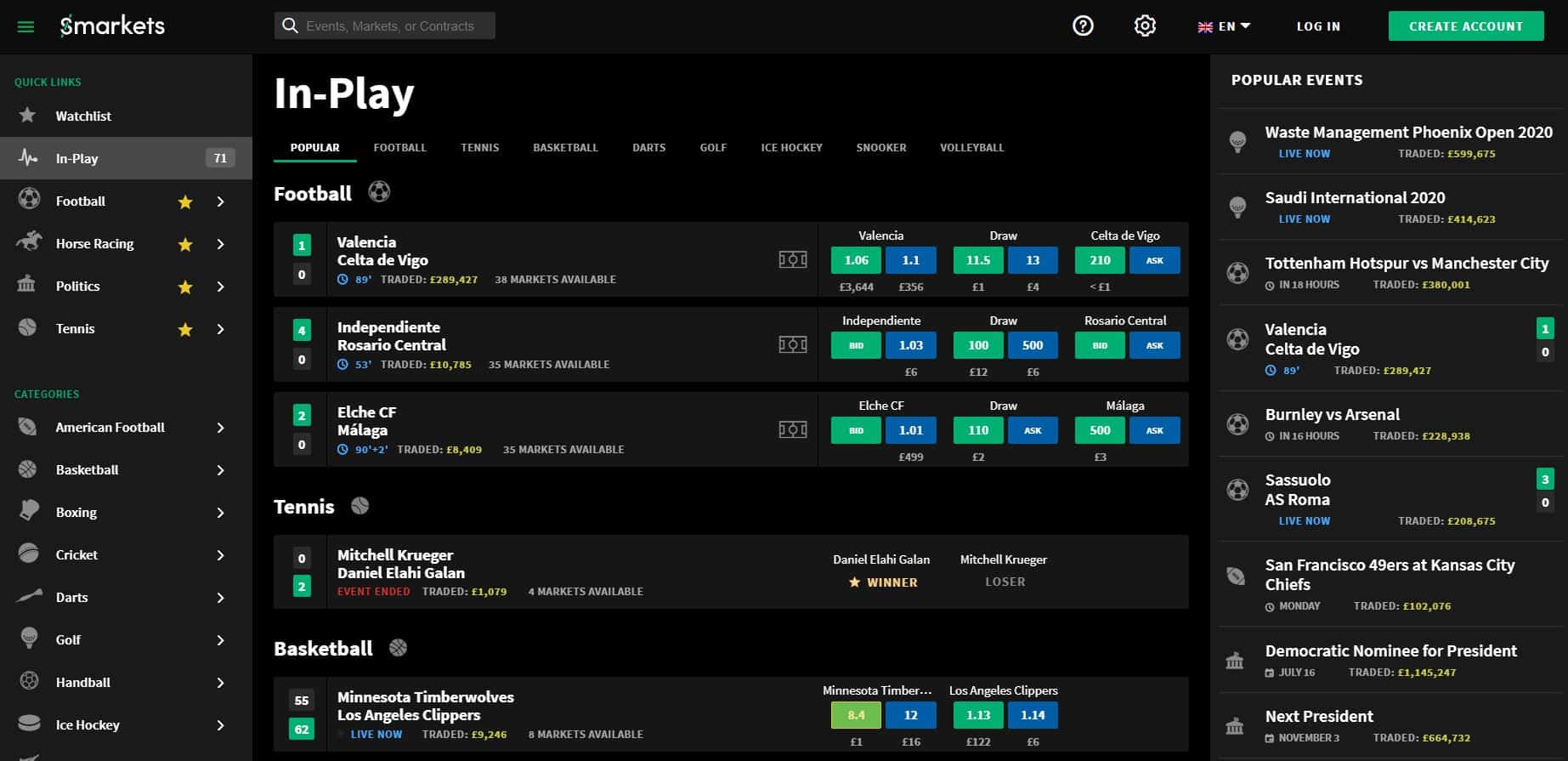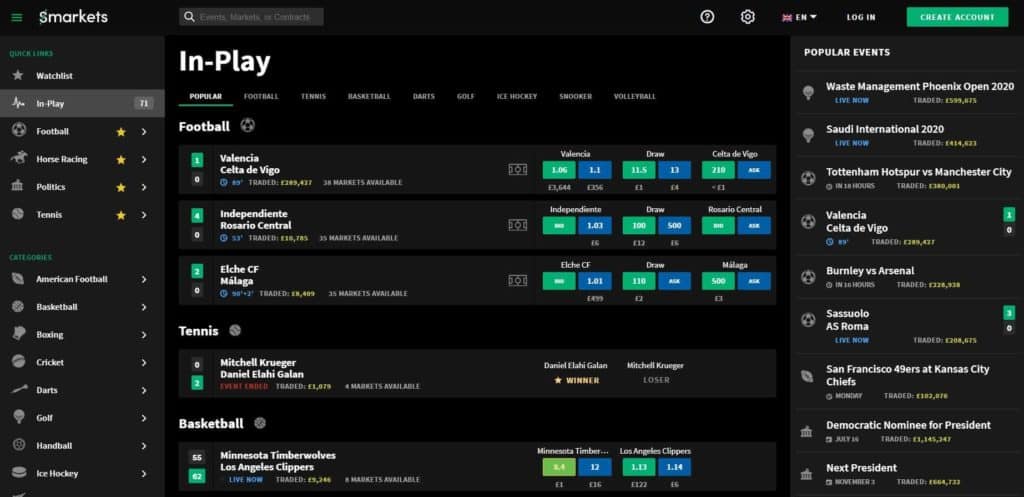 Politics
There has been a growth in betting on Politics over the last few years. There are several ongoing issues in the UK and United States that have attracted huge media interest. When this review was completed the most popular Politics markets with Smarkets were the next Labour leader, the next Mayor of London and the US 2020 Presidential election. Huge amounts of money had been traded on the Democratic Party nominee who will be opposing Donald Trump.
Tennis
Smarkets has tennis markets for matches on the ATP and WTA tours, Challenger Tour and ITF tournaments. However, the number of options is limited to the match winner, correct score in sets and the winner of the first set and winner of the second set. There appears to be a decent amount of liquidity in each market but there had been very little trading. Customers can also get bets matched on the winner of upcoming Grand Slam tournaments.
Greyhounds
With Smarkets you can bet with the best Greyhound Racing odds. This is made possible due to the bookie's small margins and 2% commission, one of the lowest in the industry when this review was written. If you are a greyhound betting enthusiast, you will find that Smarkets provides a variety of the top markets to bet on, including popular UK, Ireland, New Zealand and Australian races. Among the different racing categories include Ascot Park, Cambridge, Mount Gambier, Warragul and Casino. Betting is available daily and checking the day's Racecard is made easy thanks to the site's easy navigation.
Esports
If its Esports betting you crave or if you just want to know what all the fuss is about, Smarkets has a variety of Esports betting markets to suit diverse interests; it doesn't matter if you are a knowledgeable Millennial or you are a newbie to the industry who just wants to get their feet wet. Take your pick of a variety of betting markets including CS:GO, Call of Duty, DOTA 2, League of Legends, Basketball and Soccer. Bet on the best pro leagues from Europe, Asia and North America taking part in some of the world's biggest Esports events.
Smarkets Mobile Betting And Sports App
Back in 2017, Smarkets launched a mobile betting app that is easy to navigate and looks sleek. An iOS variant can be downloaded from iTunes, while Google Play Store does not allow betting apps so you'll need to download an Android version directly from the operator's website. Smarkets app has been receiving high ratings on both platforms, with 4.8/5 and 4.5/5 stars on the App Store and Google Play, respectively.
Customers with Smarkets cannot claim any mobile-specific bonuses. However, the desktop and mobile sites have the same functionality. That means mobile users can claim the standard welcome bonus and enjoy the benefits of any ongoing promotions. Each format offers the same account management, customer service and betting options.
Mobile customers can match bets on the same range of sports available to PC customers. Only one account is required for both platforms and there is a common 2% commission rate on all winning bets. Users of Android and iOS devices have access to the website exchange and in-play betting features.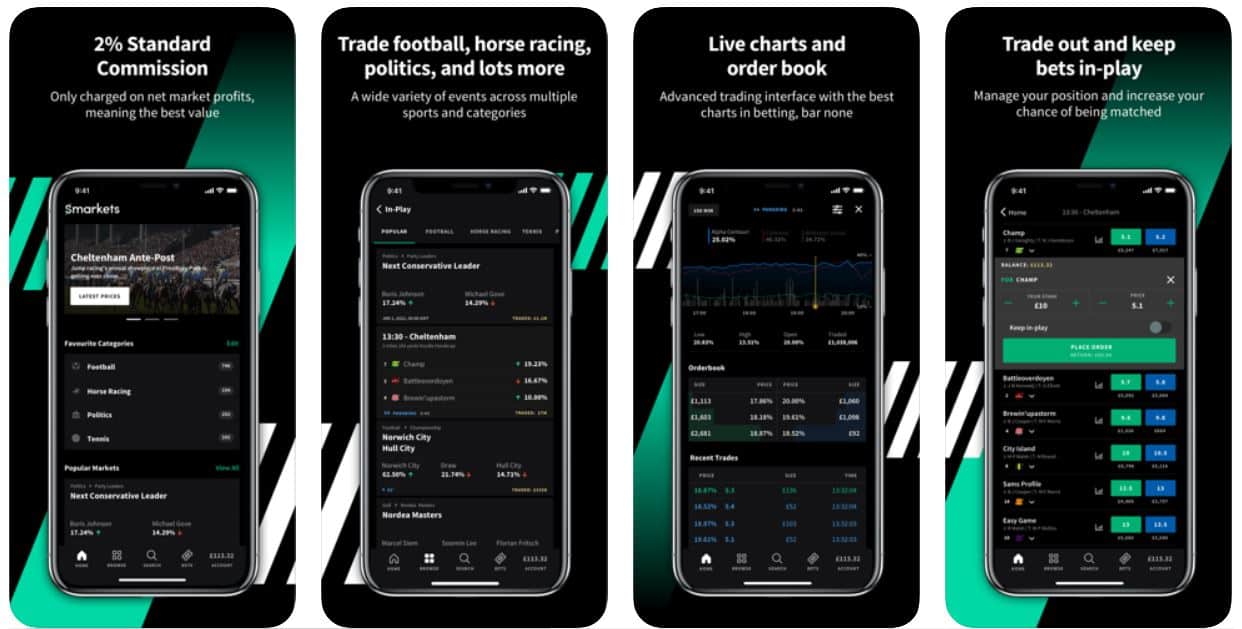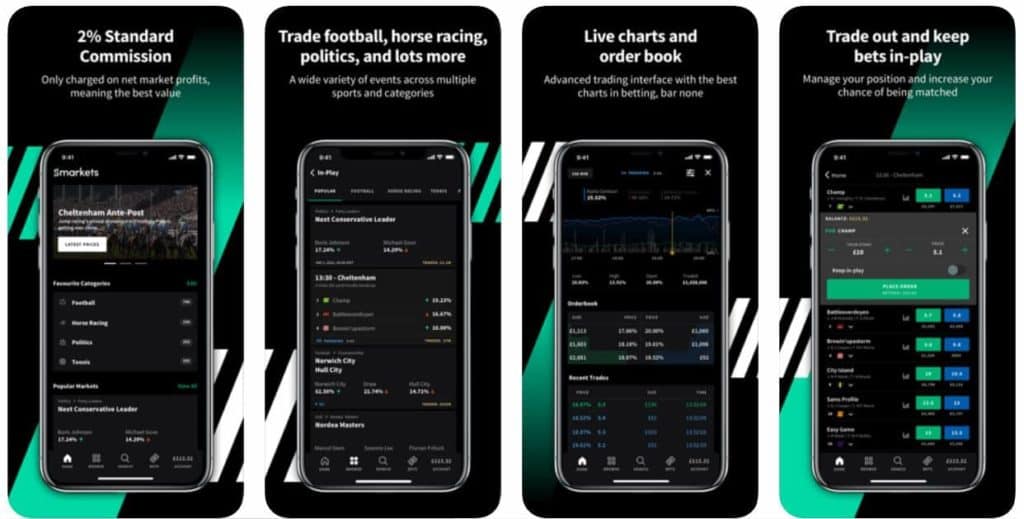 Smarkets Betting Features
Smarkets is a UK-facing exchange which offers customers the following betting features. Please note there is no cash out option but bettors can place counter bets manually to guarantee a profit or limit the loss regardless of the outcome. The Betfair betting exchange allows customers to cash out bets so the lack of this facility with Smarkets is a significant negative. However, the site may feature cash out betting in the future.
Exchange Betting
Smarkets offers back and lay prices for sporting events, Politics and TV and Entertainment. The betting exchange platform accommodates backers and layers who match bets at a mutually agreeable price. Bets can be fully and partially matched or unmatched. An unmatched bet can be left in a market until it is fully or partially matched when the market changes. If there are more backers than layers, there is downward pressure on the price. If there are more layers than backers, there is upward pressure on the price. Smarkets has created a platform on which there is an adequate level of liquidity for many markets.
In-Play
'In-Play' is the second option on the Quick Links menu, after Watchlist. Customers can select a live event across several sports, including football and tennis. The live betting interface displays the back and lay prices for each outcome and the liquidity in the market. There is a link to the additional markets and there are about 40 for each football match. There is no live streaming but customers with Smarkets can view a graphical representation of the progress of play, live match statistics and an analysis of the market. The operator does not suspend betting after a key event because the odds react immediately. There is a slight delay which means backers and layers should be wary of traders with faster streams.
Smarkets Banking Options
The UK Gambling Commission has banned credit card deposits from September 2020. However, customers with Smarkets can still transfer funds using debit cards, e-Wallets, prepaid cards and Bank Transfer. There are no delays with deposits which are free of charge. Withdrawals are subject to standard delays depending on the method. Some transactions are subject to a fee at the discretion of the provider. The minimum deposit and withdrawal is £10 and maximums vary based on the betting profile of the customer.
Opening A Smarkets Account, Deposit And Bet
Potential new customers visit the Smarkets Home Page and click 'CREATE ACCOUNT'. They enter account and personal details, including a Username and Password and an optional promotion code for referrals. There are required fields and once these are populated, customers are prompted to make the first deposit. The process involves selecting the method and entering an amount.
New sign ups confirm acceptance of the Terms & Conditions and verify their age. Bettors locate the preferred market and click on the back or lay odds. They enter the stake and the bet is fully or partially matched or not matched at all. Customers can choose to cancel an unmatched bet or leave it in the market so it can be matched if the back or lay prices becomes available before or during the event.
Smarkets Security & Safety
Smarkets does not cut corners when it comes to protecting its customers. Aside from being fully licensed and regulated by the UKGC (UK Gambling Commission), this bookie uses TLS (Transport Layer Security) and SSL (Secure Society Layer) security encryption to protect customers' funds. This includes both the safeguarding of transactions and the funds held in a punter's account.
Smarkets uses a high level of funds protection protocols in the industry that even the UKGC recognizes as top level security. All funds deposited by UK registered customers are held by Smarkets (Client) Limited, which is a group company that was established for one purpose: to hold customer funds under the terms of the Trust Deed.
What this means is that customer funds are held in an account that is legally and in practice separate from Smarkets and controlled by an independent party. Therefore, if Smarkets ever went bankrupt, for instance, customer funds are protected.
The funds of registered Smarkets customers who reside outside of the UK are also protected by being held in ring-fenced accounts dedicated specifically for this purpose. Those accounts are also separate from Smarkets business accounts.
Customer Support
Smarkets allows customers to make contact using the following methods:
Email: support@smarkets.com
Twitter: @SmarketsTech
Live Chat: 24 hours a day, 7 days a week.
Phone: +44 207 617 7413 (09:00-00:00).
Post: 1 Commodity Quay, St. Katharine Docks, London, E1W 1AZ, United Kingdom.
The site features a comprehensive Help Centre and Smarkets promotes responsible gambling. There is also a Community for the sharing of views and questions.
More On The Bookmaker
Smarkets uses the latest technology to create an effective betting exchange platform. The operation has handled over £15 billion of trades since it was launched to the public in 2010. Smarkets claim to offer the best odds in the industry but that is an ever-changing scenario. In fact, there is very little variance in each operator's odds. Smarkets gains a competitive edge because they use best-of-class technology.
Smarkets Bottom Line
Smarkets will never dominate the UK market because Betfair account for more than 90% of exchange bets. However, Smarkets can be the best of the rest and that means attracting more customers and matched bets than Betdaq and Matchbook. The operator handles sports bets like commodities and that appeals to a potential new customer base. The activity is promoted as trading rather than betting. Smarkets' customers enjoy a positive sports trading experience. The exchange platform creates a good volume of liquidity in many markets across sport, Politics and current affairs.