*New clients only. Applies to first 5 x £25 Spreads bets on pre-match markets. 100% cashback on net losses upon settlement of fifth qualifying bet. Qualifying bets must be settled within 14 days of registration. Fully partially or reverse closed bets do not qualify. Maximum cashback £250. Full terms here. Spread betting involves risk. Losses can exceed deposits.
*New clients only. Applies to first 5 x £25 Spreads bets on pre-match markets. 100% cashback on net losses upon settlement of fifth qualifying bet. Qualifying bets must be settled within 14 days of registration. Fully partially or reverse closed bets do not qualify. Maximum cashback £250. Full terms here. Spread betting involves risk. Losses can exceed deposits.
SPORTING INDEX BETTING REVIEW
Within the world of fixed odds sports betting, you'll find an essentially unlimited number of wagering opportunities. This form of betting attracts the most action and attention from the British public, because – quite simply – fixed odds are the way things have always been done.
There's a whole other form of betting out there for punters though, even if many of them don't know about it: sports spread betting. This involves higher risks than using regular fixed odds, but can deliver much bigger rewards too.
In this article, we'll review one of the biggest brands in sports spread betting – Sporting Index. Despite being one of the original innovators in this industry, they're still going strong to this day. We'll evaluate their promotions, betting markets, mobile features and more. Ultimately, and most importantly, we'll judge whether or not they're worth your time and money.
Sporting Index Sign Up Offer
Part of the appeal of signing up at Sporting Index is the operator's generous welcome offer. Punters will receive up to £250 in cashback on their net losses. In order to qualify, place 5x spread bets worth £25+ on pre-match markets. Upon your fifth bet settling, you will receive 100% cashback on net losses.
Sporting Index New Account Offer - 100% CASHBACK ON NET LOSSES UP TO £250
*New clients only. Applies to first 5 x £25 Spreads bets on pre-match markets. 100% cashback on net losses upon settlement of fifth qualifying bet...
Show More
*New clients only. Applies to first 5 x £25 Spreads bets on pre-match markets. 100% cashback on net losses upon settlement of fifth qualifying bet. Qualifying bets must be settled within 14 days of registration. Fully partially or reverse closed bets do not qualify. Maximum cashback £250. Full terms here. Spread betting involves risk. Losses can exceed deposits.
Show Less
This unique offer does come with terms and conditions though, with the most important having been listed below:
Qualifying bets must be settled within 14 days of signing up.
Fully, partially or reverse closed bets will not qualify.
The maximum cashback amount is £250.
In-play bets do not count.
Virtual games do not count.
The 'New Account Offer' creates an incredible first impression of Sporting Index. Even the best welcome offers only last a short time however, so – ideally – we like to see a strong selection of ongoing promotions backing them up.
Sporting Index actually impresses in this department, with four high quality offers available even after you sign up. Let's take a closer look at each one in turn.
New Fixed-Odds Account Offer
This is essentially another welcome offer in all but name. Sporting Index support both fixed odds and spread betting, and – while the main 'New Account Offer' applies to the former – this deal is solely for the latter.
After signing up with Sporting Index, you're able to get hold of a £25 free bet. In this case, however, you must fulfil some wagering requirements, rather than simply being given the token as a gift. Specifically, you must place five bets of at least £5 on any sports markets, at odds of 1/2 (1.50) or greater. Do so within 30 days of registration, and you'll be rewarded with a £25 free bet, which expires after seven days.
Refer And Earn
The Sporting Index 'Refer and Earn' deal is pretty straightforward. You persuade a friend to register, and tell them to mention your name and account details as they're signing up. You then both place three spread bets, each with at least £20 in exposure. After the last bet has settled, you contact the customer service team to inform them, and £50 – in cash – will be awarded to both your accounts.
Obviously, that's already pretty appealing. In addition though, you can get another reward for fixed odds betting. After your friend has signed up, if you both place and settle £50 in fixed odds wagers at evens (2.0) or greater, you'll also be given a £25 free bet.
As with the welcome offer, the value here is outstanding. Even after taking advantage of that initial £75, you can then gain access to another £75 in return for satisfying some entirely reasonable wagering requirements.
2 Up, Early Payout
Early payout deals are always a welcome sight, helping you to lock in some early profits on football markets. As with other such offers, the Sporting Index version pays out your Full Time Result bet as a winner if your chosen team goes up by two goals at any point. Even if they go on to draw or lose the game, you still keep your winnings.
As a neat touch, if the match in question is part of a larger accumulator – that selection will be counted as a winner within your acca. Better still, this deal applies to every single Premier League match.
Bad Beat Special
This is a fascinating and unusual offer, which shows Sporting Index's willingness to get creative with their deals. Most football fans will have heard of Expected Goals, or 'xG'. In short, it's a measure of how many goals a team should have scored, rather than how many they actually scored. Sporting Index haven't just heard of this stat, but have built a whole offer around it.
The Bad Beat Special applies to fixed odds Match Winner bets on certain games (usually major Premier League matchups). If your chosen team wins, you naturally get your winnings as normal. If they lose the actual game but 'win' on xG though, then your entire stake will actually be refunded as a free bet.
Sporting Index Markets And Betting Markets
Spread betting sites tend to offer fewer markets than regular, fixed odds sportsbooks. That's not because of any laziness on their part – the nature of spread betting simply means that it works on fewer markets.
In the case of Sporting Index, you get the best of both worlds. Spread betting is their calling card, and – although the market range isn't hugely impressive – the biggest sports are still present and correct. Crucially these do include the 'big two' – football and horse racing – and these are ably backed up by the likes of boxing, cricket, golf, rugby union, tennis, UFC/MMA, and American leagues like the NFL and NBA.
Sporting Index also have a fully-featured fixed odds section, with a significantly bigger selection of markets. Approximately 30 different sports are represented in total. These include all the aforementioned options, plus Formula 1, darts, snooker, cycling, and athletics. The only disappointing absence here is eSports, which – while not at the level of tennis or golf, for example – is still a quickly-growing market.
Spread Betting
As noted, Sporting Index focuses heavily on spreads, rather than fixed odds. When explaining spread betting, the best comparison is regular Over/Under wagers.
With Over/Unders, you're given an outcome and must bet on whether the result will be over or under that amount. Over/Under 2.5 Goals is the most common example. Spread betting works in a similar way. You're given a starting point, and either 'Buy' it (take the over) or 'Sell' it (take the under). The main difference is that the starting point isn't a single value. Instead, it's a range of outcomes – a 'spread'.
Let's use Total Corners as an example. With fixed odds, you might take Over or Under 7.5 Corners. In spread betting, the range might be 7-9. If you think there will be more than 9 corners, you buy the market. If you think there will be fewer than 7, you sell it.
Clearly these are harder wagers to win than their fixed odds counterparts. The trade-off is that you get better winnings in return. The size of those winnings can also swing dramatically for another reason. With fixed odds, you know exactly how much money you'll make or lose when you place your bet. With spread betting, the amount you win or lose is determined by how right or wrong you are.
Let's say you buy the 7-9 spread on the aforementioned Total Corners market, with a £10 stake. The game is played, and there end up being 11 corners. There were two more corners than the higher limit of the spread, so you make a £20 profit (2 x £10). If there were only four corners, you would have made a £40 loss (4 x £10).
Football
As the most popular online betting sport, it's no surprise to see that football is also a clear priority for Sporting Index. Their range of markets for both spread and fixed odds betting is excellent, although the latter naturally has more options than the former.
Some of the spread bets you can make include Total Goals, a particular team's Winning Margin, and Handicaps. As for regular wagers, all your old favourites are present and correct. These include:
Match Winner
Both Teams to Score
Double Chance
Over/Under Goals
Draw No Bet
Asian Handicap
You're also free to take more high risk/high reward markets, such as Correct Score or a wide range of player props. Pleasingly, a good mixture of pre-match and in-play markets is also provided, for spread betting as well as fixed odds. Dozens of live markets are typically available for each, regardless of the profile of the match itself, and there's only a minimal dropoff in the variety of bet types when compared to pre-match markets.
Finally, we're pleased to say that Sporting Index provide excellent coverage of football all around the world. Naturally all the most prestigious tournaments are available to bet on, from the Premier League and Champions League, through to the Copa del Rey and the Euros. Less-heralded contests from South America, Africa, and Asia are also included though, with both in-play and pre-match markets, providing a constant stream of betting opportunities.
Horse Racing
While technically behind football in terms of online betting popularity, horse racing remains an enormous market. We were pleased to see it included on Sporting Index, therefore, for both spread and fixed odds betting.
Spread bets are handled on a points-based system. With 12 runners, for example, first place is awarded 50pts, second gets 30pts, and so on. You simply select a horse and either buy or sell the pre-race points spread it has been given. As for fixed odds, you can take either Win or Each Way wagers as normal.
Again, the coverage is very impressive here. Not only are all British and Irish races available to bet on, but courses from further afield – in countries like France and the USA – are represented too.
Tennis
Tennis enjoys widespread popularity around the world, not just from sports fans, but from punters too. Sporting Index have given it the respect it deserves, providing markets for both fixed odds and spread bettors.
As with the other sports on this impressive platform, there's a good mixture of both pre-match and in-play markets available. That's true not only for the very biggest tournaments – like Wimbledon and the US Open – but for the smaller tour events too. For the slams, you're also able to place outright bets on the overall winners months in advance, and can even take an each way wager instead (effectively betting on a player to make the final).
Live Betting
Sporting Index have clearly put an enormous focus on live betting, with in-play markets the first thing you're shown in both the spread betting and fixed odds sections. As mentioned, the coverage for these live markets is highly impressive, typically extending from the most prestigious competitions down to 'lower league' contests for each sport.
Mechanically, live betting also works very well. Odds update constantly to reflect the latest goings-on, and we found both the placement and cashing out of live bets to be quick and trouble-free.
Sporting Index App & Mobile Betting Options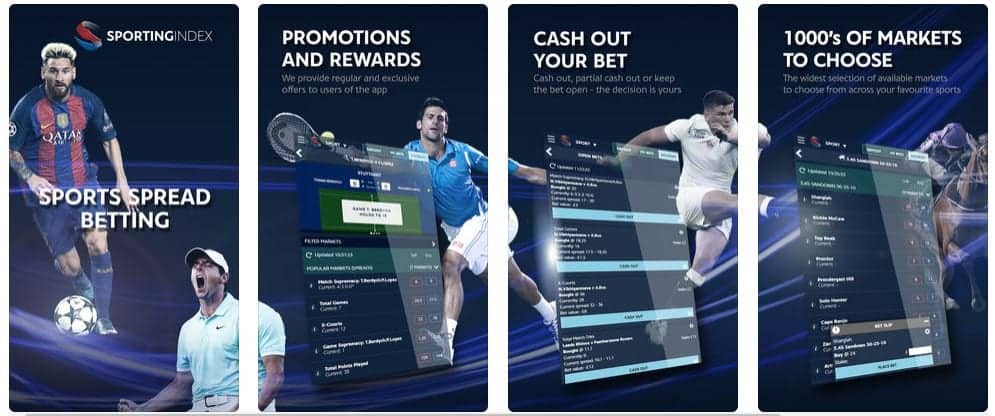 Sporting Index provide apps for both Android and iOS customers, which are available directly from Google Play and the App Store respectively. Neither version has enough reviews to form a good idea of user feedback, but we were generally impressed by what we found.
Like the desktop version, the layout on the app is fairly simplistic but gets the job done. You can swap between spread betting and fixed odds whenever you please at the top of your screen, and there's a scrolling menu containing all the available sports just below that. Your account is always accessible via a small icon in the top-right, and other important sections – like Promotions and My Bets – are housed in another menu at the bottom. It's not the quickest app we've used, either for placing bets or simply browsing markets, but it's not prohibitively slow either.
The mobile version of the main site has a similar interface, although the bottom menu has been removed for some reason. The rest of the layout is intuitive enough though, and pages actually loaded quicker than those on the app during our testing.
Sporting Index Bookmaker Features
Overall, we've been extremely complimentary throughout our Sporting Index review so far. Here we have one area, however, in which this impressive betting brand comes up short.
Functionally, everything which is in place on Sporting Index works extremely well. When it comes to genuine special features though, there's almost nothing to report. A basic visualisation tool and a few statistics do a decent job of keeping you informed about ongoing matchups, but there's no live streaming whatsoever. That's not a massive surprise, as only premium sportsbooks tend to offer streaming. What is surprising is the lack of even basic features, like a bet builder – something which Sporting Index's main rival, SpreadEx, do provide.
On a positive note, while we're not sure if it counts as a 'feature', the blog section on Sporting Index is admittedly impressive. It's updated regularly to cover all the major sports stories, and provides genuinely detailed and useful statistical analysis to inform your betting on upcoming matchups.
Sporting Index Sign Up Process
Signing up with a bookmaker used to be a time-consuming and frustrating process. Betting platforms have come a long way in this respect though, and we're pleased to say that Sporting Index have followed this positive trend. Their registration process is well-explained, clearly divided into three sections, and takes only a few minutes to complete.
To kick things off, head to the Sporting Index home page and click 'Join Now' in the top-right. You will now see the first stage, called 'Personal Details'. To begin with here you must state which kind of account you'd like to open – 'All (Spreads & Odds)' or 'Odds Only'. After that, as the name suggests, you need to provide some information about yourself. Namely, you should enter your name, date of birth, email address, phone number, and residential address. Once you've done so, simply tick the boxes at the bottom of the page then click 'Continue'.
The second stage is called 'Account Details'. You'll be asked for further information here, including questions about your employment status and your experience of spread betting. You must also create a password for your account, before accepting the main T's & C's and deciding your marketing preferences. Finally, hit the 'Submit Registration' button.
Your account will now have been created. The third stage is called 'Confirmation', but you don't need to do anything here. You're simply given your account number, and informed that you will be contacted shortly to confirm your account's creation.
Sporting Index ID Verification Process
With regular fixed odds sportsbooks you will always need to provide some proof of your identity, usually when it comes time to make a withdrawal. This is not the case with spread betting platforms however, and – with Sporting Index – you may never be asked to do so.
Instead, Sporting Index carry out their own electronic checks on new users, using the information provided during the registration process. This is usually enough to confirm their identity. If not, then you will be asked to provide evidence of your identity (e.g. a photo of your passport or driving license), and/or your home address (e.g. a photo of a utility bill or bank statement).
Please note that all of this only applies to British bettors. Sporting Index do actually welcome applicants from outside the UK too, but these punters will need to provide proof of their identity and address immediately.
Banking Options
Unfortunately, this is another area in which Sporting Index come up short. Their range of banking methods isn't just small… it's basically non-existent.
Only one main option is supported for making deposits and withdrawals – debit card. Technically you can pay via bank transfer too, but you must get in touch directly with the customer service team in order to arrange this. If you owe money to Sporting Index – if your losses on a spread bet exceeded your account balance, for example – then you can pay the balance using credit cards or cheques, but these aren't options for a regular deposit.
The minimum amount for deposits is an industry-standard £10, and payments should usually be processed instantly. The same lower limit applies to withdrawals, and these will typically go through within 3-5 working days.
Sporting Index Layout
The Sporting Index platform is a clear example of substance over style. Functionality is the clear priority, and – while the website may not look pretty – it definitely gets the job done.
There's really no messing around here. Whether you're on the home page or the section for an individual sport, all the main odds are displayed in one long table down the middle of the screen… and there's not much else to look at! While the simplistic colour scheme does look clean and modern, little use is made of graphics to brighten things up.
Mechanically though, this interface does work extremely well. All the main sports sections are available via dropdown menus at the top of your screen, and navigating to individual competitions and matchups within those sections is extremely straightforward. The odds for each matchup, within its own mini-section, are neatly divided into collapsable menus. Prices are clearly displayed throughout the platform, and the placement of both spread and fixed odds bets could hardly be easier.
Customer Support
Sporting Index might disappoint in a couple of major areas, but this definitely isn't one of them. Their commitment to customer care really is commendable. You can contact the support team using live chat by clicking an easily-accessible button in the top-right of your screen, or reach out via email, phone, Twitter, or post. Sporting Index are even happy to call you at a specific, convenient time – you simply need to send them an email requesting a call-back.
The indirect support here is also fantastic. There is an entire 'Training Centre' which explains how spread betting works in detail, both in general and for specific sports. An FAQ section is also in place, covering a wide range of topics in a clear and helpful manner.
Company Details
Sporting Index might not be a household name, but they have an extremely impressive track record. They were founded all the way back in 1992, and – in 2001 – launched the first online spread betting service. Impressively, this included the ability to cash out bets from the very beginning. They also got in early on on-the-go gambling, creating the UK's first ever mobile betting application in 2003.
Since then they have continued to upgrade both their desktop and mobile offerings, attract new customers, and expand their staff to include over 300 employees. Sporting Index's HQ is based in London, and they hold full licenses with both the Financial Conduct Authority and the UK Gambling Commission.
Sporting Index Bottom Line
Sporting Index have spent over two decades in the sports betting industry, and this experience shows itself in a whole range of important ways.
The layout is straightforward and intuitive, designed to let you browse markets and place wagers with a minimum amount of fuss. Both the breadth and depth of those markets is highly impressive, whether you're placing spread or fixed odds bets. Special mention must also be made of the outstanding customer service, and the impressive selection of ongoing promotions.
There are definitely some areas for improvement, however. The choice of payment methods is incredibly small, and there's a general lack of special features which you might normally expect from such a successful brand.
With that said, Sporting Index remains an excellent all-round option. The 'New Account Offer' also happens to be one of the best new customer promotions on the market right now, and we'd highly encourage you to claim your free £75 in spread bets while you still can.