Best Social Betting Apps in 2022
Discover a world of social betting apps in 2022 and experience a new way of gambling on sport! Bet on football or cricket and share tips online, or join social betting contests to win a slice of the prizepool. You can even claim a welcome bonus when you open your account.
Best Social Betting Apps:
What is Social Betting?
Social betting sites have been around for a while but have generally focussed on slots and table games to entertain gamblers. However, things are changing with the introduction of social sports betting apps. With social betting bookies you can gamble on your favourite sports in a different way. Join customised tournaments and share a cash prize or hook up with betting exchanges and share your wins via the social network. In addition, many sports betting companies are beginning to use social media to reach out to their customers. You can contact customer support through social media channels or request specific odds on big games and markets.
Social Betting Exchanges
Social betting bookies such as SBK let you choose the odds that are right for you. You can share tips and bets with a network of other players and score bragging rights when things go right for you.
Betting Contest Apps
The best social betting apps are using tournaments to create a community of like-minded gamblers. With these types of betting apps, you can join tournaments where you score points based on your football predictions. You'll win a prize if you out-score your opponent. You can also share your wins on social media platforms such as Facebook and Instagram.
Social Media Communications
Traditional bookmakers are also using social media to enhance the customer experience. Bookies regularly post on Instagram, Facebook and Twitter with special offers and competitions, or just to ask for personal opinions. You can also use Twitter or Facebook channels to send direct messages to a dedicated social media representative. Ask a query or request bespoke odds by using services such as #MakeABet.
Top Social Betting Sites in the UK
BetBull
Leaderboards are the name of the game at social betting bookies such as BetBull. BetBull offers a host of leaderboards where you can compete against savvy sport gamblers. Join the Top Winners, Top Yielders or Top Influencers to see who can make the most. You might also attract followers who can track every bet and win you make. In addition, you'll earn a welcome bonus when you download the BetBull mobile app. Get free bets to start your journey and bag free spins to use in the BetBull mobile casino.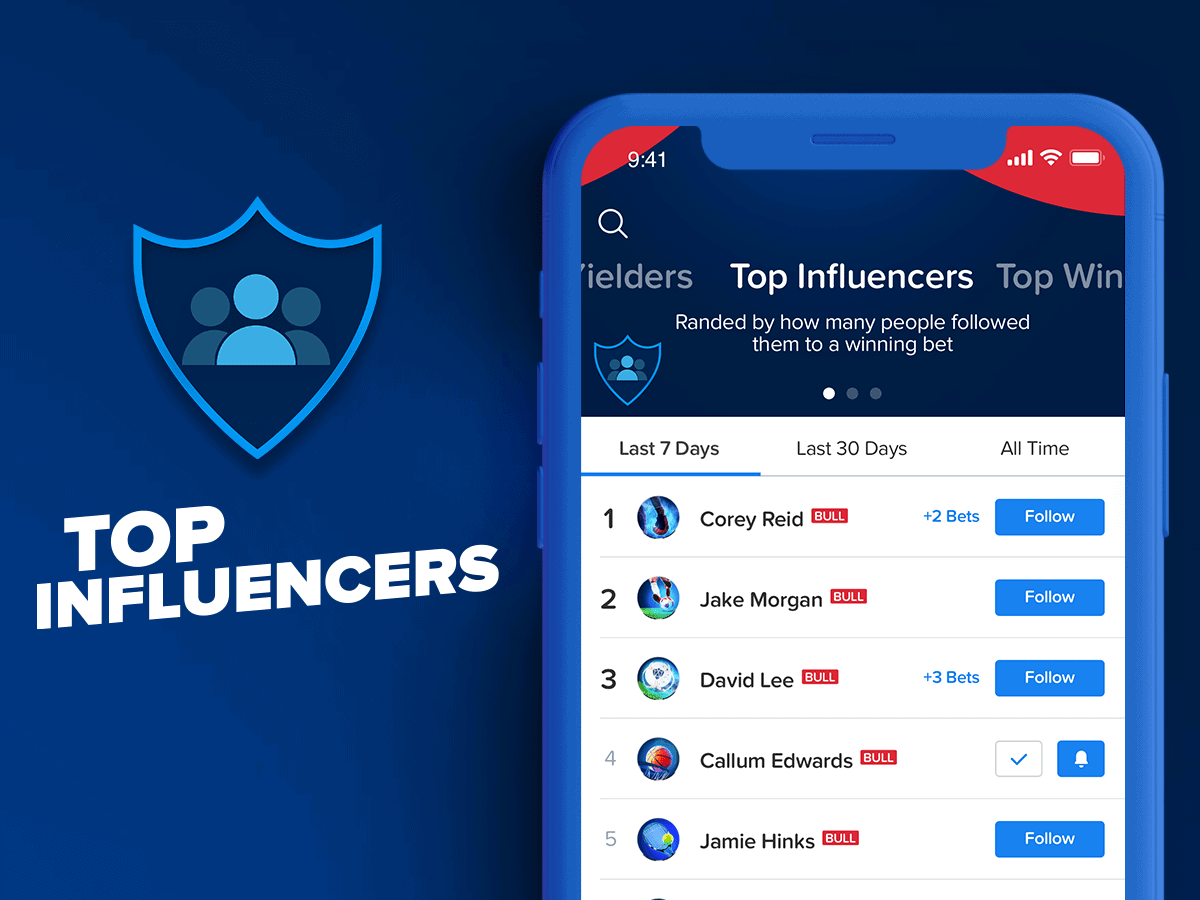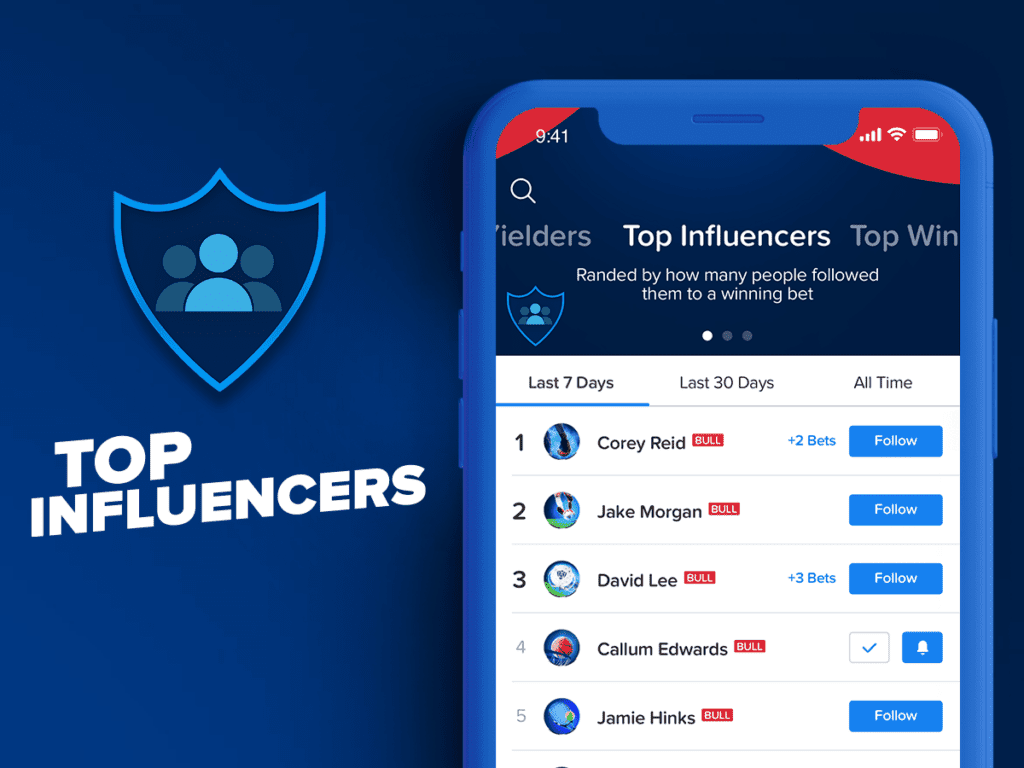 SBK
SBK is powered by Smarkets, one of the biggest online betting exchanges around. SBK lets you set the odds or take a price offered by another gambler. Bet on a range of sports, including football, golf and horse racing. You can find a list of markets and odds in the SBK lobby, but the Price+ feature is a real highlight. With Price+, you can view odds comparisons between Price+ and the biggest competing bookmakers. SBK sets itself apart from other exchanges due to its community feel. You can read tips from other players or even write some predictions yourself and share online. You can also check out which other SBK customers are on a hot streak and follow their picks. Plus, SBK lets you compete against your friends in leaderboard challenges.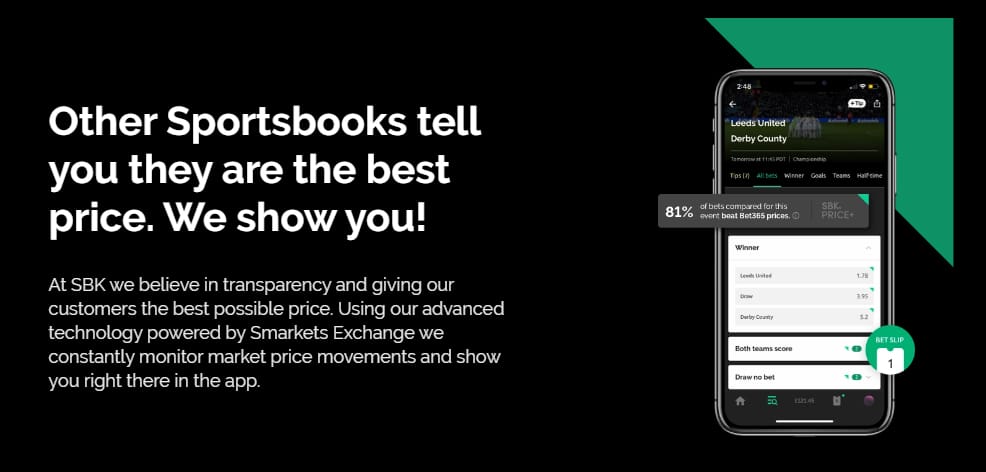 PaddyPower
Paddy Power is an award-winning Irish bookmaker that also operates online and via mobile. PaddyPower's hilarious social media posts help to create a bond between the bookie and the customers. Plus, you can request bespoke odds on football by tweeting #WhatOddsPaddy with your own personal choices.

BetSnap
BetSnap is an innovative online and mobile bookie which lets players battle it out across football betting contests. Tournaments (called "Snaps") consist of multiple matches which you must make predictions on. Go for the ready-made list of matches supplied by BetSnap or construct your own selection. You'll receive 1000 points to use on the games, as will your opponent. You can then follow the points leaderboard while watching the game to see who's out in front. It's also possible to place live in-running bets as the match is happening. If you bag a tournament, you'll win "snappies" – the in-app currency used at BetSnap. You can use snappies to buy in to future tournaments. You'll also achieve a ranking which you can use against friends and other players.
Advantages of Social Betting
Want to join the party and experience the thrill of social media betting? Here are a few reasons to get started.
✔️Share Tips & Picks Online Most online sport bettors gamble alone or follow well-known tipsters. The beauty of social betting is that you get to share your thoughts and picks through forums and social media.
✔️Follow the Biggest Sport Gamblers Online You can also track the results of big-time gamblers at social betting sites. See what the savvy gamblers are picking and track their weekly wins.
✔️Join Leaderboards with Friends Leaderboard challenges have been a mainstay of fantasy football competitions among friends for years. Leaderboards are taken to another level at the best social betting apps where you can compete for playing points against fellow gamblers.
✔️Choose Your Own Prices on Betting Exchanges Betting exchanges are great places to find odds that often beat the traditional bookmakers. You can also set your own prices on the exchange. Social betting exchanges let you track popular gamblers and find movements in the markets.
✔️Claim a Welcome Bonus and Free Bets The best social betting apps let you claim bonuses just by download the software and making a first deposit. Claim a deposit match or free bets to use how you like.
✔️Easy Mobile Betting Every Time Top social betting sites offer slick download apps for Android and iOS smartphones. Just install mobile social betting apps and log in wherever you are.
✔️Get Bespoke Odds Just for You Many top bookmakers allow you to request your own odds on specific outcomes. If you don't see odds on a game or market you want, just tweet the request using the correct hashtag. A social media representative will respond with a price tailored just for you.
Our Social Betting Apps Pick of This Month:
How Can I Download Social Betting Apps?
It's easy to get started with the top social betting apps. You can install a native app for your Android or Apple device. Just visit the Apple App Store for iOS or Google Play Store for Android. Some Android social betting sites will also provide a .apk file for direct installation.
Visit the App Store (iOS) or Google Play Store (Android) to find the app you want.
Click on the download button to start installation. Make a note of the minimum OS required and memory size. You'll also need to be 18 or over to open a social betting app account in the UK.
When installed, open the app on your handset and complete the registration form. Supply your full name, date of birth and home address, plus your mobile phone number and email address
Click on the email to verify your account.
You may also have to verify your ID by uploading a scan of your passport or driving licence, and a copy of a recent utility bill.
Find the Best Social Betting Bookies Today
Social betting apps are changing the way gamblers bet on sport. Social media is playing a bigger part than ever, with sites offering leaderboard challenges and personal betting previews and tips. Best of all, you can claim a welcome bonus when you sign up to social betting bookies. Earn free bets or bonus funds, just by opening your account. You can even earn odds boosts to use on markets of your choice. What are you waiting for? Get into social sports betting today by finding the best tips and challenging your friends to a leaderboard contest.
Social Betting Sites FAQ
What is social betting?
Social sports betting sites let you gamble on your favourite games and share tips and results online. You can also join leaderboard challenges and contests.
Are social betting sites & apps legit?
Yes! The best social betting apps are licensed in the UK by the Gambling Commission and regulated under British law. You must be 18 or over to download a social sports betting app.
What is the best social betting app?
There are several good social betting apps that offer a range of markets and features. Claim a bonus and share your achievements and tips online.